Pineapple Raita Recipe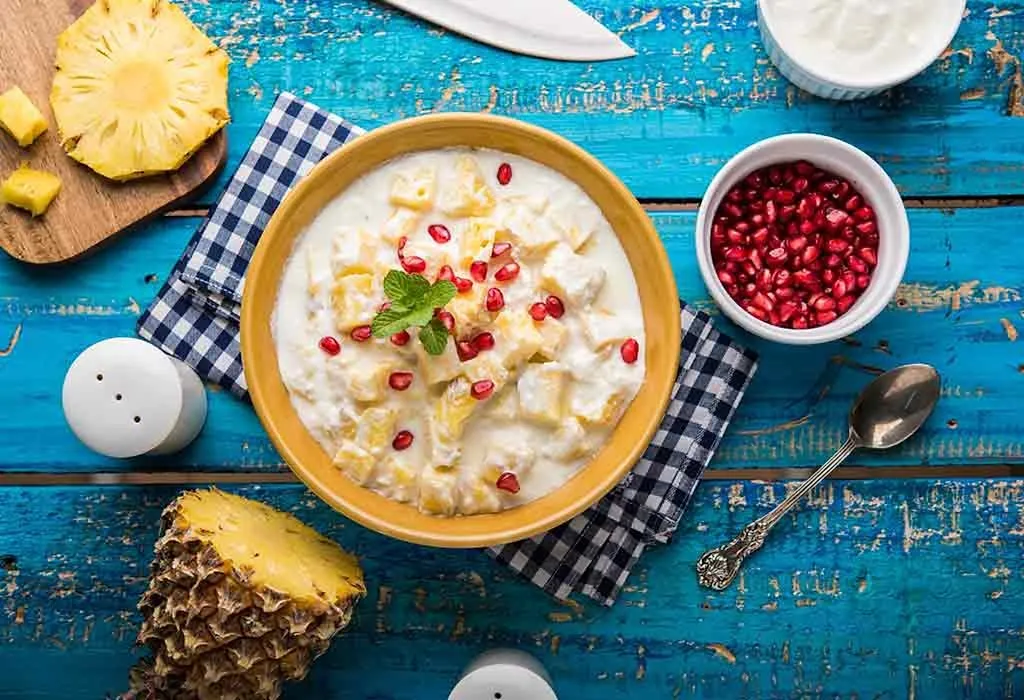 In this Article
Curd has several health benefits for your baby. However, you may have realized that your toddler detest it. Therefore, today we present to you a recipe to make your task simpler. This pineapple raita has the goodness of curd along with pineapple, thereby making it tastier and healthier. This raita is sweet and tangy in taste, precisely the way your baby will love eating it. Furthermore, the whisked curd, along with spices and pineapple, makes pineapple raita for babies a healthy option. Serve it with paratha, or as an appetizer, everyone in the family will love it.
Cooking Time
| | |
| --- | --- |
| Type | Time (hh:mm:ss) |
| Preparation Time | 00:05:00 |
| Cook Time | 00:01:00 |
| Total Time | 00:05:00 |
Cooking Method
Mixing
Type of Meal
Vegetarian
Suitable For
Any toddler above 13 months of age
Meal Schedule
Breakfast or lunch
Recipe Type
Appetizer / Side-dish
Ingredients
| | |
| --- | --- |
| Ingredients | Quantity and Volume |
| Pineapple (chopped) | 2 cup |
| Pomegranate | 4 tbsp |
| Curd | 2 cup |
| Salt | 2 tsp |
| Black pepper (powdered) | ¼ tsp |
| Cumin seeds (roasted and powdered) | 2 tsp |
| Coriander leaves (chopped) | 2 tsp |
| Sugar (powdered) | 2 tbsp |
Instructions
Raita is a delicious accompaniment to Indian meals. This homemade pineapple raita is unique in taste. If you are looking for information on how to make pineapple raita, we provide you with the quickest way. Follow our step by step directions to prepare this tongue-tickling raita.
1. Take the curd in a large deep bowl and whip it till it gets smooth.
2. Add sugar, salt, black pepper, and cumin seeds to the curd. Mix it well again.
3. Add the chopped pineapple and half of the pomegranate seeds to it.
4. The other half of the pomegranate seeds will be used in garnishing.
5. Your raita is ready. However, chill it in the refrigerator before serving.
6. As you serve the pineapple raita garnish it with the remaining pomegranate seeds and chopped coriander.
7. It fits well with any North Indian main course.
Recipe Tips
Preparing this pineapple raita is easy and can be done in no time. We suggest you follow these quick tips during the preparation of a simple pineapple raita recipe.
For whipping the curd, use a spoon instead of a blender. The use of mixer may create butter in the curd.

The pineapple should be cut in square pieces that are neither too small nor large.

You can add a little more sugar to suit your babies' taste. Kids usually love the dominant sweet taste.

You can use canned pineapple to avoid the tanginess of the fresh pineapple.

Wash the pomegranate seeds before adding them to the raita.

The pomegranate seeds are rich in fibre.

You can cool the raita as per your baby's liking.
Nutrition Information (Per 100 Grams)
| | |
| --- | --- |
| Nutrient | Value |
| Energy | 76.8 kCal |
| Protein | 4.5 g |
| Carbohydrates | 12.1 g |
| Fibre | 2.6 g |
| Fat | 1.5 g |
| Cholesterol | 4.9 mg |
| Vitamin A | 1.1 mcg |
| Vitamin B6 | 4.2 mg |
| Vitamin B12 | 7.6 mg |
| Vitamin C | 14.4 mg |
| Vitamin E | 0.4 mg |
| Calcium | 15.3 mg |
| Iron | 1.4 mg |
| Magnesium | 5.3 mg |
| Phosphorus | 12.1 mg |
| Sodium | 57.7 mg |
| Potassium | 249.5 mg |
| Zinc | 5.1 mg |
Health Benefits
Your baby will derive multiple health benefits from this pineapple raita baby food recipe. The main benefits are:
The vitamins and enzymes of pineapple will make the immune system stronger and makes the bones of your kid stronger.
The antioxidants boost the digestion of your baby.
The raita has anti-inflammatory properties.
The curd will make the skin of your baby healthy and shinier.
The calcium in curd will make the teeth and bones healthy.
Curd has protein and healthy gut bacteria, vital for your baby's health and digestion.
The pomegranate seeds protect the baby's health from free radicals.
Buying Guide
Prefer making curd at home instead of buying from the market.
Use canned pineapple only if fresh pineapple is not available in the market.
Buy organic food as and whenever possible for your kitchen.
The Indian meal is generally considered incomplete without raita. Pineapple raita is an excellent addition both in terms of taste as well as health benefits. The sweet and salty taste will entice the taste buds of your baby. Your baby can quickly eat it as it does not require much chewing. It works well in the summer heat and works as a perfect natural coolant. You can well serve it to your baby when their stomach is upset, or they are suffering from constipation.