Mix Berry Yoghurt Recipe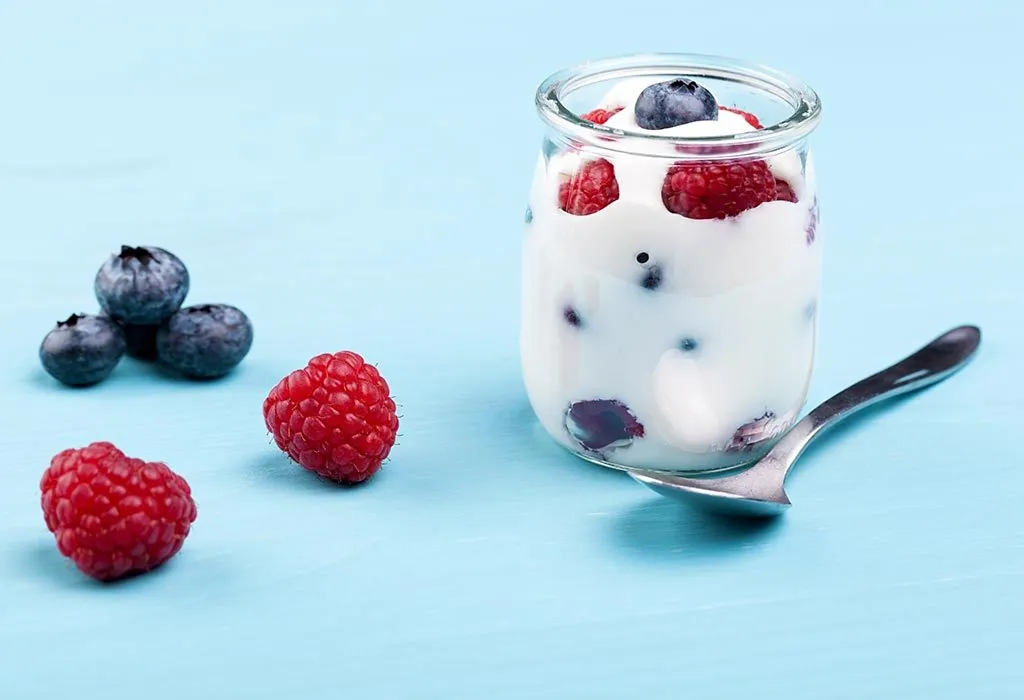 In this Article
Berries are a rich source of vitamin C which acts as an antioxidant and has a good amount of magnesium, vitamin B-6, iron, thiamine, riboflavin. The good thing is it can provide your little bundle with an adequate amount of these nutrients from 6- 12 months old. Mixing it with yoghurt will enhance its visual appeal as well as help gut health. So, in case, you are thinking of adding this recipe to your baby's diet, here is how you can make mix berry yoghurt. Read on and learn how you can make this super easy and yummy recipe in no time!
Cooking Time:
| | |
| --- | --- |
| Type | Time (hh:mm:ss) |
| Preparation Time | 00:04:00 |
| Cooking Time | 00:00:00 |
| Total Time | 00:04:00 |
Cooking Method:
Mixing, Blender
Type of Meal:
Vegetarian
Suitable For:
Any Toddlers Above 14 Months of Age
Meal Schedule:
Mid Morning Snack, Evening Snack.
Recipe Type:
Mid Meal Snack
Ingredients
| | |
| --- | --- |
| Type | Quantity |
| Mix berries | 200 gms |
| Yoghurt | 200 gms |
| Honey/Sugar | 1 to 2 tablespoon |
Instructions
Here are step by step directions to make Mix Berry Yoghurt:
1. Take fresh berries and wash them thoroughly.
2. Blend all the ingredients in a blender until a smooth and uniform mixture is obtained.
3. Check for taste, and adjust sweetness.
4. Scoop it out into a bowl and serve.
Recipe Tips
If obtaining fresh fruit is a problem, then you can use frozen berries too.
For babies who are younger than 12 months, using homemade yoghurt will be better.
It can be made without honey also because honey may sometimes contain spores of bacteria that may cause botulism in babies and store brought yoghurt can have milk powders in them.
For older babies (more than one year), chopped berries can be served.
If trying for the first time, feed a little and check if the baby is allergic to any fruit.
Babies should get nutrients from all the sources, including protein, fruits, and vegetables. Hence, it is advisable to introduce to solid foods and not just this fruit recipe.
Nutrition Information (Per 150 Grams)
| | |
| --- | --- |
| Type | Value |
| Carbohydrates | 12 grams |
| Sugar | 10 grams |
| Calcium | 20grams |
| Iron | 0.4 milligram |
| Protein | 8 grams |
| Sodium | 80 milligram |
| Dietary fibre | Not significant |
Health Benefits
Wondering how healthy this tasty delight is for your baby? Here are some health benefits of homemade mix berry yoghurt for babies:
The calcium and potassium in berries are good for your growing baby's bones and teeth.
Berries and yoghurt are loaded with essential vitamins and minerals such as calcium, magnesium, potassium, iron, folate, etc. that help babies have energy and maintain good gut health.
Antioxidants are useful for reducing the impact of free radicals.
Introducing berries at a young age can help them develop a taste for the same and continue eating berries benefit from them.
Berries are a good source of vitamin C and help the absorption of iron from other foods.
Raspberry is rich in fibre and is also a low-calorie option.
Blackberry helps in protection of the heart and is good for skin and hair.
As fruits have a very pleasing taste, it can be easily liked by toddlers.
The rich and vibrant colour of berries can instil a curiosity to try eating it, in case of fussy eaters, allowing them to eat and get those wholesome nutrients too.
Fruits in any form are always better than junk food and can be used as healthy snacks for growing babies. For picky eaters, a recipe like this will surely help mothers adding all the nutrients in these fruits to the baby's diet.
Buying Guide
Here are buying tips that you should keep in mind while picking up ingredients for mix berry yoghurt for your baby:
As far as possible, purchase organic fruits and vegetables for your munchkin as these products are free from any harmful chemicals in the form of pesticides. Washing these also becomes easy.
Use home set yoghurt to avoid any extraneous addition of ingredients.
Don't allow your baby to eat more than the recommended amount of fruit as it can displace other nutritious foods like vegetables, grains, dairy foods. Other protein-rich foods are equally essential to get a balanced diet and from various food sources.
Make these super-easy mix berry yoghurt for babies. They can be whipped up in a jiffy and will surely bring a big smile to your munchkin's face!