Papaya and Apple Chaat Recipe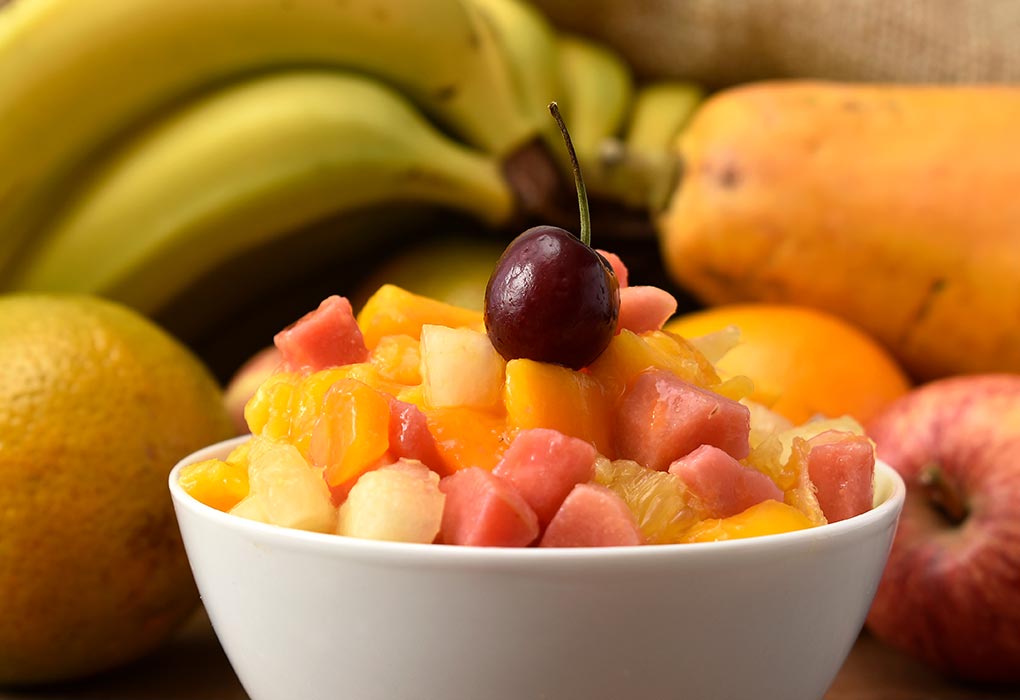 In this Article
Chaat is a delicious and refreshing snack enjoyed by children in between meals or in the evenings. Let's make chaat more healthy by adding two rich fruits: apple and papaya.
Fruits are a rich source of fibre, vitamins, antioxidants and minerals. These are essential building blocks for your toddler. This simple papaya and apple chaat recipe will take not more than 10 minutes to prepare and will serve a bowl full of nutrition to your little one! So, let's start the recipe.
Cooking Time
| | |
| --- | --- |
| Type | Time (hh:mm:ss) |
| Preparation Time | 00:05:00 |
| Cook Time | 00:05:00 |
| Total Time | 00:10:00 |
Cooking Method
Mixing ingredients in a bowl.
Type of Meal
Vegetarian
Suitable For
Children above 16 months of age
Meal Schedule
Evening snack or as a snack in between meals
Recipe Type
Side dish/ snack
Ingredients
| | |
| --- | --- |
| Ingredient | Quantity |
| Papaya(cut in cube shape) | 1 cup |
| Apple(cut in cube shape) | 1 cup |
| Rock Salt or Salt | As per taste and preference |
| Cherry (de-seeded) | 1 |
| Chaat masala | 1 tsp |
| Roasted Cumin Powder | 1 tsp |
| Lemon Juice | 1.5 tsp |
Instructions
Wondering how to make papaya and apple chaat? Here are the simple steps that you need to follow:
Wash, peel and cut the apples into cubes.
Wash, peel and cut the papaya into cubes.
Mix both the fruits in a large mixing bowl.
Now, sprinkle the roasted cumin powder and chaat masala.
Add either rock salt or salt into the mixture, as per your child's health.
Now, sprinkle lemon juice into the mixture.
Mix all the ingredients. Taste the chaat and adjust the spices according to your child's taste.
Add a cherry for garnish.
You can serve the chaat right away or refrigerate it for a while, depending on the likes of your child.
Follow the above step by step procedure to prepare a yummy chaat out of just two fruits.
Recipe Tips
You must follow these tips while you try papaya and apple chaat for babies at home:
Wash your hands properly before cutting and peeling the fruits.
Peel the apples when you use them in this recipe. The apple peel might contain wax, which is harmful for health.
Rock salt should only be used in the recipe if it suits your kid. Rock salt may cause diarrhoea in some children. So, before including rock salt in your recipe, please ensure that your child is not affected adversely by rock salt.
Nutrition Information (Per 100 Grams)
| | |
| --- | --- |
| Type | Value |
| Energy | 86 kCal |
| Carbohydrates | 17.72 g |
| Fat | 0.8 g |
| Protein | 0.7 g |
| Sodium | 8.11 mg |
| Potassium | 289 mg |
| Dietary Fiber | 5.42 g |
| Calcium | 29 mg |
| Iron | 1.66 mg |
| Vitamin C | 46.6 mg |
| Magnesium | 8.05 mg |
Health Benefits
Following are the health benefits of this homemade papaya and apple chaat baby food recipe:
Both apples and papaya are known to improve your child's digestive health by regulating the bowel movements due to high fibre content.
The good amount of calcium and magnesium in apple helps in the development of healthy bones and teeth in your children.
The antioxidant property of apple prevents chronic diseases in your children.
Papayas, being a great supplement of Vitamin C, aids in boosting the immunity of your children.
The iron content in papaya helps in the maintenance of haemoglobin levels.
The carbohydrate content in the recipe keeps your children energetic all day long.
Quercetin found in apples plays a major role in protecting the brain cells of your children.
Buying Guide
Do take care of the following points when you buy ingredients for this recipe:
Try to buy apples and papaya from an organic store to ensure safer and healthier consumption.
Choose yellowish-orange coloured papayas over the green ones to prevent waiting for the papaya to ripe and for immediate consumption.
This easy recipe takes less amount of time but provides an enormous amount of nutrition. Try this easy and delicious recipe to ensure your children consume the maximum amount of nutrients for a healthier future.