Channa Murmura Chaat Recipe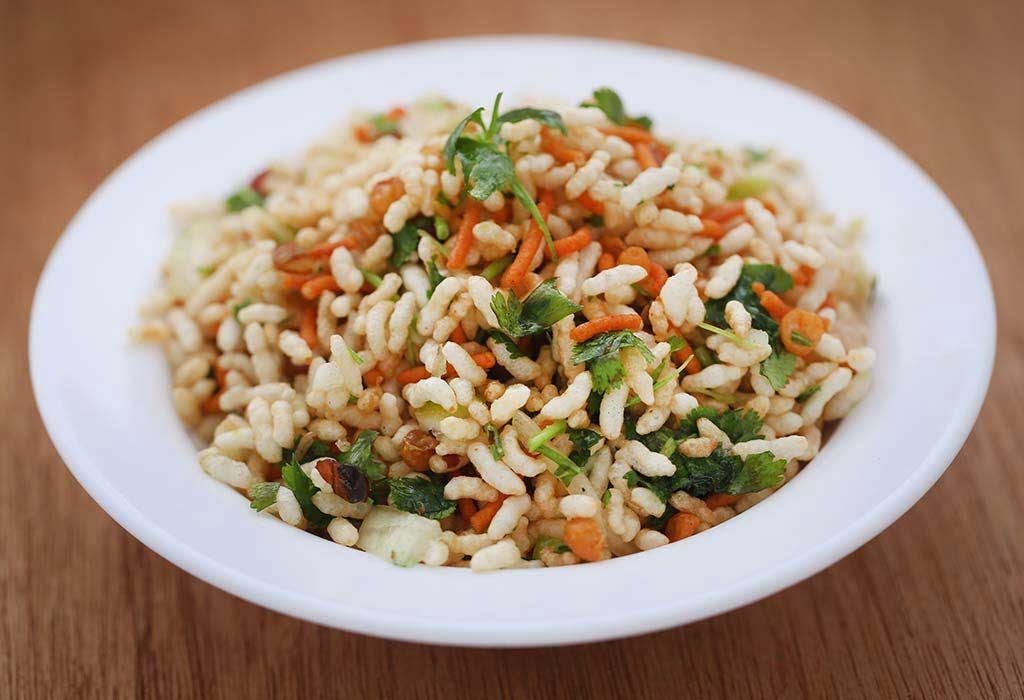 In this Article
The Chana Murmura Chaat recipe is a healthy and delicious recipe for your baby. A perfect tea-time snack that does not contain too many calories but is a powerhouse of nutrition, it can be made and stored in an air-tight container for up to ten days. Easily digestible, puffed rice is light on the stomach and great in taste!
Cooking Time
| | |
| --- | --- |
| Type | Time (hh:mm:ss) |
| Preparation Time | 00:05:00 |
| Cooking Time | 00:05:00 |
| Total Time | 00:10:00 |
Cooking Method
Gas Stove
Type of Meal
Vegetarian
Suitable For
Babies above 19 months of age
Meal Schedule
Accompaniment, Starter, or Tea-time Snack
Recipe Type
Mid-day snack or evening snack
Ingredients
| | |
| --- | --- |
| Ingredients | Quantity and Volume |
| Puffed Rice | 4 cups |
| Peanuts | 1 cup |
| Roasted Whole Gram Dal (Chana Dal) | 1 cup |
| Mustard Seeds | 1 teaspoon |
| Asafoetida (Hing) | 1 pinch |
| Curry Leaves | 3 sprigs |
| Turmeric powder (Haldi) | 1 teaspoon |
| Red Chilli powder (optional) | 1 teaspoon |
| Dry Mango Powder (Aamchur Powder) | 1 teaspoon |
| Salt | To taste |
| Pepper | To taste |
| Oil | 3 tbsp |
Instructions
Read on to know how to make Chana Murmura Chaat with this simple step-by-step guide. Just follow these simple steps and make a batch of the chaat to serve to your baby to fill in those gaps between the main meals of the day
Heat oil in a deep pan or a large heavy-bottomed pan. Add the peanuts and fry them on a low flame till they darken. Make sure they do not burn and fry until they emanate a fragrant smell.
Take the peanuts out of the pan and keep them in a container.
In the same pan, heat some more oil, and add the mustard seeds.
Once the mustard seeds start spluttering, add the asafoetida, curry leaves, and turmeric powder. If your baby can tolerate mild levels of spice, add the red chilli powder.
Then add the roasted whole gram dal or chana dal.
Add the fried peanuts to the mixture.
Add the puffed rice or murmura and mix well.
Add salt to taste and the dry mango powder.
Roast on a low flame until the murmura becomes crunchy.
Recipe Tips
A few important things to remember when making the easy Chana Murmura Chaat for babies.
Make sure the puffed rice you buy is of good quality. Use a fresh pack as puffed rice tends to become dry when left open.
You can eliminate using peanuts if you think your baby is too young to chew it. If you wish you can add a few for the taste and remove them from the plate before serving.
You can add chilli powder and chopped green chillies if your child is older and can tolerate mild levels of spice.
Ensure that you store the chaat in an air-tight container. If not, the puffed rice will become soggy.
Nutrition Information (Per 100 Grams)
| | |
| --- | --- |
| Nutrient | Value |
| Calories | 54 kCal |
| Protein | 0 g |
| Carbohydrates | 12 g |
| Fibre | 0 g |
| Fat | 1 g |
| Cholesterol | 20 mg |
Health Benefits
The Chana Murmura Chaat recipe for babies has its share of health benefits:
Puffed rice or murmura is a great combination of high fibre, protein, and carbohydrates.
Puffed rice is perfect for giving some energy without sabotaging the main meals.
Puffed rice is low on calories and is filled with vitamins and minerals.
The chana dal added is a good source of protein.
Buying Guide
Buy properly packaged puffed rice.
Make this recipe with the best quality puffed rice as it will stay longer when stored in an air-tight container.
Curry leaves must be fresh.
Peanuts must also be properly packed.
Use good quality oil or ghee to enhance the taste.
As your child grows, you will find that they will get hungrier. However, you may not want to compromise on their main meals like lunch and dinner but still, might want to offer a snack in between meals. This will help your child to get that needed energy to keep going through the day, and they will also be adequately hungry by lunch or dinner time.