Ragi Dumplings Recipe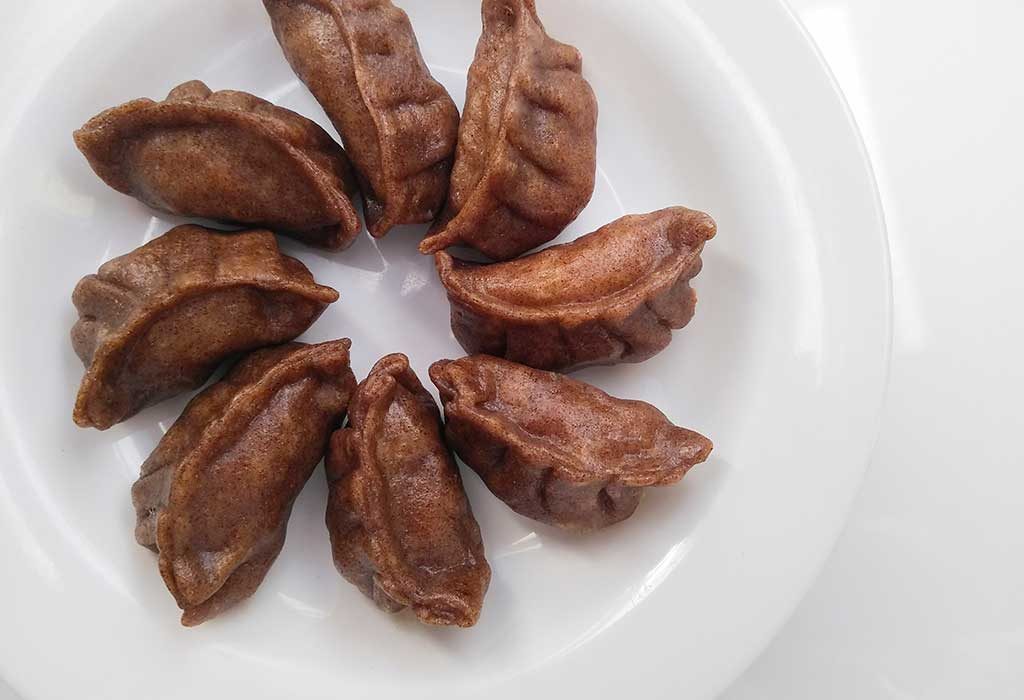 In this Article
Ragi dumplings for babies are a great choice as snacks for babies as they have immense amount of nutrition in them. Just one dumpling is capable of providing so many essential minerals and vitamins that most of the deficiencies can be kept away from your little one. They are easy to make and since they are steamed, it eliminates the chance of using any heavy oil or deep frying, making them a super-healthy snacking option. If your baby is bored with the regular porridge and smoothies, then these dumplings would be a welcome change in their food regime. We have given a twist to the regular dumpling by adding mung daal to it, which comes with its hoard of benefits and is easy on tiny tummies. You can also make these on special occasions for the entire family and expect huge appreciation from the guests as these are just too yummy.
Cooking Time
| | |
| --- | --- |
| Type | Time (hh:mm:ss) |
| Preparation Time | 00:10:00 |
| Cook Time | 00:20:00 |
| Total Time | 00:30:00 |
Cooking Method
Gas stove and Idli Maker
Type of Meal
Vegetarian
Suitable For
Any toddler above 14 months of age
Meal Schedule
Breakfast, snacks
Recipe Type
Main dish, snacks
Ingredients
| | |
| --- | --- |
| Ingredients | Quantity and Volume |
| Ragi flour | ¾ cup |
| Rice flour | ¼ cup |
| Mung daal | 3 tbsp |
| Grated coconut | 2 tbsp |
| Powdered jaggery | ½ cup |
| Water | 1/3 cup |
| Salt | One pinch |
| Ghee | 1 tsp |
| Cardamom powder | 1 pinch |
Instructions
Now let us look at the step by step procedure of making these yummy dumplings. This process takes into consideration that we need to retain maximum nutrients which might get lost in other modes of cooking.
Prepare jaggery syrup by boiling jaggery in ½ cup water and then filtering it. This removes the impurities.
Dry roast ragi and rice flour for 2-3 minutes till you feel that its raw smell is gone.
Let the flour cool down by transferring it to a mixing bowl.
Boil mung daal in water or pressure cook until three whistles. Mung daal should be half cooked only, which you cannot easily mash.
Roast grated coconut in ghee for a minute and add it to the flour mix.
Add the boiled jaggery along with boiled mung daal to the above mix.
Add remaining ingredients to the mix as well.
Now pour water slowly into the mix to make a smooth dough.
Take a small amount of this dough in your hand and roll it to give a cylindrical shape. Press them with hand to get a dumpling-like shape.
Keep similarly making dumplings till all dough is finished.
Put the dumplings in the idly maker along with water and steam them for 15 minutes.
Dumplings will turn shiny once done, take them out and serve.
Recipe Tips
This is an easy Ragi dumplings recipe for babies which can be done within 25 minutes.
Do not dry roast ragi on high flame as it might burn the flour and give bitter or burnt taste which your kid might not like.
Depending on how soft or hard you want the dumplings; adjust the amount of water used while making the dough.
You can preserve the dough for a day, and if you make it a few hours apart, then you just need to steam the uncooked dumplings for 3-5 minutes.
Nutrition Information (Per Ragi dumpling)
| | |
| --- | --- |
| Nutrient | Value |
| Energy | 71 Cal |
| Protein | 1.1 g |
| Carbohydrates | 10.4 g |
| Fibre | 1.7 g |
| Fat | 2.8 g |
| Sodium | 1.6 mg |
| Calcium | 49.5 mg |
| Iron | 0.6 mg |
| Potassium | 59 mg |
| Magnesium | 19.7 mg |
| Phosphorous | 40.8 mg |
| Zinc | 0.3 mg |
| Vit A | 29.4 mcg |
| Vit B1 | 0.1 mg |
| Vit B2 | 0 |
| Vit B3 | 0.3 mg |
| Vit C | 0 |
| Folic acid | 2.6 mcg |
Health Benefits
This home-made Ragi dumplings baby food recipe is a powerhouse of nutrition, and the addition of jaggery to it gives it a sweetness and flavour of its own.
Ragi flour is rich in many essential vitamins and minerals like calcium, potassium, magnesium, iron, which are all very necessary for the overall development of tiny tots.
These dumplings are also high in fibre to aid constipation which is a regular issue with small kids.
Buying Guide
Buy organic ingredients as you do not want to risk your precious child's health and development with non-organic things.
When buying jaggery look for dark-coloured ones which are aged as they have minimal chemical residue.
We hope this recipe explained how to make Ragi dumplings for a child in clear steps, and you are inspired to try it for your child pretty soon.