Watermelon Juice Recipe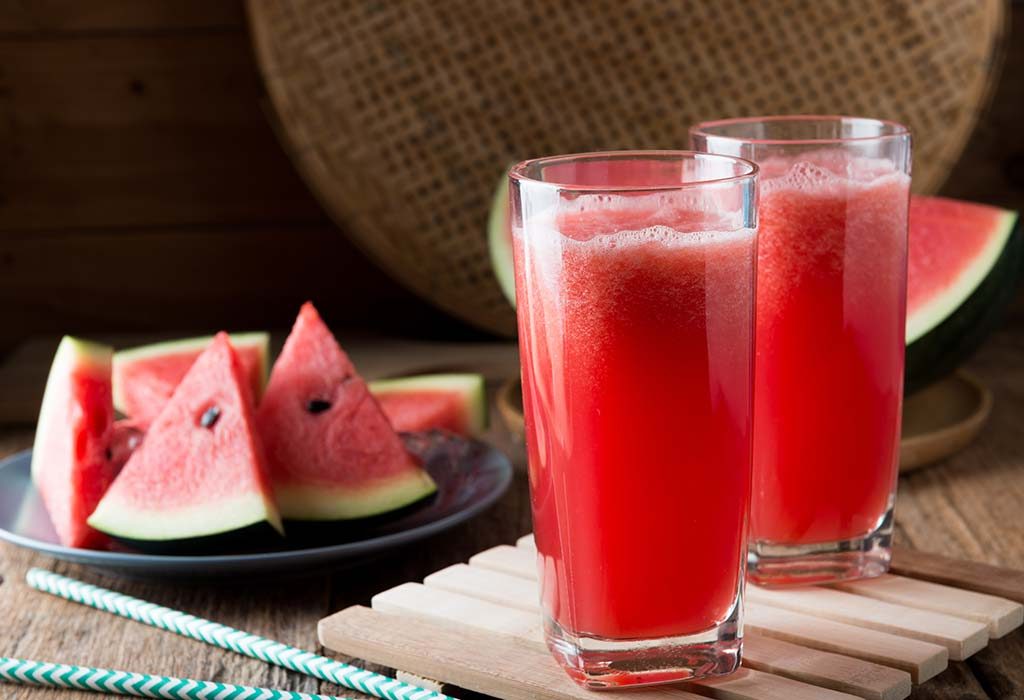 In this Article
Summer is arriving and a glass of fresh watermelon juice is a great way to refresh your child in the hot weather. Watermelon consists of 91% water and 7.5% carbs. Although there are five types of watermelon, the most common one is the red seeded watermelon. This sweet fruit has almost no protein, no fats and is very low in calories. It is one of a great way to beat the heat of summer and sweetly hydrate the body of toddlers. If you are thinking that how to make watermelon juice at home, then you will begin to smile while reading this post.
Cooking Time:
| | |
| --- | --- |
| Type | Time (hh:mm:ss) |
| Preparation Time | 00:10:00 |
| Cook Time | 00:00:00 |
| Total Time | 00:10:00 |
Cooking Method
No cooking required
Type of Meal
Vegan
Suitable for
Toddlers of 18 months age and above
Meal Schedule
With Breakfast, mid-morning snack, Along with Lunch
Recipe Type
Beverage
Ingredients
| | |
| --- | --- |
| Type | Quantity |
| Watermelon Cubes | 4 cups |
| Black Salt | 1/2 tsp |
| Mint leaves | 4-5 leaves |
| Lemon juice (Optional) | 1/4 tsp |
| Honey | 1/2 tsp |
Instructions
Here are step by step directions to make watermelon juice for babies.
Peel and cut the watermelon into small cubes.

De-seed the watermelon cubes.

You can use either blender or cold-pressed juicer to extract the juice of the watermelon.

Put watermelon cubes and mint leaves into a blender or juicer and extract the juice. Add honey to the juice and mix it with a spoon.

You can add water to the juice to attain the required consistency.

If you want to make it a little piquant in taste then instead of adding honey, add black salt to it.

Adding lemon juice is completely optional, but it gives a nice tangy flavor to the juice.

Serve chilled.
Recipe Tips
Do not add extra ice-cubes in this dish as this is for little tummies.

For extra benefit, make it using a blender and do not strain the pulp of the watermelon.

To make it chilled, you can store the juice in the refrigerator for some time or store the watermelon in the refrigerator for around an hour before using it.

Also, use freshly diced watermelon and avoid using packed or frozen watermelon dices.

Add basil leaves sometimes in place of mint leaves for this homemade watermelon juice recipe.
Nutritional Information (Serving Per 100 Grams)
| | |
| --- | --- |
| Type | Value |
| Energy | 30 Kcal |
| Water | 91% |
| Protein | 0.6 gm |
| Crabs | 7.6 gm |
| Sugar | 6.2 gm |
| Fiber | 0.4 gm |
| Fat | 0.2 gm |
| Vitamin A | 0.17 mg |
| Vitamin C | 8.1 mg |
| Calcium | 7 mg |
| Potassium | 112 mg |
| Magnesium | 11 mg |
| Sodium | 1 mg |
| Iron | 0.24 mg |
| Phosphorous | 112 mg |
Health Benefits
This easy watermelon juice recipe is a fantastic refreshing drink and full of nutrition. Here are some health benefits of watermelon juice for babies.
Watermelon is 90% water, so it will help your baby to stay hydrated in the summer.

It has natural sugars, so it gives a boost of instant energy.

Watermelon contains dietary antioxidants that help in removing free radicals naturally from the body.

It is low in calories and high in nutrients. It contains a high amount of Vitamin A, B, and C.

Watermelon is a rich source of lycopene (a powerful antioxidant) that is effective at raising blood levels.

Vitamin C present in the watermelon will help your baby to strengthen the immune system.

It also helps in iron absorption in the body.

It promotes bone development and strengthens bone health in infants.

It maintains the cardiovascular health of a child.
Buying Guide
Picking a watermelon is an art. Here are buying tips that you should keep in mind while picking up the watermelon.
Take a watermelon and hold it with both of your hands, pat or thump on it and if you hear a hollow sound then you are lucky.
If you cannot pick a good watermelon, then ask the shopkeeper or farmer to pick a ripe watermelon for you.
Look for the yellow spot on the outer body of the watermelon, if it is in creamy yellow or even orange-yellow, then the watermelon is ripe.
An unripe watermelon makes dull sound on thumping.
Buy fresh mint leaves that are dark green. Avoid buying mint leaves that are yellowish and have black spots on it.
Always purchase fresh and organic fruits (if possible).
Give your baby a punch of refreshment with a cooling watermelon drink. This homemade watermelon juice recipe for babies will become their absolute favorite beverage as soon as they taste it. A glass full of red beverage is exceptionally refreshing and as soon you bring this beverage to your toddler, they will start jumping out of joy.