Grated Cucumber Oats Pancake Recipe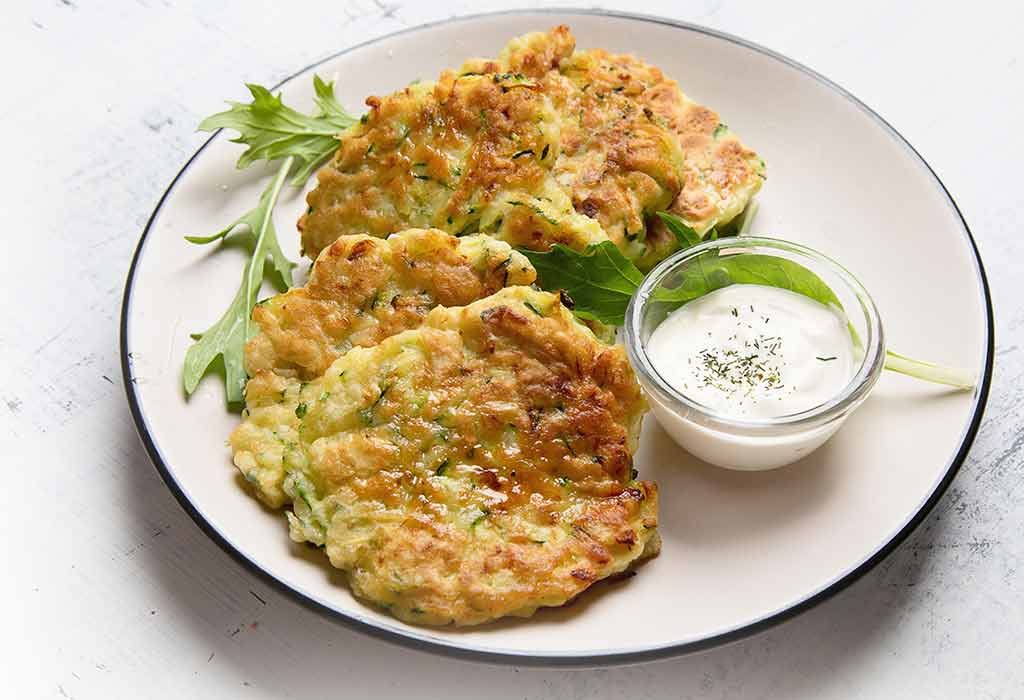 In this Article
All Indian foods are power-packed full meals. Introducing food varieties is very important for baby's development and oats are one such food. Oats are considered a super-rich food option for babies, as it contains antioxidants, vitamins, fibre, and minerals. Grated cucumber oats pancake for babies is delicious since it is easy to cook and they are extremely nutritious with many health benefits. During initial developmental days, your baby requires a good source of energy and oats is an apt choice, as oats are a rich source of energy booster. This pancake is given to babies and toddlers as it is easy to swallow and stomach filling. Grated cucumber oats pancake is easily digested due to its dietary fibre making this recipe your baby's favourite. So let us start cooking a healthy breakfast!
Cooking Time
| | |
| --- | --- |
| Type | Time (hh:mm:ss) |
| Preparation Time | 00:10:00 |
| Cook Time | 00:15:00 |
| Total Time | 00:25:00 |
Cooking Method
Gas Stove
Type of Meal
Vegetarian
Suitable For
Babies above 10 months
Meal Schedule
Breakfast
Recipe Type
Main Dish
Ingredients
| | |
| --- | --- |
| Ingredient | Quantity and Volume |
| Oat flour | 1 cup |
| Thickly grated cucumber | 1 cup |
| Chopped onion | 1 |
| Semolina (rava) | ½ cup |
| Turmeric powder | ½ tsp |
| Salt | As per taste |
| Finely chopped coriander | ½ cup |
| Ghee | 2 tbsp |
Instructions
Easy and quick way on how to make grated cucumber oats pancake, here is the step by step instructions to prepare grated cucumber oats pancake.
First, we require oats flour so grind 1 cup organic oats into a small mixer jar and make it into a fine powder.
In a deep bowl take ¾ cup oat flour.
Add ½ cup semolina (rava).
Now add the thickly grated cucumber.
Add 1 cup finely chopped onion.
Add ½ cup finely chopped coriander, ½ tsp turmeric powder, and salt as per taste.
Mix all the ingredients with a spoon.
Now add 1 cup water to make a batter of dripping consistency.
Take a non-stick tava and grease with little ghee.
Pour a ladleful of the batter on it and spread in a circular motion to make it a small pancake.
Add a few drops of ghee on top of the pancake and the sides of the pancake.
Allow it to cook till golden brown on both sides.
Serve pancake with a bowl of curd or eat as it is.
Recipe Tips
Make sure you remember the below-mentioned points before you start preparing the healthy and simple grated cucumber oats pancake recipe for your baby.
Remember to grind oats into a fine powder.
Semolina (Rava) can be pre-roasted or be used as it is.
Chop the onions and coriander.
Do not use tap water for preparing the batter.
Always wash your hands well before cooking the pancake. The utensils used should also be properly cleaned.
Half cooked pancakes can cause uneasiness in the stomach. Therefore cook the pancake well.
Nutrition Information (Per 100 Grams)
| | |
| --- | --- |
| Nutrient | Value |
| Energy | 399 kCal |
| Protein | 13.07 g |
| Carbohydrates | 69.65 g |
| Fibre | 9 g |
| Fat | 8 g |
| Calcium | 707 mg |
| Iron | 51.25 mg |
| Magnesium | 138 mg |
| Sodium | 4 mg |
| Potassium | 420 mg |
Health Benefits
Few health benefits of home-made grated cucumber oats pancake baby food recipe:
Oats are a rich source of protein making them very good for babies, mostly for babies from vegetarian households.
Oats contain dietary fibre which helps in easy digestion in growing babies.
Oats contain many minerals such as calcium, iron, and sodium these minerals are good for bone development in babies.
It gets digested easily making the baby's stomach feel light.
Oats are a good energy booster keeping the baby active during the developmental stage.
Oats keeps the stomach of babies full for a longer time.
Buying Guide
Buy organic (if possible) and good quality oats and semolina (Rava) products from a good store.
Buy organic (if possible) or fresh cucumber and coriander for vendors.
Check the expiry date of the spices before buying it.
As mothers, we always look for new innovative and healthy recipes to feed our babies. The best is what we intend to feed, so give this nutrition-rich packed Grated Cucumber Oats Pancake once in a week and see a happy smiling face and happily filled tummy playing around your house. As a mother, you will smile looking at the development for your baby during his/her growing up days. This pancake is a healthy and tasty breakfast to add to your menu!