Rajma Cutlets Recipe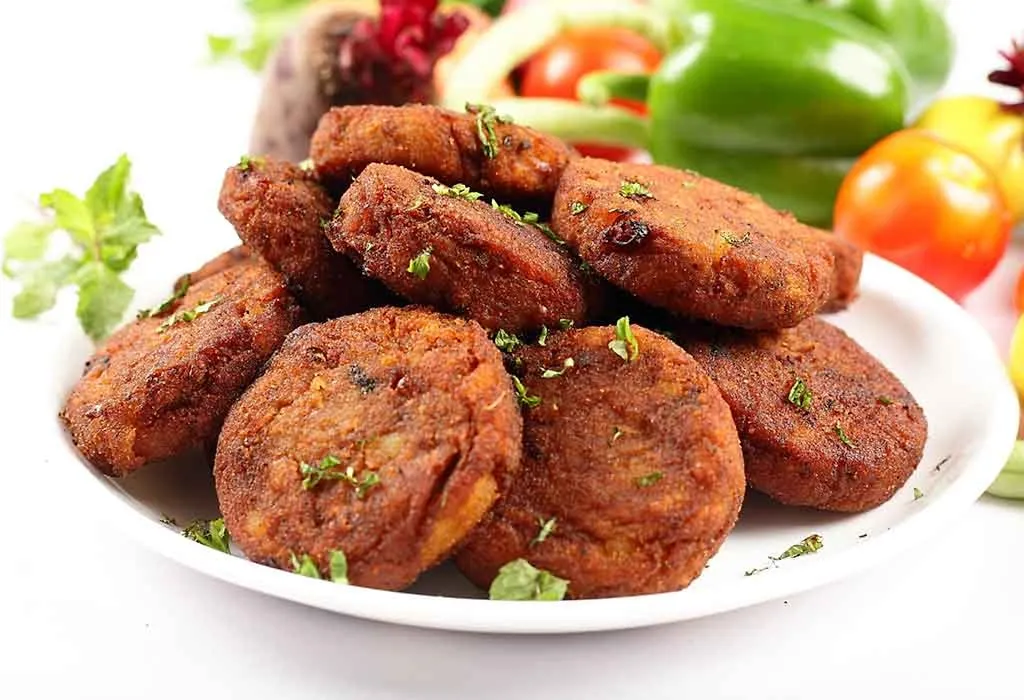 In this Article
Cutlets, kebabs and bhajiyas are fried stuff that adults gorge on. But then if you want to offer them to your baby, you start thinking about its health benefits. Well, this Rajma Cutlets for toddlers is the perfect answer to your healthy fried food plan that you wish to introduce your toddler to once in a while.
Cooking Time
| | |
| --- | --- |
| Type | Time (hh:mm:ss) |
| Preparation Time | 00:15:00 |
| Cook Time | 00:25:00 |
| Total Time | 00:40:00 |
Cooking Method
Gas, Blender or Mixer Jar
Type of Meal
Vegetarian
Suitable For
Any Toddlers above 16 months of age
Meal Schedule
Snacks, Lunch or Dinner.
Recipe Type
Main Dish
Ingredients
| | |
| --- | --- |
| Type | Quantity |
| Rajma (soaked overnight and boiled) | 1.5 cups |
| Green Chillies (optional) | ½ teaspoon |
| Ginger-Garlic paste | One tablespoon |
| Red Chilli Powder (optional) | ½ teaspoon |
| Coriander (chopped) | ¼ cup |
| Corn starch powder | ½ cup |
| Cumin seeds powder or jeera powder | One teaspoon |
| Chaat Masala | One teaspoon |
| Salt | As per taste |
| Oil | For deep frying |
Instructions
Learn how to make Rajma Cutlets by following this step-by-step instruction that will give you the best result:
Soak the rajma overnight and cook it in a pressure cooker for about 6-8 whistles. Make sure you add salt while boiling.
On cooling, mash the rajma well in a bowl.
Add all the other ingredients to the rajma and mix it to a smooth mixture.
Divide the mixture into eight equal portions.
Roll the mixture into a ball and flatten it a little in the shape of an oven.
Heat oil in a Kadai and let the oil become hot. Fry the cutlets slowly and gently until golden brown on both sides.
Drain on an absorbent paper and sprinkle cumin seeds powder and chaat masala on the cutlets.
Garnish with chopped carrots, beetroot, capsicum and any sauce of your choice.
Recipe Tips
This homemade Rajma Cutlets baby food recipe will become your child's favourite with these additional tips:
Soak your rajma overnight without fail. Add salt and cook in a pressure cooker.
Do not forget to add green chillies (optional), ginger and garlic paste as it will give the required spice.
You can choose to eliminate the red chilli powder if you think it will make the cutlets spicy for your baby.
If the cutlets open up while frying, add some cornflour to the mixture and knead it well.
Nutrition Information (Per 100 Grams)
| | |
| --- | --- |
| Type | Value |
| Calories | 130 kCal |
| Carbohydrates | 23 gm |
| Protein | 8.7 gm |
| Fat | 0.5 gm |
| Fibre | 6.5 gm |
Health Benefits
This easy Rajma Cutlets recipe has its share of health benefits. Loaded with the goodness of kidney beans or rajma and in combination with green chillies (optional), ginger and garlic, there are several health benefits to this dish. Read on to find out more:
Rajma or kidney beans are an excellent plant-based source of protein. Rajma is rich in minerals, vitamins, fibres and antioxidants.
Rajma beans are excellent for digestion and also improve the health of the colon.
Rajma is high in calcium and potassium that helps in the development of the bones for kids.
The folate in kidney beans helps to develop the brains of toddlers.
Garlic has antibacterial and antifungal properties. It helps to build and boost the immunity of the body.
Green chilli is a rich source of Vitamin C and helps in maintaining healthy and glowing skin.
Green chillies also aid in digestion and improve the immunity levels.
Buying Guide
Just a few things to remember when sourcing ingredients for Rajma Cutlets:
Buy kidney beans or rajma from supermarkets in sealed form. Check the best before date on the rajma packet before buying.
Buy organic kidney beans if possible as they will be free from chemicals and pesticides.
Buy fresh garlic and ensure that you peel it before using.
Buy fresh green chillies (optional) and ginger. Make sure the ginger and green chillies look fresh and not wilted.
Corn starch powder is needed to bind the cutlets and therefore make sure you buy corn starch from supermarkets in sealed form. Check the best before date on the corn starch packet before buying and using.
These Rajma Cutlets for toddlers is such a delicious snack that can be offered for a mid-day snack, lunch and dinner. You can turn it into a full meal by serving it with boiled vegetables like carrots, peas and potatoes. It can be served as a main dish with an accompaniment of salad. This arrangement will be a different twist to the regular meals you serve to your toddler and will be lapped up in style.