Wheat Laddoo Recipe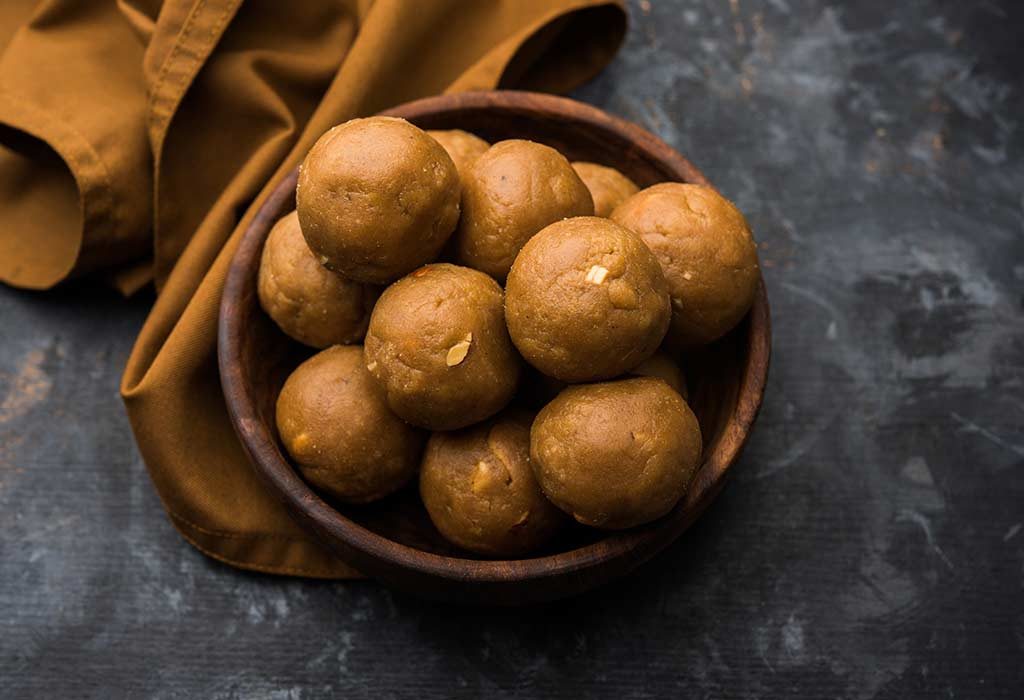 In this Article
Wheat Ladoo is a famous Punjabi dish, usually made during winters in North India. These laddoos are great for providing heat in the body in winters. With only a few ingredients, you can easily make this simple wheat ladoo recipe at home. The best thing about this recipe is that it can be stored for longer. So you can prepare it in bulk and store it. Not only the babies, but all your family members will love this homemade healthy ladoo. Try out this wholesome and nutritious recipe and give it to your babies when hunger strikes.
Cooking Time
| | |
| --- | --- |
| Type | Time (hh:mm:ss) |
| Preparation Time | 00:10:00 |
| Cook Time | 00:20:00 |
| Total Time | 00:30:00 |
Cooking Method
Gas
Type of Meal
Vegetarian
Suitable for
toddler above 16 months of age
Meal Schedule
With Breakfast or lunch, Mid-morning snacks, mid-evening snacks
Recipe Type:
Sweets
Ingredients
| | |
| --- | --- |
| Type | Quantity |
| Whole wheat flour | 120 gm or one cup |
| Organic unrefined cane sugar | 1/3 cup |
| Powdered sugar | 2 tsp |
| Ghee | 1/3 cup |
| Raisins | 10-11 |
| Coarsely crushed mixed nuts | 1/2 cup |
Instructions
Here are step by step directions that will give a complete idea of how to make wheat laddoo. There are two parts to make this recipe.
For roasting the wheat flour:
Heat a thick bottomed pan and add wheat flour to it.
Roast the whole wheat flour on medium-low heat.
For even roasting and browning the flour, you have to stir it frequently.
Roast continuously for 7-8 minutes on low flame until you get the nutty aroma of the flour.
Now add ghee to the flour and mix well.
Stir and roast the mixture for another 4-5 minutes on low flame.
To check the flour, taste it, there should be no rawness in the flour. Now switch off the flame and the wheat flour is ready for making laddoo.
For making the Ladoo:
Allow the roasted wheat flour to cool down a bit for around 1-2 minutes.
Add powdered sugar or jaggery powder or khaand (unrefined sugar) to it and give it a nice mix.
Add raisins and other dry fruits of your choice and mix it well.
You have to start making Ladoo when the flour is hot and your hands can bear the heat.
Take a heaped size of potion and start making Ladoo with your hand.
When the heat is not tolerable, wait for some time and let it cool down a bit. Do not burn your hands.
Make medium size Ladoo from the mixture and store it in an airtight container. You can store this wheat laddoo for babies for almost a month.
Serve it whenever you want.
Recipe Tips
Cooldown the ladoo completely before keeping it in an airtight container.

In case you cannot form the shape of ladoo from the mixture then add a few tablespoons of ghee to it and try again.

Roast dry fruits like cashew nuts and almonds separately before adding it to the mixture.

Khand or powdered jaggery is a better substitute for powdered sugar.

No need to add flavoring like cardamom powder or saffron to it. But if you want, you can.
Nutritional Information (Serving Per 100 Gram)
| | |
| --- | --- |
| Type | Value |
| Energy | 218 Kcal |
| Protein | 3 gm |
| Carbohydrates | 16.8 gm |
| Fiber | 0.4 gm |
| Fat | 15.3 gm |
| Vitamin A | 112.6 mcg |
| Folliv Acid (Vitamin B9) | 4.8 mcg |
| Calcium | 23 mg |
| Iron | 1.2 mg |
| Sodium | 2.7 mg |
| Potassium | 42.5 mg |
| Zinc | 0.5 mg |
Health Benefits
This homemade wheat laddoo baby food is loaded with nutrition and health benefits. Scroll down and have a look at its health benefits.
The ingredients used in this recipe are super healthy for a growing baby.
It helps in keeping the digestive system healthy. It also helps in bowel movement and relieves constipation.
It helps in healthily gaining body-weight for babies.
Wheat flour is a good source of complex carbohydrate and hence it is the most efficient source of energy.
It keeps the body warm and helps in fighting flu and cold during winter and monsoon.
Buying Guide
Buy organic wheat atta that is not very fine.
Purchase dry fruits that are free from any kind of insects.
Check the expiry date of the products before buying them.
Check the ingredients of the ghee (clarified butter) if you are using store-bought ghee. It should be pure and should not contain any kind of preservatives and chemicals.
?>