Plain Khakhara Recipe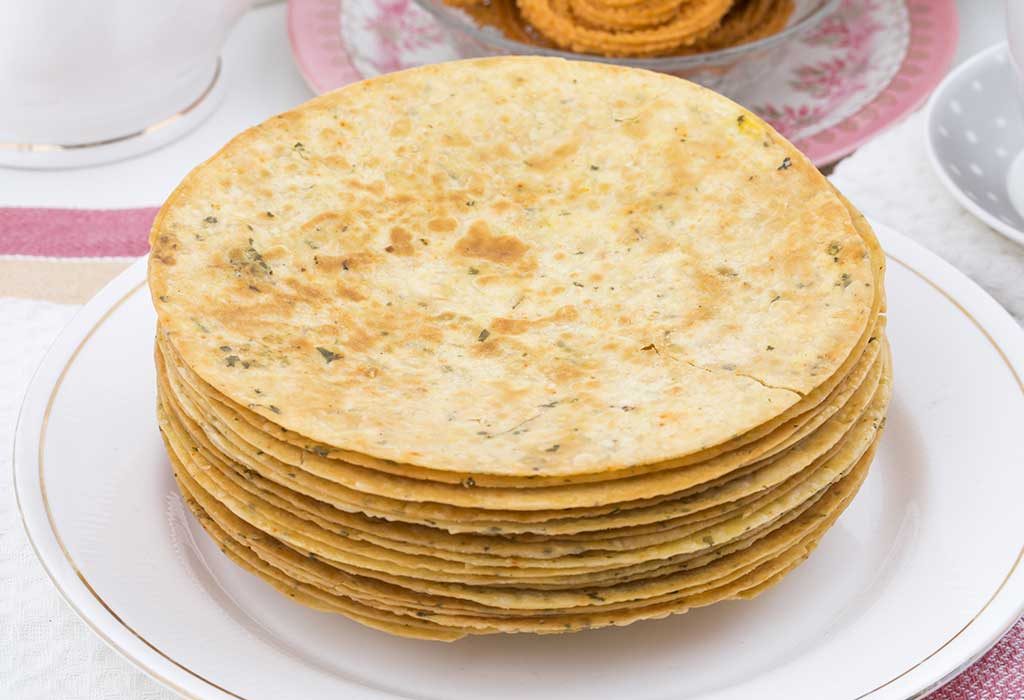 In this Article
Your baby or toddler is in no way different than adults when it comes to taste. Exposure to different foods will promote liking and intake of varied food items. It is vital for the overall growth and development of your child. Apart from regular meals, snacks are an effective way to ensure a healthy diet. The diversity of Indian cuisine is a boon for mothers. Consider the Gujarati Snack Khakra that is now getting popular across India. Crispy and thin, you can add a twist to it by adding different ingredients. Plain Khakhara for babies is tasty and addictive for everyone in the family.
Cooking Time
| | |
| --- | --- |
| Type | Time (hh:mm:ss) |
| Preparation Time | 00:20:00 |
| Cook Time | 00:40:00 |
| Total Time | 00:60:00 |
Cooking Method
Gas Stove
Type of Meal
Vegetarian
Suitable For
Toddlers above 15 months of age
Meal Schedule
Breakfast or evening snacks
Recipe Type
Appetizer
Ingredients
| | |
| --- | --- |
| Ingredients | Quantity and Volume |
| Whole Wheat Flour | 2 cups |
| Cumin Seeds | ½ tbsp |
| Fenugreek Leaves (chopped) | ¼ tbsp |
| Asafoetida (hing) | ¼ tsp |
| Turmeric Powder (Haldi) | ½ tsp |
| Sunflower Oil | 2 Tbsp |
| Salt | As per taste |
Instructions
Tempting as it may sound, however, preparing khakhara at home requires a little guidance. If you are looking for an easy and quick recipe on how to make plain khakhara, follow our step by step directions for a tasty snack.
The preparation for the khakhara starts with making the dough. Take a large bowl and mix the whole wheat flour, fenugreek leaves, cumin seeds, turmeric powder, oil, asafetida powder, and salt as per taste.
Knead the mixture with your hands while adding little water at a time. Keep kneading till the dough gets a little stiff.
Cover it with a moist cloth and let it rest for about fifteen minutes. Now knead once more and divide it into equal portions. You can make 20-25 equal portions from this dough.
Now pick each portion and roll out into gaunt circles. Keep using flour to prevent it from sticking to the base.
Now heat a shallow non-stick pan on medium heat. Take one of the rolled circles and let it cook.
Flip the sides once you notice air popping out from the khakhara.
Use a teaspoon of oil and put it around it in the pan.
Use a wooden press or a cotton cloth to press the khakhara and do not let it develop air pockets during cooking.
On a medium to low heat, continue pressing it.
Flip over and keep pressing. Once you find it to be crisp, consider it done.
Take it off from the non-stick pan and place it on a flat plate. Keep stacking the cooked khakhara on top of the other.
Your plain khakhara is ready to be served.
Recipe Tips
No doubt it is a simple plain khakhara recipe. However, we suggest you follow a few tips while cooking:
Pay special attention while preparing the dough. Your entire recipe depends on it.
Instead of mixing water in one go, add it regularly in small quantities.
During cooking, keep pressing consistently with a wooden press to ensure that your khakhara remains thin.
Do not let any air pocket form during the cooking.
Use oil only to ensure that it does not stick to the sides.
Your khakhara should ideally taste like a roasted snack.
Once cooked, store it in an airtight container and use it for about two weeks. However, it may last a month if you refrigerate it.
Nutrition Information (Per 100 Grams)
| | |
| --- | --- |
| Nutrient | Value |
| Energy | 119 kCal |
| Protein | 2.6 g |
| Carbohydrates | 15.7 g |
| Fibre | 2.6 g |
| Fat | 5.4 g |
| Cholesterol | 0 mg |
| Vitamin A | 46.5 mcg |
| Vitamin B1 (Thiamine) | 0.1 mg |
| Vitamin B2 (Riboflavin) | 0.0 mg |
| Vitamin B3 (Niacin) | 0.9 mg |
| Vitamin C | 0 mg |
| Vitamin E | 0.2 mg |
| Folic Acid (Vitamin B9) | 7.8 mcg |
| Calcium | 10.4 mg |
| Iron | 1.1 mg |
| Magnesium | 28.6 mg |
| Phosphorus | 76.9 mg |
| Sodium | 4.3 mg |
| Potassium | 68.2 mg |
| Zinc | 0.5 mg |
Health Benefits
Home-made plain khakhara is healthy for your child. Here's how:
Phosphorous helps in building stronger bones of your child.
Vitamin B9 will ensure the building and maintenance of new cells.
Plain khakhara helps in removing free radicals from your baby's body.
Buying Guide
Flour made from organic wheat is the best choice.
The spices should be fresh when used.
Plain khakhara is a snack that is healthy in all aspects for your child and adults in the family as well. The best thing is that you can store it and serve it regularly.