Dal Paratha Recipe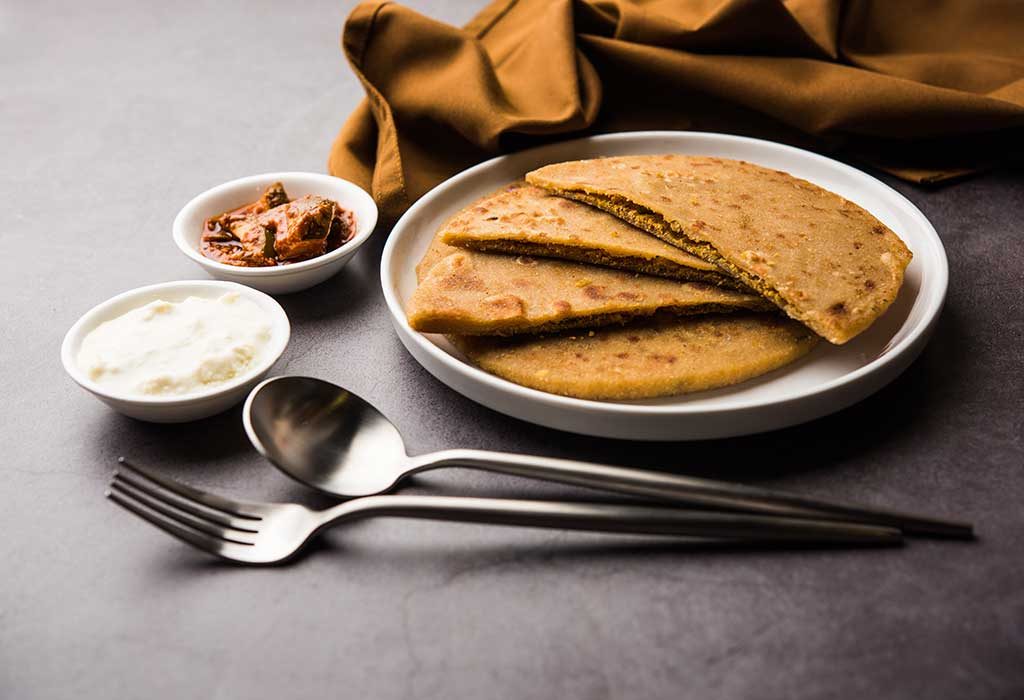 In this Article
Try making these delicious simple dal paratha recipe without hassle in the morning as it is one of the wholesome and nutritious recipes for your toddlers. Dal paratha will give a twist in the taste of your little one who is used to having khichdi and porridge. Lentils are loaded with fiber and protein and hence is great for the growth and development of your little one. Dal paratha can find its way to the baby's mouth only after the baby is older than 11 months. This wheat-based solid food will encourage your baby to chew the food before swallowing thus strengthening the oral organs.
Cooking time
| | |
| --- | --- |
| Type | Time(hh:mm:ss) |
| Preparation time | 00:10:00 |
| Cooking time | 00:10:00 |
| Total Time | 00:20:00 |
Cooking Method
Gas Stove
Type of Meal
Vegetarian
Suitable for
Babies above 11 months
Meal Schedule
Breakfast, lunch, dinner
Recipe Type
Main dish
Ingredients
| | |
| --- | --- |
| Ingredient | Quantity and Volume |
| Wheat flour | 1 cup |
| Cumin | ¼ teaspoon |
| Salt | As required |
| Oil | 1 tsp |
| Spilt yellow moong dal | ¼ teaspoon |
| Asafoetida | 1 pinch |
| Turmeric | ¼ teaspoon |
| Ghee/Butter | 4 tsp |
| Wheat flour for dusting | 2 tbsp |
Instructions
If you are wondering as to how to make dal paratha, read below the simple steps and give a lip-smacking hearty meal for your little one:
Combine wheat flour for the dough oil and salt with little water and knead well to form a smooth dough and cover it.
Wash the yellow lentils twice and soak for 15 mins and then drain the water.
Add yellow lentils, a cup of water and turmeric in a non-stick pan and cook until the dal is tender for the fingers or cook until the water evaporates by stirring occasionally.
Now heat another pan and add cumin seeds to splutter then add asafoetida and the cooked dal along with 1/4th cup of water.
Cover the lid and cook until the water evaporates from the mixture.
Let the mixture cool down completely.
Now divide the dough into 10 portions of small balls.
Roll one portion of the dough into approximately 100mm.
Take a portion of the stuffing and place it in the center of the rolled dough.
Now gently bring the edges of the dough together in the center and seal it.
Roll again to approximately 125mm by gently dusting with wheat flour.
Heat a non-stick griddle or pan and cook the rolled paratha using 1 tsp ghee/ butter on both sides until you see brown spots appear on both sides.
Recipe tips
Serve this homemade Dal Paratha baby food recipe comfortably by following the tips below:
For softer parathas, make the dough smoother by applying a generous amount of oil on top of it. This also prevents the dough from drying out.
Serve the parathas warm for your baby so that it is soft and melts in the mouth.
Keep stirring the dal while cooking as it may tend to stick to the bottom of the pan.
Preparing the dough and filling in advance saves time.
Remember to saute the dal well with the spices so that the raw smell disappears and you get a nice aroma of the filling.
Allow the filling to cool completely to avoid spilling out of the filling while rolling out the dough.
Nutrition Value (Per 100 Grams)
| | |
| --- | --- |
| Nutrient | Value |
| Energy | 141 Kcal |
| Protein | 4.8 gms |
| Carbohydrates | 20.4 g |
| Fiber | 3.2 g |
| Fat | 4.9g |
| Cholesterol | 0mg |
| Vitamin A | 44.6 mcg |
| Vitamin B1 Thiamine | 0.1 mg |
| Vitamin B2 Riboflavin | 0.1 mg |
| Vitamin B3 Niacin | 1.1 mg |
| Vitamin E | 0.2 mg |
| Folic Acid | 20.5 mcg |
| Calcium | 16.8 mg |
| Iron | 1.4 mg |
| Magnesium | 38.2 mg |
| Sodium | 6.6 mg |
| Phosphorus | 110.4 mg |
| Potassium | 170 mg |
| Zinc | 0.5 mg |
Health benefits
Wheat is a great source of nutrition and is rich in Vitamin B which helps in physical development and aids mental growth in babies.
Wheat is easily digestible and hence keeps the guts healthy and gas at bay.
Dal and wheat are a staple diet in many parts of India as they are rich in carbohydrates which is essential for your baby's energy levels.
Lentils are a great source of zinc and hence develop immunity in your toddler with this easy dal paratha recipe for babies.
Lentils and wheat together provide more than 100 kcal along with a considerable amount of iron for the body. Thereby, it helps in keeping the baby active.
Buying guide
It is imperative to check the expiry date of dal and wheat before you purchase at the grocery store.
Always choose dal which is organic and free from harmful chemicals.
Making homemade ghee is ideal for your baby's good health than a store-bought one.
Adding fresh jeera to the recipe is healthier and oozes its natural flavor better into the dish.
Making dal paratha by following this step by step instructions will be an easy task and nutritious food for your baby compared to store-bought formula food.