Carrot Sticks Recipe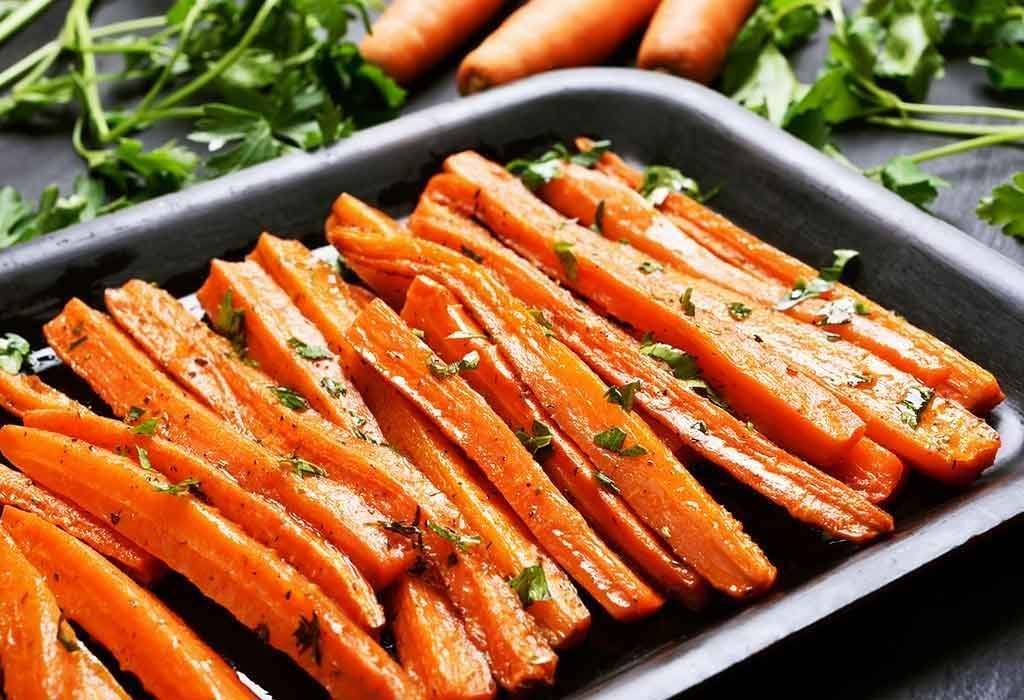 Weaning your baby can be an exciting time for you and your baby. Introducing your baby to the world of tastes and textures is a lot of fun. The first vegetables that you give to your baby must be easily digestible, unlikely to cause any allergic reaction, and definitely nutritious. A crunchy and brightly coloured carrot stick is undoubtedly the best choice for mothers. This root vegetable is the perfect first food with a number of health benefits. While carrots are available in a variety of colours, orange is the most commonly seen colour. Rich in beta-carotene, which is a plant form of Vitamin A, it has a naturally sweet taste and smooth texture that most babies would like. Considered as a super-food, carrot sticks for babies contain anti-oxidants that are beneficial for health. Carrots can be boiled in clean water and served to toddlers and growing children of any age group. They can also be eaten raw.
Video :
Carrot Sticks Recipe for Toddlers
Cooking Time
| | |
| --- | --- |
| Type | Time (hh:mm:ss) |
| Preparation Time | 00:10:00 |
| Cook Time | 00:20:00 |
| Total Time | 00:30:00 |
Cooking Method
Gas Stove
Type of Meal
Vegetarian
Suitable For
Any Toddler from 18 months of age
Meal Schedule
Breakfast or Snack time
Recipe Type
Salad or Snack Dish
Ingredients
| | |
| --- | --- |
| Ingredients | Quantity and Volume |
| Carrots | ½ Cup |
| Pepper | A pinch |
| Water | 1 cup |
| Salt | A pinch |
| | |
Instructions
This detailed recipe shows you how to make carrot sticks in the best way possible! There are several ways to make tasty carrot sticks that your toddler can relish. Steaming, boiling, baking, and roasting are some of the ways of preparing this dish. Here are the step-by-step directions of how to make the best carrot sticks ever.
Take baby carrots or bigger carrots in a deep bowl.
Peel and cut them into slender sticks that are easy to be held by babies.
Boil water in a pan by covering the pan for about ten minutes and add the carrots to make them soft enough to be consumed.
Drain the water out after some time and garnish the carrots with seasonings like pepper and salt to serve them to your baby.
You can also roast carrot sticks in an oil-greased non-stick pan.
Carrots can also be baked at 450 degrees for 12 minutes in a pre-heated oven until they're crisp and tender.
Recipe Tips
The tips given here will help you make this simple carrot sticks recipe in the healthiest way.
Wash the carrots thoroughly using clean water.
Make sure the carrots are soft enough for your baby to chew.
Introduce carrot slices with salt and pepper for a deeper and richer flavour.
Nutrition Information (Per 100 G carrot)
| | |
| --- | --- |
| Nutrient | Value |
| Calories | 41 kCal |
| Protein | 0.9 g |
| Carbohydrates | 9.6 g |
| Fibre | 3.3 g |
| Fat | 6 g |
| Water | 88% |
| Sugar | 4.7 g |
| Dietary Fibre | 3g |
| Fat | 0.2 g |
| Protein | 0.8 g |
| Vitamin A | 341% |
| Calcium | 3% |
| Iron | 1% |
| Vitamin C | 6% |
| Potassium | 235 mg |
| Sodium | 58 mg |
Health Benefits
Here are the health benefits of home-made carrot sticks baby food recipe.
The beta carotene present in carrots is easily converted by our body to Vitamin A, which helps in better eyesight for children.
Beta-carotene is a powerful antioxidant that protects skin against sun damage and helps maintain healthy skin.
Packed with fibre, carrots help in flushing out toxins out of the body, thereby reducing constipation in children.
Giving carrot sticks for snacks not only satiates your child's hunger but also helps in preventing infection and boosting their immune system.
Carrots contain plenty of potassium, which is an electrolyte that helps the heart to maintain a steady rhythm.
Buying Guide
Buy carrots that are uniform in colour, hard, and devoid of blemishes.
Avoid carrots that have scaly surface or holes in them as there is a chance of them being infected.
Local shops selling vegetables are most often grown using synthetic fertilisers and pesticides. So shop from organic stores that have pesticide-free vegetables for your little one.
Seasonal vegetables like carrot are fresh and cheap during winter.
While choosing canned and frozen carrots, check for 'low sodium' or 'no salt added' on the label.
Make carrot a part of your baby's diet by cutting it in an innovative way, or presenting it as a salad with a dip like hummus for toddlers. Making fresh fruits and vegetables a part of your child's diet in his early years is essential for his all-round development. Instead of giving sugar-coated treats or unhealthy junk food, giving carrots sticks are the best snack option for any teething baby or active toddler.
?>