Carrot Phirni Recipe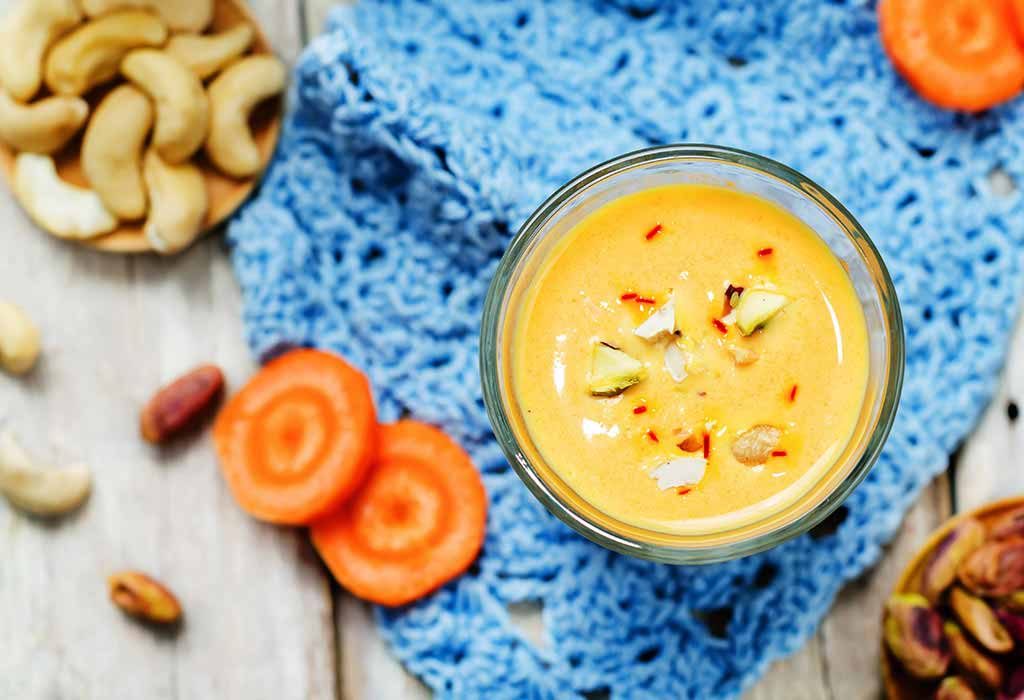 In this Article
Are you excited to give solids to your little one? Starting your precious one on solids is always full of doubt and apprehensions. You want to give them something which is wholesome as well as easy on their stomach. Making Carrot phirni for babies is a wise decision as this recipe takes care of the nutritional needs as well as your child's taste buds. Carrot phirni or kheer is something even adults enjoy and is a common sweet dish in many households. Though adults can have a lot of variations of this phirni, for the little one's recipe we'll need to omit a few things, yet provide all the energy for them to be active all day. It is surely going to be a great dessert for babies and everyone else in the family.
Cooking Time
| | |
| --- | --- |
| Type | Time (hh:mm:ss) |
| Preparation Time | 00:10:00 |
| Cook Time | 00:15:00 |
| Total Time | 00:25:00 |
Cooking Method
Gas stove and mixer
Type of Meal
Vegetarian
Suitable For
Babies from 18 months onward
Meal Schedule
Breakfast
Recipe Type
Main Dish
Ingredients
| | |
| --- | --- |
| Ingredients | Quantity and Volume |
| Carrot | 1 large |
| Coconut milk | As needed |
| Jaggery | Small piece |
| Ghee | ½ tsp |
| Cardamom powder | ½ tsp |
Instructions
These are the step by step procedure to prepare Carrot phirni which would also retain its nutritious values:
Make jaggery syrup:
Grate jaggery and add it to a pan.
Add a spoon of water and let it come to a boil.
Stir till it melts.
Filter it to another pan and heat it again till it is slightly thick.
Wash and peel carrots.
Chop carrots in cubes.
Steam carrots in a vegetable steamer for 10 minutes.
Add steamed carrot and milk to the blender and blend well.
Heat a pan and add ghee to it.
After ghee melts add the carrot porridge in it and cook for 5 minutes.
Add the jaggery syrup and cardamom powder and mix well.
Recipe Tips
This is an easy Carrot phirni recipe for a baby who has just begun with solids but you could also use it for a little older child, above 1 year. Here are some tips for making this phirni:
You could use almonds for added benefits, but make sure to soak them overnight and peel off the skin before grinding them with carrot.
When you add milk, make sure consistency is that of a dosa batter and not too runny.
Carrot should be tender after steaming so that they are better digested by your baby and also easy to eat.
You could also use almond milk for this recipe instead of coconut milk. If the kid is older than 1 year then you could use cow's milk but be sure that they are not allergic to it.
While making jaggery syrup, make sure not to overheat it else it becomes very thick.
Nutrition Information (Per 100 Gms)
| | |
| --- | --- |
| Nutrient | Value |
| Energy | 45 cal |
| Protein | 1 g |
| Carbohydrates | 1 g |
| Fat | 4 g |
| Cholesterol | 3 mg |
| Vitamin A | 190 IU |
| Calcium | 16 mg |
| Iron | 0.2 mg |
| Potassium | 42 mg |
Health Benefits
A home-made Carrot phirni baby food recipe is the perfect way to start your baby's day for abundant energy all day long:
Carrots are packed with a lot of goodness which your baby needs. It is good for eyes as it is high in vitamin A.
It is a source of carotene, fibre, vitamin K1, potassium, and antioxidants.
Carrot is also good at getting rid of intestinal worms and building immunity.
Jaggery in this recipe is a good alternative to sugar with added benefit of helping with constipation and aiding digestion.
Buying Guide
Buy organic as much as possible since the number of pesticides and other toxins these days is skyrocketing and not advisable for your tiny tots.
When buying jaggery look for dark-coloured ones which are aged as they have minimal chemical residue.
Make sure carrots are fresh and do not have any slimy parts.
We hope this recipe clearly explained as to how to make Carrot phirni for a child with easy steps. It is a perfectly safe recipe for infants as no sugar or added preservatives have been used. This phirni is something that your little one would not be able to resist.