Saffron Almond Milkshake Recipe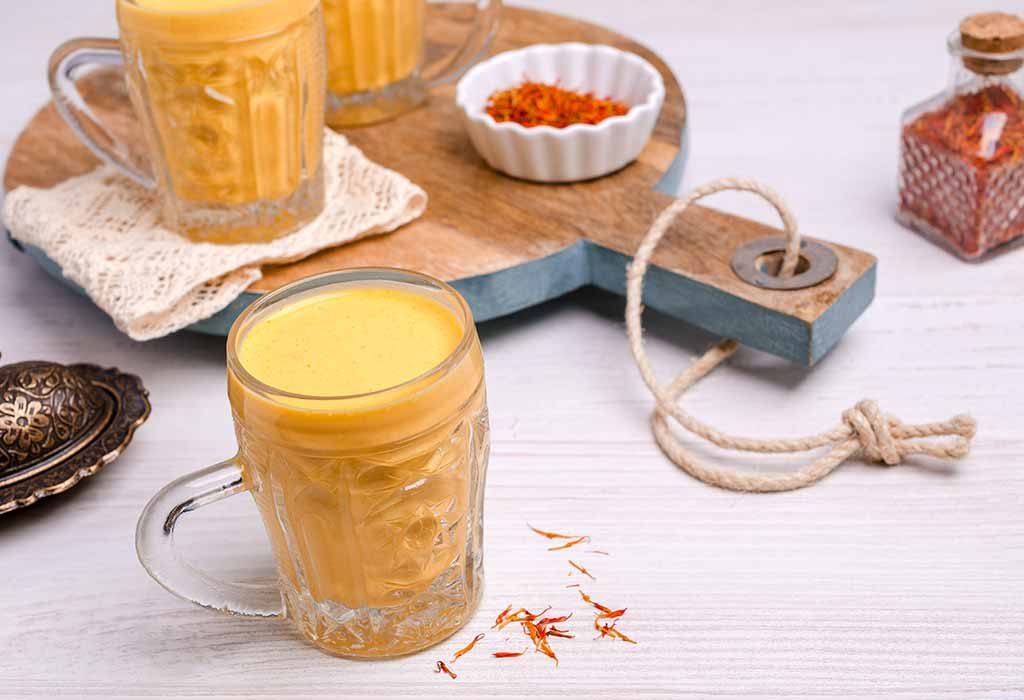 In this Article
If making your child drink milk has become a task, try a saffron almond milkshake, which is as good as a dessert. This nourishing drink can be served for breakfast or as after school snack. This highly nutritious recipe gives children the instant energy that they need for staying active the whole day. Made with milk, saffron strands, and almond, this traditional Indian beverage has a smooth creamy texture and rich taste that most kids would enjoy. Note down how to make a saffron almond milkshake in the quickest way and watch your child gulp down a glassful of this drink without any fuss. It can be served warm during winters and chilled during summers.
Cooking Time
| | |
| --- | --- |
| Type | Time (hh:mm:ss) |
| Preparation Time | 00:05:00 |
| Cook Time | 00:10:00 |
| Total Time | 00:15:00 |
Cooking Method
Stove
Type of Meal
Vegetarian
Suitable For
Babies older than 20 months of age
Meal Schedule
Breakfast, After Lunch or dinner
Recipe Type
Drink
Ingredients
| | |
| --- | --- |
| Type | Quantity |
| Full Cream Milk | 2 Glass |
| Almonds | 10-15 |
| Sugar | 2 Tbsp/4 tbsp of Condensed Milk |
| Saffron Strands | 3-4 |
| Cardamom Powdered | 2 |
| Water | 1 Cup |
Instructions:
Follow the systematic step by step directions given here to make this easy recipe of saffron almond milkshake and watch your child enjoy this delightful drink.
Rinse and soak the almonds overnight for at least 4-6 hours. Discard the skin of the almonds and add them into a blender with 1 tbsp of milk and blend into a smooth paste.
Boil milk on medium flame.
Add the blended badam paste, cardamom powder, and sugar to the milk.
Put the flame on sim for few minutes and stir continuously to avoid sticking the milk at the bottom of the saucepan.
Take saffron and heat them on a small pan. Grind them to a fine powder.
Add it to the milk and mix well to let it get a nice saffron colour.
Simmer the milk for about 2 minutes and switch off the flame.
Pour the milk into a tall glass and garnish with crushed pistachios and extra saffron strands for a nutty flavour.
Serve chilled or hot.
Recipe Tips:
This simple saffron almond milkshake recipe can be made tastier by using condensed milk instead of sugar. Honey can also be used as a sweetener.
Skip the cow milk and use buffalo, goat or just soy milk for this recipe.
Ensure your baby is not lactose intolerant and has no particular allergy towards nuts. Check with your paediatrician before introducing any new food.
Soaking the almonds in 1 cup of warm water for 5-10 minutes is enough to remove their skin instantly.
This homemade saffron almond milkshake baby food recipe can be made easier for them to drink by filtering the almonds to remove the coarse granules from the smoothie.
Dairy products need to be refrigerated and used up within a day or two to avoid stomach infection.
This milkshake can be served with your favourite cereals, falooda, desserts or ice-cream.
Almond paste can be made for a week and stored in the refrigerator to be consumed within a week.
Adding ice-cubes is optional as children might catch a cold.
Adding khoya, flax seeds, chopped dates or ginger powder enhances the taste of this smoothie.
Nutrition Information (Per 1 Glass)
| | |
| --- | --- |
| Type | Value |
| Carbohydrates | 3.8 gram |
| Energy | 138 Cal |
| Protein | 4.2 gram |
| Fat | 11.8 gram |
| Fibre | 0.7 gram |
| Fat | 11.8 gram |
| Potassium | 172 gram |
| Calcium | 47.1 mg |
| Vitamin B1 | 0.1 mg |
| Calcium | 47.1 mg |
| Iron | 1.1 mg |
| Magnesium | 75.2 mg |
| Phosphorous | 99.9 mg |
| Zinc | 0.7 mg |
| Folic Acid | 8 mcg |
| Vitamin E | 5.2 mg |
Health Benefits:
Power-packed with vital nutrients, saffron almond milkshake can be served to your baby or toddler more than once a week:
Saffron is very effective to treat cold, sore throat and fever. It boosts your child's memory retention enhancing learning by preventing oxidative stress.
The anti-inflammatory properties of saffron are helpful in treating allergy and asthma.
A glassful of badam Kesar doodh can soothe any joint pains and soothes the mind.
Almond is a superfood that is loaded with Vitamin E and makes your baby's skin soft. It strengthens your baby's immune system and is beneficial for brain development. It is a rich source of calcium along with milk.
Milk is one of the greatest sources of calcium, good protein, fat, and vitamin that is needed for energy, muscle growth and stronger bones for growing children.
Cardamom powder cures constipation, soothes the nervous system and has anti-bacterial properties in it.
Buying Guide:
Before embarking on your shopping adventure for buying ingredients that will make the yummiest saffron almond milkshake, keep these points in mind:
Buy pasteurized milk. Check the use-by date for ensuring the freshness of the milk. As dairy products get spoilt easily, make sure the milk cartons are cold and picked up last from the store while buying.
Look for established brands while buying saffron. They should be brittle and not soft.
Choose organic almonds if possible for longer shelf life. Vacuum packed almonds retain its freshness.
Branded bottled products that are readily available in the market are heavily processed. They contain synthetic nutrients and are loaded with starch, sugar and artificial additives. Hence, it is always better to go for a homemade saffron almond milkshake for babies that has a nice aroma and will cheer up your child who cannot stop with one glass.
References:
https://www.indianhealthyrecipes.com/badam-milk/
https://www.tarladalal.com/calories-for-Saffron-Cardamom-Almond-Milk-Healthy-Vegan-Breakfast-Recipe-42187
https://yummyindiankitchen.com/badam-milk-shake-recipe-kesar-badam-milk/
https://food.ndtv.com/food-drinks/6-incredible-benefits-of-kesar-doodh-or-saffron-milk-you-must-know-1820377