Stuffed Capsicums Recipe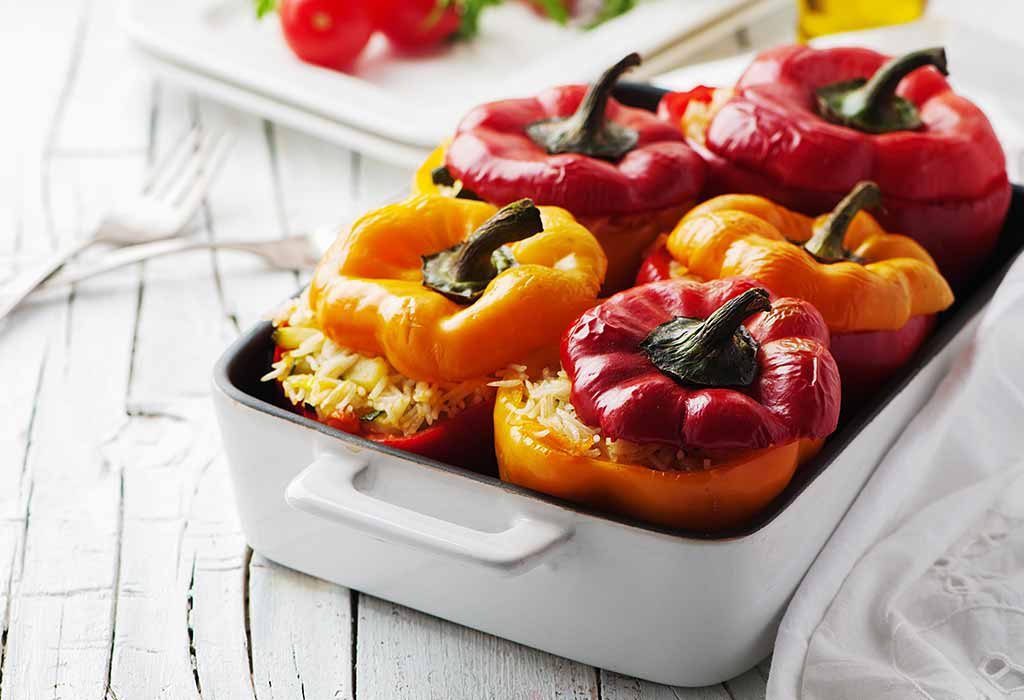 In this Article
If you're looking for a satisfying vegetarian snack or side dish for dinner, stuffed capsicum can be a good option. This super-food is loaded with essential nutrition, tastes delicious and is brightly colored to attract the attention of your little munchkins. Made with soft paneer and the hearty texture of quinoa generously sprinkled with dried herbs and spices, stuffed capsicum can be ideally served with any soup, sandwiches or even eaten by itself. Find a detailed recipe for how to make stuffed capsicum in the simplest way to give below and treat the taste buds of your children and family.
Cooking Time
| | |
| --- | --- |
| Type | Time (hh:mm:ss) |
| Preparation Time | 00:10:00 |
| Cook Time | 00:40:00 |
| Total Time | 00:50:00 |
Cooking Method
Gas
Type of Meal
Vegetarian
Suitable For
Toddlers older than 20 month of age
Meal Schedule
Breakfast, Lunch, Snack or dinner
Recipe Type
Main or Side Dish
Ingredients
| | |
| --- | --- |
| Type | Quantity |
| Bell pepper of any color | 4 |
| Small Onion | 1 Cup chopped |
| Garlic Cloves | 2 chopped |
| Mashed Paneer | 1 Cup |
| Salt | As Per Taste |
| Cook Quinoa | 1 Cup |
| Olive Oil | 1 tablespoon |
| Grated mozzarella cheese | Half Cup |
| Dried Basil | ½ Teaspoon |
| Italian Seasoning | ½ Teaspoon |
| Pepper Powder | ½ teaspoon |
| Tomato | ¾ Cup chopped |
| Water | 1 Cup |
Instructions
The step by step directions given here in chronological order provides the best perspective on cooking this dish without spending much time in the kitchen.
Cook quinoa in water with 1 cup of water. When it gets fluffy, keep it aside.
Cut the bell peppers from the top and scoop out the seeds from inside.
Heat about 2 – 3 tsp olive oil in a pan and add garlic, onion, and stir in medium flame for few minutes.
As the onion gets transparent, add chopped tomatoes and wait till it turns mushy.
Add the mashed paneer and put the salt and pepper powder as a seasoning. Sauté for another 2 minutes while stirring in the cooked quinoa.
As the mixture thickens, season with basil leaves and cheese and turn off the flame.
Pre-heat the oven at 180 degrees C for 15 minutes.
Stuff the bell peppers with the mixture and arrange them in a baking dish lined with aluminum foil.
Bake the bell peppers in the middle rack for 20 minutes until they become slightly tender.
Broil for 2-3 minutes until the cheese melts. Serve warm.
Recipe Tips
This simple stuffed capsicum recipe is versatile enough to be made with different fillings like a mushroom, sweet corn, scrambled eggs, mixed vegetables, minced chicken or any other combinations.
Adding a handful of roasted cashews or peanuts can add crunch to your stuffing.
You can pan-fry or grill your capsicum.
This homemade stuffed capsicum baby food recipe can be made spicier by adding black pepper or green chilies.
It is advisable to make cottage cheese at home especially if you're feeding your baby.
Quinoa needs to be dehulled before usage to avoid its bitter taste. The proper wash will get rid of its bitterness.
Nutrition Information (Per 2 Serving)
| | |
| --- | --- |
| Type | Value |
| Carbohydrates | 39.8 gm |
| Calories | 253 Kcal |
| Protein | 9.4 gm |
| Sodium | 389 mg |
| Dietary Fibre | 6.8 gm |
| Total fat | 5.8 gm |
| Sugar | 6.3 gm |
| Calcium | 112 mg |
| Cholesterol | 5 mg |
| Vitamin C | 212 mg |
| Vitamin A | 59% of RDA |
| Phosphorous | 56% of RDA |
| Vitamin E | 36% of RDA |
Health Benefits
Stuffed capsicum stuffed with quinoa and paneer is the right solution to satiate the hunger pangs of growing toddlers as it is high in its nutritive value:
Rich in vitamins and anti-oxidants, bell peppers make an excellent addition to a healthy diet. It reduces the risk of chronic diseases, improves eye health due to the presence of carotenoids and Vitamin C.
Vitamin B in paneer plays a key role in making the bone cartilage better for babies. The good amount of fat and protein in paneer is good for the growth and all-round development of babies at their crucial stage.
Quinoa is a nutrient-rich food that is packed with high protein, vitamins, and minerals. It is an antioxidant with high fiber content that acts as a natural laxative to avoid constipation in babies.
Buying Guide
This reliable and effective buying guide protects the best interest of the consumers and gives valuable information about the ingredients used in making this dish.
Buy pre-rinsed quinoa and check the label if you want a gluten-free variety. Mostly sold in bulk, quinoa is a popular item in health food stores.
If you're buying packaged paneer, check the use before date.
Try to buy organic capsicum from a good store. Avoid those that are shriveled or have brown or black soft spots in them.
Homemade stuffed capsicum for babies is a healthy way to sneak in some fiber and protein into your child's diet. Roasted to perfection, this delicious after-school snack is truly a desirable alternative for all mothers instead of processed junk food bought from the supermarket.