Paneer (Cottage Cheese) Bhurji Recipe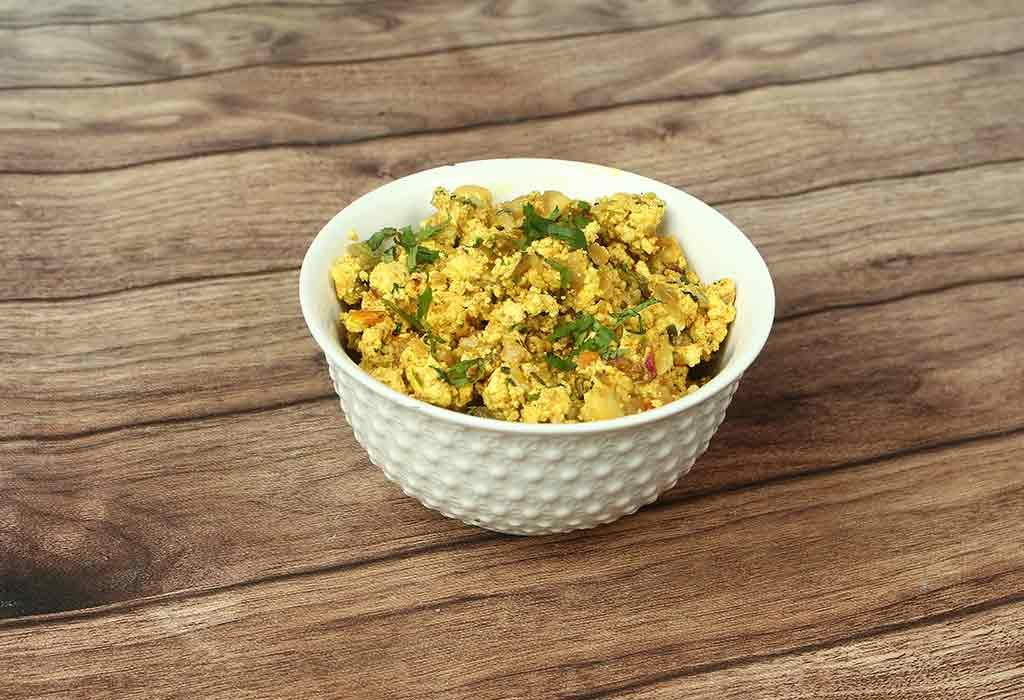 In this Article
Paneer is a common ingredient used in most North Indian households. Paneer Bhurji is a delicious combination of paneer, onions, tomatoes, spices, and some masala to have by itself or as an accompaniment to roti or bread. This easy Paneer ( Cottage Cheese) Bhurji recipe for babies is something that you can introduce to get your child used to some spicy and tangy flavours.
Cooking Time
| | |
| --- | --- |
| Type | Time (hh:mm:ss) |
| Preparation Time | 00:10:00 |
| Cook Time | 00:10:00 |
| Total Time | 00:20:00 |
Cooking Method
Gas stove or induction
Type of Meal
vegetarians and non-vegetarians
Suitable for
Any baby older than 11 months of age
Meal Schedule
Breakfast, Lunch or Dinner
Recipe Type
Main Meal
Total Servings
3-4
Ingredients
| | |
| --- | --- |
| Ingredients | Quantity & Volume |
| Paneer ( mashed) | 1 cup |
| Oil | 2 tablespoon |
| Cumin Seeds | 1 teaspoon |
| Onions finely chopped | ½ cup |
| Tomatoes finely chopped | ½ cup |
| Pav Bhaji Masala or Garam Masala | ¼ teaspoon |
| Turmeric Powder or Haldi | ¼ teaspoon |
| Red Chilli Powder | ½ teaspoon |
| Green Chillies | 1 teaspoon |
| Coriander | 1 tablespoon |
| Salt | As per taste |
Instructions
This homemade Paneer (Cottage Cheese) bhurji recipe for babies is easy and quick if you follow this step-by-step guide:
Heat oil on a Tava and add the cumin seeds. Let them crackle on a medium flame.
Once the seeds crackle, add the onions and sauté them for about 2-3 minutes.
Once the onions are well cooked, add the tomatoes. Sprinkle some water and cook on a low flame for about 4-5 minutes till they are soft and mushy.
Add the masala of your choice, turmeric powder, red chilli powder and a tablespoon of water. Mix well, cover and cook on a low flame for about 2 minutes. Keep stirring continuously.
Now add the mashed paneer, salt, and coriander. Mix it well gently without applying too much pressure. Sprinkle some water and cook on a low flame for about 1-2 minutes.
Serve the Paneer Bhurji hot with roti or bread.
Recipe Tips
Follow these simple tips to perfect your knowledge on how to make Paneer (Cottage Cheese) bhurji recipe:
If you are using frozen paneer, make sure you defrost it before using it. Try to use a fork to mash it nicely. The paneer should be crumbled into tiny pieces for the bhurji to taste good.
Finely chop the onions and tomatoes. You can deseed the tomatoes if you do not want the dish to be very mushy.
The dish is best cooked on a Tava and a non-stick one. You can also use a cast-iron tava as it will enhance the taste.
Nutritional Facts Per Servings
| | |
| --- | --- |
| Nutrient | Value |
| Calories | 370 Kcal |
| Protein | 10.4 gm |
| Carbohydrates | 10.8 gm |
| Fibre | 0.9 gm |
| Fat | 31.7 gm |
| Cholesterol | 0 mg |
| Sodium | 7.2 mg |
Health Benefits
Read on to find out more about the health benefits of this simple Paneer (Cottage Cheese) bhurji recipe:
Paneer is a derivative of milk and therefore a rich source of calcium. Regular consumption of paneer has proven to improve the bones and teeth.
Paneer is rich in minerals like calcium, potassium, magnesium, proteins that are essential for the healthy growth of the body. It is known to strengthen the immune system.
Tomatoes are rich in Vitamin C and rich in antioxidants. Tomatoes are rich in lycopene which is good for the health of the heart. Tomatoes are also packed with calcium and potassium.
Onions are also rich in fibre and antioxidants. They are also effective against bacterial infections.
Onions have anti-inflammatory properties and reduce symptoms of asthma. They are also useful for a stuffy nose.
Buying Guide:
Follow these useful tips when sourcing ingredients for Paneer (Cottage Cheese) Bhurji to perfect the dish when you make it:
Buy paneer sold in supermarkets. Make sure you buy packaged products and check the expiry date on the packaging. If you are using homemade paneer, make it with full-fat milk.
Make sure you buy tomatoes that are firm and ripe. Ripe tomatoes taste better with paneer.
Onions should also be ripe before being used.
Try and buy organic vegetables as they are from chemicals and pesticides.
Paneer (Cottage Cheese) Bhurji is a preparation that is loved all across India. It is served as an accompaniment to rotis in the North, whereas in the South it is used as stuffing in dosas. With a universal appeal, the dish is perfect for your kid and their nutritional needs.