Risotto Recipe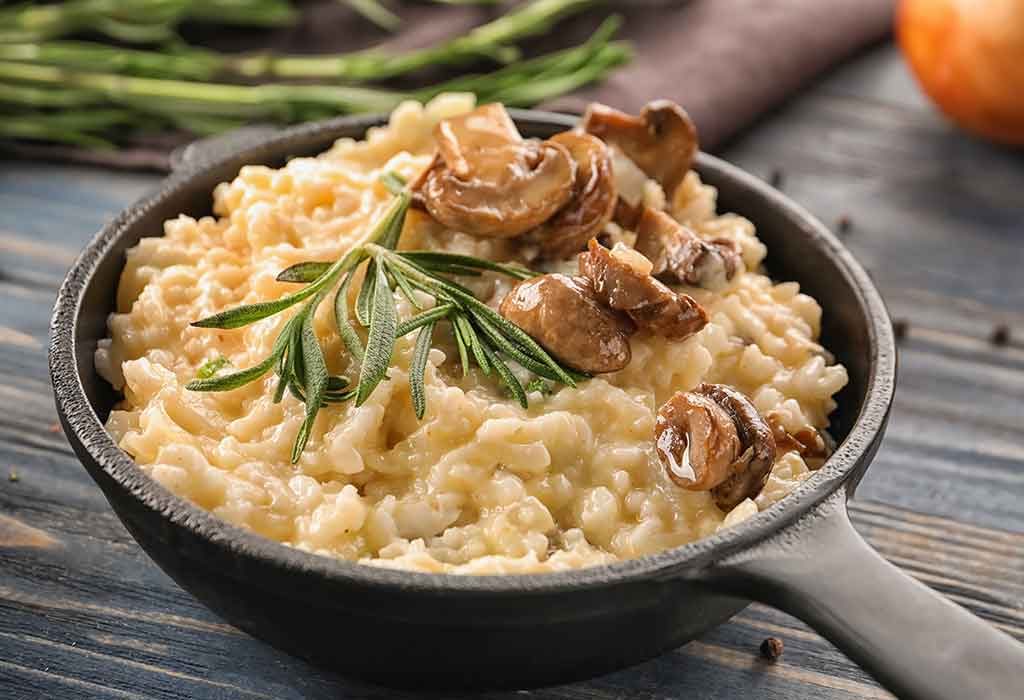 In this Article
Do you want to introduce your little one to different cuisines to broaden their developing taste buds? Do you also want to throw in a variety of vegetable stock to supplement their nutrition? Try this quick and easy Risotto recipe. It packs in the goodness of risotto rice and vegetables in under twenty minutes. This dish is a saviour when you are running late for work and need to whip up something from your cupboards and freezer.
Cooking Time
| | |
| --- | --- |
| Type | Time (hh:mm:ss) |
| Preparation Time | 00:05:00 |
| Cook Time | 00:15:00 |
| Total Time | 00:20:00 |
Cooking Method
Gas, Blender or Mixer Jar
Type of Meal
Vegetarian
Suitable For
Any toddlers above 21 months of age
Meal Schedule
Lunch or Dinner.
Recipe Type
Main Dish
Ingredients
| | |
| --- | --- |
| Ingredients | Quantity |
| Green pepper | ½ cup |
| Red pepper | ½ cup |
| Yellow pepper | ½ cup |
| Carrot | ¼ cup |
| Onion | 1/3 cup |
| Frozen peas | 2 tablespoon |
| Vegetable Stock cubes | 2 |
| Water | 3 cups |
| Risotto Rice | 1 cup |
| Butter | 1 tablespoon |
| Grated Cheese | ½ cup |
Instructions
Wondering how to make Risotto for your baby? Just follow these step-by-step instructions to conjure a scrumptious delicacy.
Chop all the vegetables into tiny pieces that will cook and can be chewed.
Dissolve the stock cubes in a bowl of boiling water and keep it ready.
Heat oil in a large wok or pan. Add the risotto rice and fry gently. Keep stirring it continuously for 2-3 minutes until the rice changes color. Make sure that the rice does not get burnt.
Add a ladle of stock to the rice little by little. The rice should be just covered in stock and must not float. As the liquid evaporates add a little more. Continue this process until the rice cooks completely.
As you are cooking the rice, add the vegetables to another pot or pan and cook them. You can cook them in water or just saute them in oil.
Once the rice is cooked completely, add the grated cheese and butter.
Now add the cooked vegetables and stir again.
Serve immediately.
Recipe Tips
Follow these additional tips to get the perfect homemade Risotto baby food recipe:
Saute the rice on low flame so that it gets coated with the oil and does not get burnt.
Keep checking the rice at regular intervals and add the stock when you see that it has run out of the liquid.
You may not need to add all the stock.
Traditionally, Risotto is supposed to be a little under-cooked and should have a slight bite to it. But since you are cooking it for your toddler, you can cook it completely.
You can use any vegetable of your choice. You could add cucumbers, zucchini, broccoli or even cauliflower.
Nutrition Information (Per 100 Grams)
| | |
| --- | --- |
| Type | Value |
| Calories | 344 Kcal |
| Carbohydrates | 57.9 gm |
| Protein | 8.8 gm |
| Fat | 8.2 gm |
| Sodium | 692.1 mg |
| Iron | 3.1 mg |
| Calcium | 129.4 mg |
Health Benefits
A great recipe to make in a jiffy, this Risotto for babies comes with its fair share of health benefits:
Risotto is made from Arborio rice which is a healthy combination of carbohydrates, protein, vitamins, and minerals.
The rice is packed with Vitamin A and Vitamin C that is essential for the development of bones, teeth and also strengthens the immunity levels.
The rice is easy to digest and light on the stomach.
Red, green and yellow peppers are packed with Vitamin C, fiber, folate, iron and potassium.
Peas are also a rich source of Vitamin C and full of fiber to aid in digestion.
Buying Guide
Make sure you follow this guideline while sourcing ingredients for the Risotto:
Risotto is an Italian dish that is made with Arborio Rice. Generally, Arborio rice is sold as Risotto rice in supermarkets. Go for branded ones which have a quality mark on them and check the expiry date before using.
Use good quality cheese. Cheddar cheese or mozzarella cheese is the best to add to a risotto. Again, buy cheese in a sealed form and check the expiry date before using it.
Peppers should be firm and ripe.
This dish is probably not a traditional and authentic Risotto recipe. But it is quick, healthy and kid-friendly which serves the purpose. Cheese is a great distraction for kids and must be added. Kids are known to love the taste of the rice and cheese together. It also does a great job of masking the vegetables underneath!
?>