Dahi Palak Dip Recipe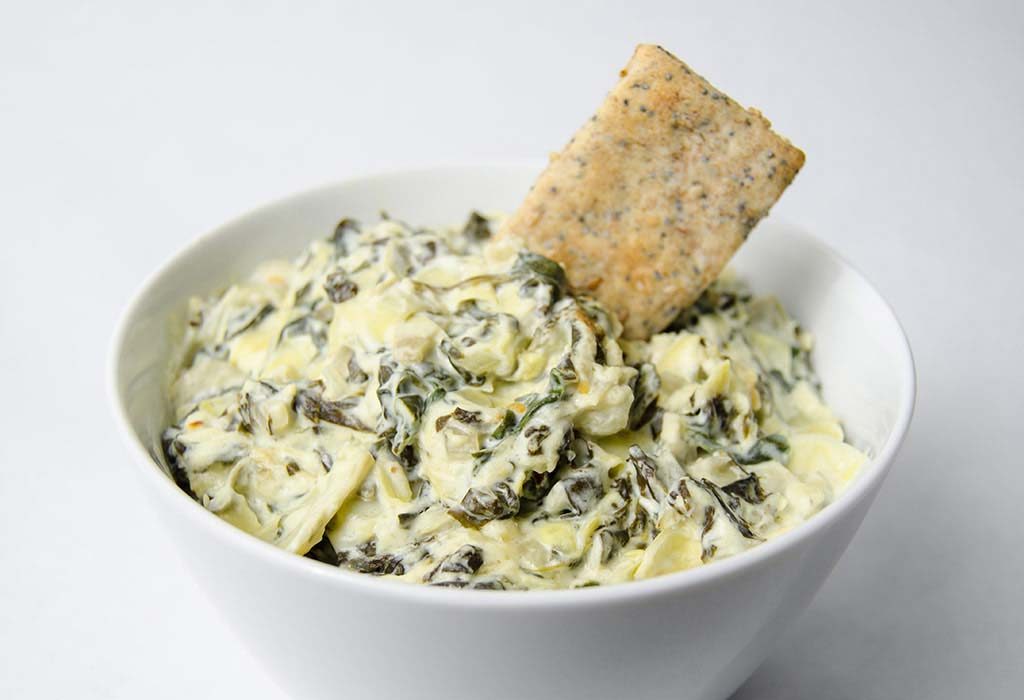 In this Article
Two of the best ingredients to incorporate in a baby's diet are Dahi or curd and palak. Both are superfoods themselves. Palak is a rich source of calcium, iron, vitamin A, protein, and fibre, hence very good for bones, skin, and hair. Curd is a rich source of protein and acts as a probiotic as it contains bacteria beneficial for the gut and helps keep the gut healthy and aids digestion. Being a vibrant colour, it is very appealing to toddlers as they feel like tasting it, which is very important during the food introduction stage. So much of goodness, when combined in one recipe, is a great combo and is a great side dish and a complete snack in itself.
Cooking Time
| | |
| --- | --- |
| Type | Time (hh:mm:ss) |
| Preparation Time | 00:15:00 |
| Cook Time | 00:05:00 |
| Total Time | 00:20:00 |
Cooking Method
Gas Stove
Type of Meal
Vegetarian
Suitable For
Any toddler above 14 months of age
Meal Schedule
Side-dish/dip with the main meal; snack
Recipe Type
Side Dish/Snack
Ingredients
| | |
| --- | --- |
| Ingredient | Quantity and Volume |
| Palak | 150-200 g |
| Curd | 250 g |
| Water | 2-3 cups |
| Salt/Black salt | 1 tsp |
| sugar | 1tsp |
| Pepper powder | 1 pinch |
| Garlic paste (optional) | 1 clove |
Instructions
Now that you have learnt how healthy this side dish is. Here are the step by step directions to make it:
Take cleaned and washed palak/spinach leaves.
In a pan, add 2 cups of water and boil it.
Once the water is boiling, add in spinach leaves and blanch it for 3 minutes.
Once blanching is done leaves wilt and become mushy. Remove and drain the water. Collect blanched leaves.
In a blender add blanched palak, garlic, salt, pepper, sugar and make a fine paste.
Now take curd in a mixing bowl and give a good whisk with a fork or whisker.
Add blended palak puree into this curd and mix well.
Do not add any water.
The dip is ready. Let your little one enjoy this healthy dahi palak dip.
Recipe Tips
Make sure you remember the below-mentioned points before you start preparing the healthy and easy palak dip recipe for your baby.
Washing and cleaning palak leaves are vital. Carefully collect good Palak leaves and soak them in salt/tamarind water for 10-15 minutes in a deep bowl. Then collect the leaves and place them on a piece of cloth to dry.
Homemade thick curd is preferred.
Do not add any water to this recipe.
If your child is used to other spices you can add a spice mix.
The dip can be refrigerated and used again as a dip for vegetables/roti 1.5 to 2 yr old or as a snack.
If salt addition is a problem, you can vary its quantity.
If your baby has glucose intolerance, you can use curd from non-diary source after consultation with your doctor.
Nutrition Information (Per 100 Grams)
| | |
| --- | --- |
| Nutrient | Value |
| Energy | 69 kCal |
| Protein | 3.7g |
| Carbohydrates | 4 g |
| Fibre | 2.1 g |
| Fat | 3.0 g |
| Cholesterol | 0 mg |
| Vitamin A | 3000.4 mcg |
| Vitamin B1 (Thiamine) | 0.2 mg |
| Vitamin B2 (Riboflavin) | 0.2 mg |
| Vitamin B3 (Niacin) | 0.4 mg |
| Vitamin C | 20.8 mg |
| Vitamin E | 1.5 mg |
| Folic Acid (Vitamin B9) | 105.1 mcg |
| Calcium | 163.4 mg |
| Iron | 2.3 mg |
| Magnesium | 57.2 mg |
| Phosphorus | 65.2 mg |
| Sodium | 50.8 mg |
| Potassium | 180.8 mg |
| Zinc | 1.6 mg |
Health Benefits
Here are the health benefits of Dahi Palak Dip for babies:
Spinach is a rich source of vitamins and minerals and helps in brain development.
Spinach helps prevent anaemia.
A good source of dietary fibre, introducing spinach to toddlers at the right time can help them reap numerous benefits in the long run.
Curd being a probiotic, can keep the good bacteria working in the gut and keep it sound and healthy.
It helps in the absorption of other minerals too.
As it is rich in calcium, the bone health of kids is also taken care of.
It provides energy and is good for skin and hair too.
Through this recipe, you can easily feed spinach to your little one if he/she is a fussy eater.
Buying Guide
Buy leafy vegetables from a good source with fewer pesticides and chemicals.
Try to get the organic spinach, if possible, from a good store.
Use homemade curd for the preparation.
This dip is easy to make and very tasty, therefore enhances the overall health of the baby. Incorporate this dip in all dishes as often as possible.