Mix Fruit Juice Recipe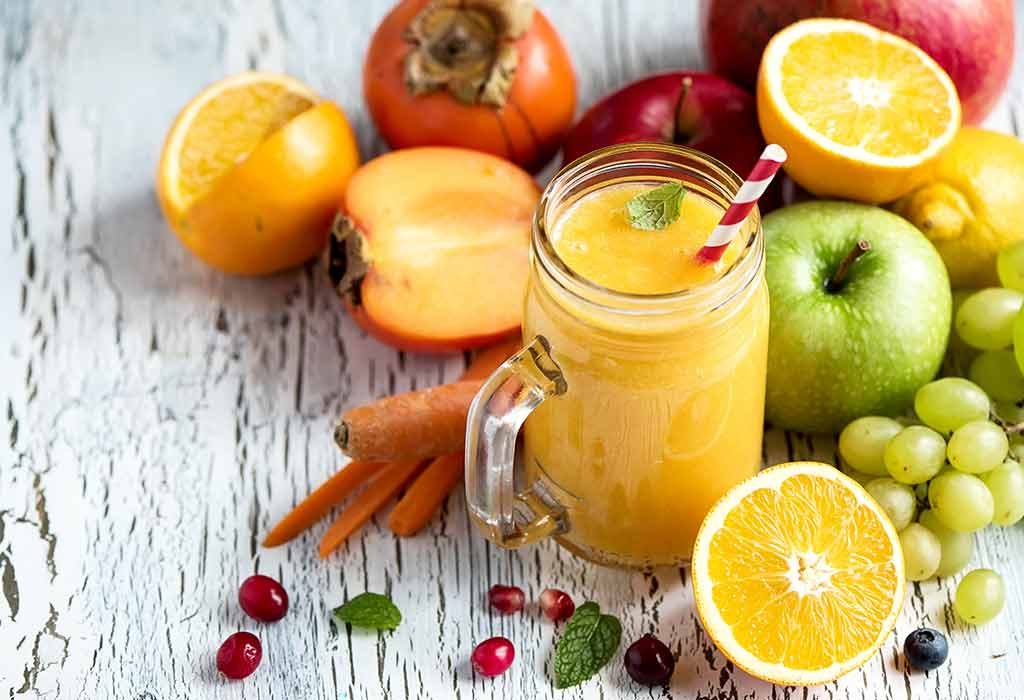 In this Article
You may try stewed apple, muskmelon, watermelon, orange, sweet lime, pineapple, pear, banana, grapes, mango, berries, lychee individually or as a combination. If you are thinking of how to use these in a recipe, here is how to make Mixed fruit juice. Read on to learn how you can make this super easy and yummy recipe in no time!
Cooking Time
| | |
| --- | --- |
| Task | Time (hh:mm:ss) |
| Preparation Time | 00:03:00 |
| Cook Time | 00:01:00 |
| Total Time | 00:04:00 |
Cooking Method
Mixing, Blender
Type of Meal
Vegetarian
Suitable For
Toddlers older than 15 months of age
Meal Schedule
Mid Morning Snack, Evening Snack.
Recipe Type
Mid meal snack/Liquid
Ingredients
| | |
| --- | --- |
| Type | Quantity |
| Mixed fruits | 200 gm |
| Honey/Sugar | 1 to 2 tbsp (Optional) |
Instructions
Here are step by step directions to make Mixed Fruit Juice:
1. Take fresh or seasonal fruits and wash them thoroughly.
2. Peel and then boil the fruits in fresh water and stew them.
3. Cook till soft and mushy.
4. Blend all the ingredients in a blender until a uniform mixture is obtained.
5. Check for taste, and adjust sweet. (Only if it is required)
6.Strain and pour into a glass or feeding bottle.
Recipe Tips
If obtaining fresh fruit is a problem, then you can use frozen fruits occasionally.
Clean and sterilize your blender before using.
You can dilute concentrated juice with boiled and cooled water.
Begin with only 2-3 spoons of juice so that the baby gets some time to get used to the taste of the fruits in the juice.
Avoid fruit juice at bedtime as it can cause issues like indigestion, bloating or gas in babies.
The juices that you make should be pasteurized. Unpasteurized juices could promote the growth of harmful bacteria, which is not good for the baby's health.
Juices should not be used for the treatment of dehydration or diarrhoea. Consult your doctor before doing so.
Try introducing a single fruit before moving on to the combination of fruits.
Adding extra sugar is not recommended as it can promote extra calories and also cause digestion problems in the children.
As far as possible, avoid adding any extra ingredients into your fruit juice as it is best when consumed as it is.
Nutrition Information (Per 150 Grams)
| | |
| --- | --- |
| Type | Value |
| Carbohydrates | 16 gm |
| Sugar | 15 gm |
| Calcium | 0 gm |
| Iron | 0.4 mg |
| Protein | 0.5 gm |
| Iron | < 1 mg |
| Potassium | 160 mg |
| Vitamin C | 27 mg |
| Dietary fibre | 1 gm |
The values may vary depending on the fruits added to the juice and the proportions in which they're used.
Health Benefits
Wondering how healthy these tasty delights are for your baby? Here are some health benefits of home-made mixed fruit juice for your toddler
The calcium and potassium in fruits are good for your growing baby's bones and teeth.
Berries are loaded with essential vitamins and minerals such as calcium, magnesium, potassium, iron, folate, etc that help babies have energy and maintain good gut health.
Also, they are full of antioxidants that are good for reducing the impact of free radicals.
Introducing berries at a young age can help them develop a taste for the same and continue eating the rest of their lives and benefit from the same.
Fruits are a good source of vitamin C, which helps the absorption of iron from other foods, so try to give some vitamin C-rich fruits at every meal.
Fruits have probiotic, anti-inflammatory effects which can be beneficial to the baby.
Fruits are a power-packed source of vitamins and micronutrients which are all required for adequate growth and development of your baby.
Fruits also have natural fibre which makes them really good for digestion.
Since fruits have very appealing taste, it is right to introduce them early on.
Buying Guide
Here are buying tips that you should keep in mind while picking up ingredients for Mixed fruit juice for your baby:
As far as possible, buy organic fruits and vegetables for your munchkin as these products are free from harmful chemicals such as pesticides.
Try buying seasonal fruits and stew them.
Don't allow your baby to eat/drink more than the recommended amount of fruit/ fruit juice, specially packed juices as they are loaded with sweeteners.
Try this super-easy Mixed fruit juice recipe for babies. They can be made quickly and for sure your baby will love it. So with all this information make this yummy juice and try various combination of fresh juices too, just confirm the compatible juice combo before preparing, consuming or giving it to your baby.
?>