Ragi Whole Moong Soup Recipe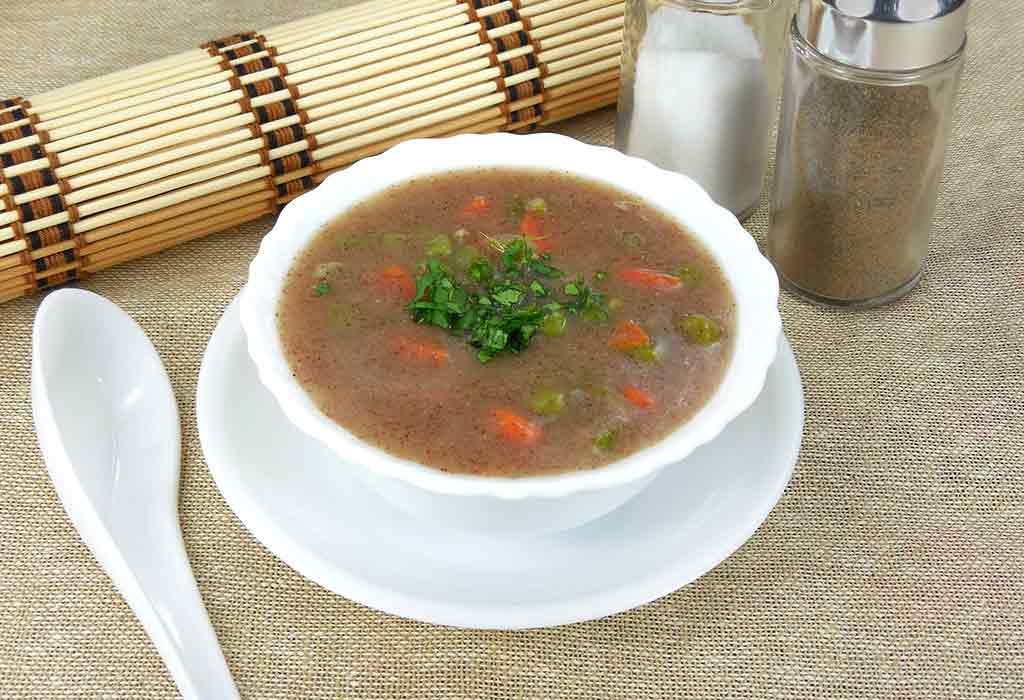 In this Article
Ragi and moong combination offers loads of nutritional benefits to your growing baby. Power-packed with the goodness of various vitamins and minerals, this combo is great for keeping hunger pangs at bay by keeping your baby feeling fuller for longer. We shall be sharing a simple recipe that consists of ragi and moong as the main ingredients. If you wish to learn how to make Ragi whole moong soup, read the following post!
Cooking Time
| | |
| --- | --- |
| Type | Time |
| Preparation Time | 00:10:00 |
| Cook Time | 00:20:00 |
| Total Time | 00:30:00 |
Cooking Method
Gas Stove
Type of Meal
Vegetarian
Suitable For
Babies over 7 months of age
Meal Schedule
Mid Morning Snack or Evening Snack
Recipe Type
Soups
Ingredients
Here are some main ingredients that go into making homemade Ragi whole moong soup baby food recipe:
| | |
| --- | --- |
| Type | Quantity/ volume |
| Ragi flour | 1 tbsp |
| Whole Moong dal | ½ cup |
| Carrots (finely chopped) | 1 tbsp |
| Green peas | 1 tbsp |
| Cauliflower (chopped) | 1 tbsp |
| Ginger (finely chopped) | ½ tsp |
| Cumin | ½ tsp |
| Ghee | 1 tbsp |
| Water | 1 ½ cup |
| Salt | To taste |
Instructions
Follow this step by step procedure to make this yummy soup for your little one:
Wash whole moong dal and soak it for some time.
Heat some ghee in the pressure cooker.
Add cumin seeds and roast it for a few seconds or until it turns crispy and brown.
Add chopped ginger and sauté it for a few seconds.
Once the ginger turns fragrant, drain excess water from the moong dal and add it to the ginger-cumin mixture.
Roast the dal on medium to low flame for a few minutes.
At this point, add all the vegetables and ragi flour. Give a thorough mix and sauté for a few minutes.
Add salt and water and cook on a medium flame for 5 to 6 minutes or until 2 to 3 whistles.
Allow the broth to cool down a bit before churning it into the blender.
Strain the soup and serve it in a sipper cup or glass to your munchkin.
Recipe Tips
You can also follow these handy tips when making this Ragi whole moong soup for babies:
You can use other vegetables such as pumpkin, bottle gourd, cabbage, etc. to make the soup more nutritious and yummy.
You can add a pinch of asafoetida to make the soup more digestible and to render an earthy aroma to the soup.
For younger babies (six months of age), you can skip vegetables and make soup with only moong and ragi.
Soaking dal for sometime reduces the chances of colic or gas in babies and makes it easy to digest too.
Nutrition Information (Serving Per 100 Grams)
Feeding this yummy soup can help your little one get the following nutrients:
| | |
| --- | --- |
| Type | Value |
| Calories | 80 calories |
| Carbohydrates | 10 grams |
| Protein | 6 grams |
| Fats | 2 grams |
| Sodium | 15 grams |
| Fibre | 5 grams |
| Vitamin C | 3.4 mg |
| Calcium | 15 mg |
The table mentions the approximate nutritional content present in 100 grams of ragi moong soup. Actual values may vary slightly.
Health Benefits
Following are some health benefits of this simple Ragi whole moong soup recipe:
The high fibre content in ragi helps in keeping digestive issues at bay in babies.
High amounts of calcium in ragi makes it an ideal dietary choice for babies as it helps in proper growth and maintenance of bones and teeth in babies.
Iron deficiencies such as anaemia can be prevented by including ragi in your baby's regular diet—the presence of substantial amounts of vitamin C in ragi aids in the absorption of iron.
Moong beans are loaded with essential vitamins such as vitamin A, C, E, K, B-6, etc and minerals such as iron, calcium, potassium, magnesium, zinc, etc, which prove to be of utmost importance for the growth and development in the formative years of a baby.
A high amount of protein in moong facilitates organ and muscle development in babies.
Buying Guide
Here are some tips that you should keep in mind while picking up ingredients for ragi and whole moong soup:
Buy organic and unpolished moong dal and ragi for your baby.
Ragi powder or flour can be purchased from the market or made at home. However, when buying the flour from the market, make sure to check the date of packaging.
The health of our babies is a significant aspect of our lives. Every parent yearns for a recipe to make healthy quick homemade food and Ragi whole moong soup is exactly that -nutritious and easy to make. Serve your babies this bowl of goodness at least twice a week, instead of relying on the packaged food.