Stewed Peach Recipe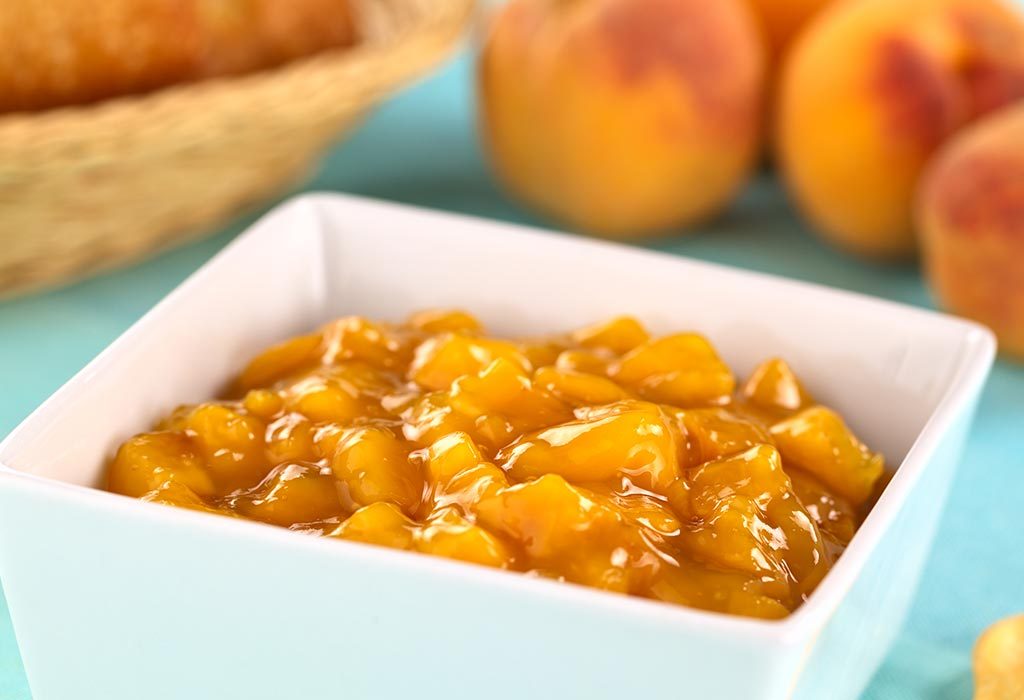 In this Article
Stewed peach is a great fruit for babies as it is mild and tasty. Peach can be easily combined with a number of other purees like berries, vegetables, meat and poultry. Fresh or frozen peaches can be used to make stewed peach. Peaches are easily available in the summer and can be frozen for the rest of the year and used. Stewed peach for babies is easy to prepare and can be made very fast. It's a healthy and nutrients rich fruit and when it is added with spices like clove and cinnamon, its aroma and flavour is like none other.
Cooking Time
| | |
| --- | --- |
| Type | Time (hh:mm:ss) |
| Preparation Time | 00:05:00 |
| Cook Time | 00:05:00 |
| Total Time | 00:10:00 |
Cooking Method
Gas or Stove/ Microwave
Type of Meal
Vegetarian
Suitable For
Any baby above 7 months of age
Meal Schedule
Mid-morning or Afternoon
Recipe Type
American Ice Cream and Desserts
Ingredients
| | |
| --- | --- |
| Ingredients | Quantity and Volume |
| Peaches | 2 (de-seeded) |
| Date Syrup or Jaggery Powder | 2 tbsp |
Instructions
Let us here see how to make stewed peach in an easy step by step directions.
Firstly, wash the peaches twice from clean tap water.
In a medium saucepan, bring water to a boil and add peaches to the water for about 1-2 minutes.
Remove the peaches from boiling water with a slotted spoon, and then place into an ice bath.
Upon total submergence of peach, cut and peel the skin with your fingers or a sharp knife for paring.
Slice the peaches in half, and cut them into small pieces. Slice every half into slices of even size then quarter each slice.
Make a puree of the peaches until smooth, in a food processor or blender.
If required, add water to achieve the desired consistency as needed.
Add the dates syrup or jaggery powder to make it little sweet in taste, depending on the taste of your child.
The soft, slightly aromatised peach puree is delicious and simple. Mix the puree with other vegetables, meat or poultry, oatmeal, or full-fat yoghurt to expose your baby to new textures and flavours.
Recipe Tips
Remember the below-mentioned points before you start preparing the healthy and simple Stewed peach recipe for your baby.
Remember to de-seed the peach properly.
Use fresh clean filtered water to adjust the consistency of the puree, if required.
Peel the peach nicely with a sterilised peeler and chop them with a sterilised knife.
Clean your hands properly before cooking.
Half boiled peach and a thick paste of peach puree will be difficult to swallow for babies.
Always take the quantity as per your babies eating habit.
Use the jaggery powder or dates syrup according to your baby's taste.
Nutrition Information (Per Serving)
| | |
| --- | --- |
| Nutrient | Value |
| Energy | 79 kCal |
| Protein | 0.8 g |
| Carbohydrates | 18.5 g |
| Fibre | 0.8 g |
| Fat | 0.2 g |
| Cholesterol | 0 mg |
| Vitamin A | 60.1 mcg |
| Vitamin B3 (Niacin) | 0.3 mg |
| Vitamin C | 4.2 mg |
| Vitamin E | 0.4 mg |
| Folic Acid (Vitamin B9) | 2.6 mcg |
| Calcium | 10.1 mg |
| Iron | 1.5 mg |
| Magnesium | 13.2 mg |
| Phosphorus | 25.3 mg |
| Sodium | 1.3 mg |
| Potassium | 282 mg |
| Zinc | 0.1 mg |
Health Benefits
There are many health benefits of home-made stewed peach baby food recipe. Below are the benefits:
Most mums prefer peaches as they are easily digested and improve the digestive system of babies.
They can boost the immune system of babies.
Helps in making skin and hair healthy.
Peaches protect eyesight.
They help in increasing weight, as it contains good fats.
Peaches promote brain health.
Peaches help in maintaining blood pressure and de-bloating.
Buying Guide
Buy organic (if possible) and good quality peaches from the market.
Check that the peach should not be over-ripe and cut in between.
Do not buy sliced peach.
But well coloured peaches with a fresh fragrance.
Babies are the gems of our life and their proper growth and development is a very important aspect. We always want to spend most of our time with them and giving them healthy and nutrients rich foods. So instead of buying packaged foods from the market, prefer giving homemade foods which are healthy and easy to prepare. peach can be stored in the refrigerator and are easily available in the summer season so give your baby a bowl full of stewed peach every day during summers.