Ragi Ladoo Recipe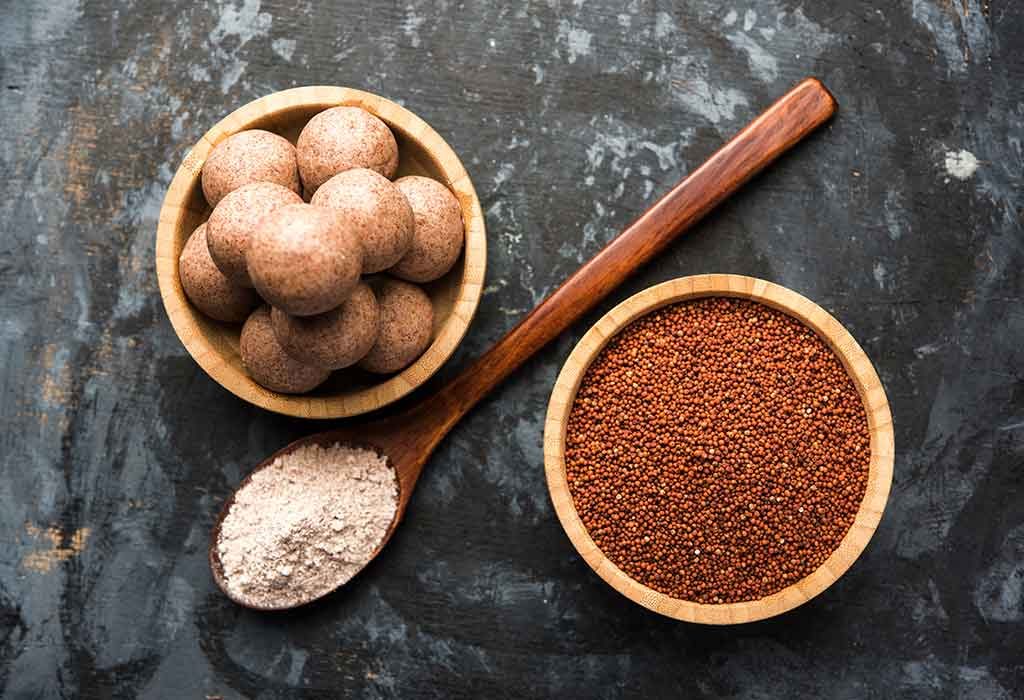 In this Article
Ragi is one of the most nutritious grains. This wonder millet is used widely in South Indian homes in many different kinds of recipes, from dosas to dumplings to sheera. Ragi ladoos for babies is one such snack which is not only nutrient-dense, but also mouth-watering. It is an ideal companion for travel as it is dry and remains fresh for long if packed in airtight containers. These ladoos are a perfect way to include this rich cereal into your kid's daily diet schedule, and they are full of energy to give your baby an action-packed day. Also, this is a smart way to add that extra nutrition in your child's diet if he/she is a fussy eater. This recipe can easily be made by even those who are a novice in the cooking department. It could also serve as a scrumptious breakfast along with a glass of milk or any smoothie.
Cooking Time
| | |
| --- | --- |
| Type | Time (hh:mm:ss) |
| Preparation Time | 00:15:00 |
| Cook Time | 00:10:00 |
| Total Time | 00:25:00 |
Cooking Method
Gas stove and blender
Type of Meal
Vegetarian
Suitable For
Babies above 11 months of age
Meal Schedule
Breakfast, snacks
Recipe Type
The main dish, snacks
Ingredients
| | |
| --- | --- |
| Ingredients | Quantity and Volume |
| Ragi flour | 1 cup |
| Sesame seeds or any other nut of your choice | ¼ cup |
| Cardamom | 4 pods |
| Peanuts or any other nut | ¼ cup |
| Jaggery | ½ cup |
| Desiccated coconut or khopra | ¼ cup |
| Ghee | 2 tbsp |
| Cardamom powder | One pinch |
Instructions
Here you can find the step by step procedure of making these delicious ladoos. It is a non-tedious and easy recipe.
Prepare jaggery syrup by boiling jaggery in ½ cup water and then filtering it. This removes the impurities.
In a pan, heat 1 tbsp ghee and roast the ragi flour on low flame till you get a nice aroma.
Dry roast peanuts and remove the skin after it cools off.
Dry roast desiccated coconut very lightly.
Dry roast the sesame seeds.
Powder the peanuts, coconut, sesame seeds. If the quantity is too much, then powder them separately.
Add all the ingredients to a blender and blend till oil starts to separate from the mixture.
Start making ladoos out of this mix when it is slightly hot since that makes the ladoos stick. Add more melted ghee if needed.
Store them in an airtight container.
Recipe Tips
This is an easy Ragi ladoos recipe for a baby which can be done within 25 minutes.
Do not dry roast ragi on high flame as it might burn the flour and give bitter or burnt taste which your kid might not like.
You could replace jaggery with ten dates and a few raisins as a sweetener. They should be chopped finely or blended in a blender.
Make sure you are making ladoos while the mixture is hot, else the ladoos might crumble down.
Some sesame seeds are bitter, so adjust the amount based on how yours are. Add more jaggery if need be.
Nutrition Information (Per Ragi ladoo)
| | |
| --- | --- |
| Nutrient | Value |
| Energy | 118 Cal |
| Protein | 0.9 g |
| Carbohydrates | 13.6 g |
| Fibre | 1.4 g |
| Fat | 6.7 g |
| Sodium | 1.3 mg |
| Calcium | 41.3 mg |
| Iron | 0.5 mg |
| Potassium | 49 mg |
| Magnesium | 16.4 mg |
| Phosphorous | 34 mg |
| Zinc | 0.3 mg |
| Vitamin A | 63.5 mcg |
| Vitamin B1 | 0.1 mg |
| Vitamin B2 | 0 |
| Vitamin B3 | 0 |
| Vitamin C | 0 |
| Folic acid | 2.2 mcg |
Health Benefits
This home-made Ragi ladoos baby food recipe is a powerhouse of nutrition, and the addition of jaggery to it gives it a sweetness and flavour of its own.
Ragi flour is rich in many essential vitamins and minerals like calcium, potassium, magnesium, iron, which are all very necessary for the overall development of tiny tots.
These ladoos are also high in fibre to aid constipation which is a regular issue with small kids.
It is loaded with calcium and battles anaemia in growing kids.
Buying Guide
Buy organic ingredients as you do not want to risk your precious child's health and development with non-organic things.
When buying jaggery look for dark-coloured ones which are aged as they have minimal chemical residue.
We hope this recipe of how to make Ragi ladoos for a toddler is helpful and you are inspired to try it for your child pretty soon. It can also be a healthy sweet for an entire family. This will surely get you good appreciation at a home party.