Makhana Kheer Recipe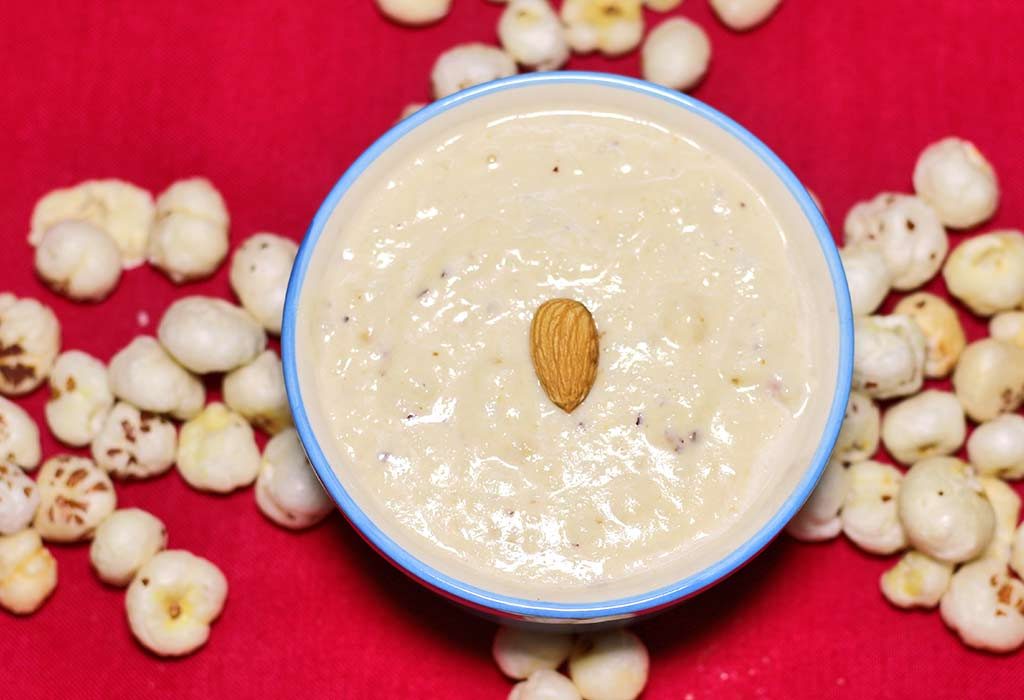 In this Article
Milk is one of the best sources of calcium, protein and other essential nutrients for your growing toddler. If you are looking for ways to introduce milk in your munchkin's diet, we have one yummy recipe for you! In this post, we shall share a very easy Makhana Kheer recipe that you can make in no time, and this tasty dish is also loaded with umpteen health benefits for your little one!
Cooking Time:
| | |
| --- | --- |
| Type | Time |
| Preparation Time | 00:05:00 |
| Cook Time | 00:20:00 |
| Total Time | 00:25:00 |
Cooking Method: Gas Stove or microwave
Type of Meal: Vegetarian
Great/Suitable For Toddlers: Toddlers over 23 months of age
Meal Schedule: Breakfast, Lunch or Dinner
Recipe Type: Side-Dish / Dessert
Ingredients:
| | |
| --- | --- |
| Type | Quantity/ volume |
| Makhana or puffed lotus seeds | ½ cup |
| Milk | 1½ cup |
| Ghee | One teaspoon |
| Dry dates powder | ¼ cup |
| Cardamom powder | ½ teaspoon |
| Almonds (finely chopped) | One tablespoon |
| Pistachio (finely chopped) | One tablespoon |
Instructions:
Follow these simple and easy step by step instructions to make this yummy Makhana Kheer:
Take a heavy-bottomed pan and heat ghee in it.
Roast makhanas on medium flame until they turn crispy. Make sure to keep stirring them continuously to avoid burning or over-roasting.
Remove the makhanas in a plate and let them cool down before churning them into a fine powder.
Heat milk in the same pan and bring it to boil.
Add makhana powder and keep stirring to obtain porridge-like consistency and remove any lumps.
Add dry powdered dates, chopped almonds, and chopped pistachios and mix well.
Remove kheer from heat and let it come to room temperature before serving it to your munchkin.
Recipe Tips:
Here are some recipe tips when you make Makhana Kheer for toddlers:
Always chop makhanas before roasting to check for any insects or worms.
You can also use organic jaggery in place of date powder.
You can turn this sweet delight into a savoury dish by replacing milk with warm water. Add salt and cumin powder for the taste.
The makhana powder can be used to make instant porridge by adding warm milk.
Nutrition Information (Serving Per 100 Grams):
Here's the nutrition information on homemade Makhana Kheer baby food recipe:
| | |
| --- | --- |
| Type | Value |
| Energy | 95 Cal |
| Carbohydrates | 13 g |
| Protein | 8 g |
| Fat | 1.7 g |
| Vitamin A | 550 IU |
| Folic Acid | 1.2 mcg |
| Calcium | 330 mg |
| Magnesium | 38 mg |
| Sodium | 110 mg |
| Phosphorus | 65 mg |
| Potassium | 17 mg |
The above table mentions approximate nutritional content present in a serving of Makhana Kheer. Actual values may vary sometimes.
Health Benefits:
Now that you know how to make Makhana Kheer, you may want to know what kind of health benefits your munchkin can derive from it. In this section, we will talk about some of the many health benefits of feeding this tasty meal option to your little one:
Makhanas are loaded with ample amounts of calcium, which is beneficial in assisting good bone and teeth development in kids.
Loaded with protein, feeding makhana regularly can prove to be helpful in muscle and bone development in young children.
Consuming makhanas can also help in maintaining good kidney health.
Being rich in calories, makhanas keep your little one satiated for long, which means lesser hunger pangs.
Makhanas are sans gluten, which makes them a great meal option for babies or toddlers with gluten sensitivity.
Great antioxidant properties of these nutrient-dense seeds help in maintaining the good overall health of young kids and also prevent them from ailments.
Ample fibre in makhanas helps in keeping good digestive health in babies and toddlers.
Buying Guide:
Here are some tips that you should keep in mind when buying ingredients to make this yummy recipe for your little one:
As much as possible, go in for organic varieties when buying makhanas for the dish.
Also, make sure to check the date of packing to ensure that you use fresh products for your baby.
When it comes to milk, you may buy cow milk as it contains lesser amounts of fat in it. Also, check the date of packing or expiry on the milk carton to make sure you use fresh and good quality milk for the recipe.
Try this simple recipe for your little one and expose your kid to the umpteen benefits of lotus seeds or makhana!