Stewed Apple Recipe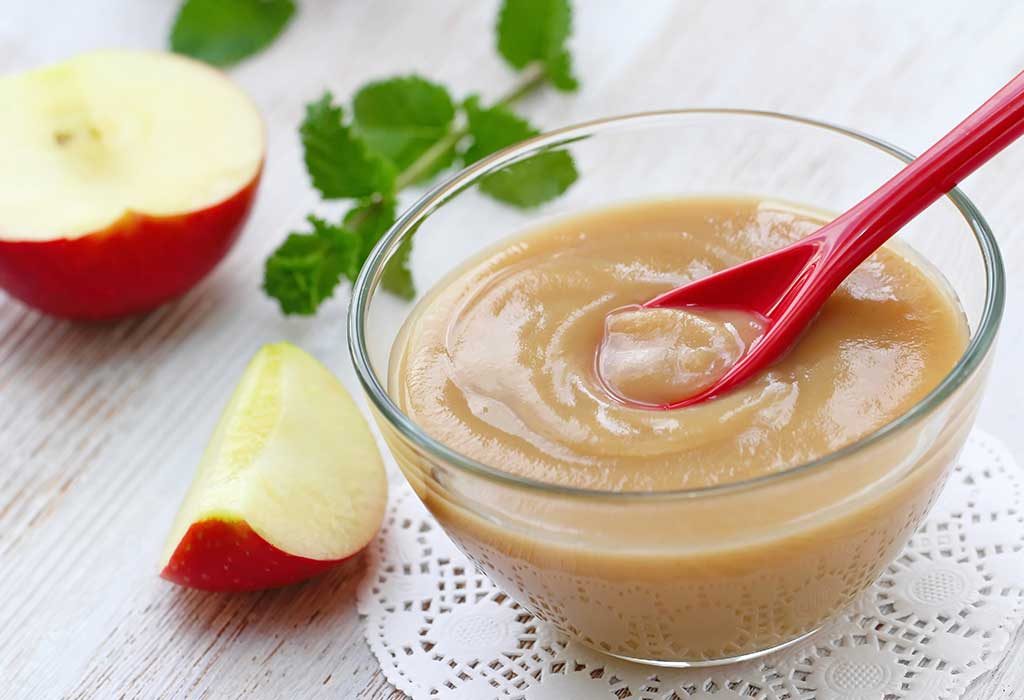 Stewed apple is the first fruit which is introduced to babies. Apple is full of vitamins and nutrients, which help in a baby's growth and development. Babies become more active day by day, so they need more energy and healthy nutrients for their growth and to fuel up their activities. After six months, we introduce liquid foods like apple punch, and the next step is cooked and pureed apple. Stewed apple for babies is easy to digest and easy to prepare. It is a traditional recipe which is served by most of the mothers, and babies also love it.
Video: Stewed Apple Recipe for Babies and Toddlers
Cooking Time
| | |
| --- | --- |
| Type | Time (hh:mm:ss) |
| Preparation Time | 00:02:00 |
| Cook Time | 00:08:00 |
| Total Time | 00:10:00 |
Cooking Method
Gas Stove
Type of Meal
Vegetarian
Suitable For
Any baby above 6 months of age
Meal Schedule
Mid-morning or Afternoon
Recipe Type
Fruits
Ingredients
| | |
| --- | --- |
| Ingredients | Quantity and Volume |
| Apple | 1 |
Instructions
Let us here see how to make stewed apple in a simple step by step directions.
Firstly, wash the apple twice in clean tap water.
Now, cut the apple into four pieces and peel off the apple with the help of a peeler.
Remove the seeds and the core of the apple with the help of a knife.
Chop the apple into small pieces and take a non-stick pan.
Transfer the apple into the pan and turn on the heat.
Add ½ cup of water and cover the lid. Allow it to cook.
Cook them for 8 minutes and stir them occasionally.
Turn off the gas once you see that the apple is cooked. Allow them to get cool for a few minutes.
Along with the water of the cooked apple, blend the apple in a mixture. It will become a smooth paste.
Add a little warm water if required to adjust the consistency.
The stewed apple is ready to eat. Serve immediately.
Recipe Tips
Remember the below-mentioned points before you start preparing the healthy and simple Stewed apple recipe for your baby.
Remember to de-seed the apple properly.
Use warm water to adjust the consistency of the puree, if required.
Use filtered clean water for boiling the apple.
Peel off the apple nicely with a sterilised peeler and chop it with a sterilised knife.
Use filtered and clean tap water to clean the apple and then wipe it well with a clean cloth.
Clean your hands properly before cooking and make sure the utensils used are properly cleaned.
Half boiled apple or a thick paste of apple puree will be difficult to swallow for babies.
Always take the quantity as per your baby's eating habit.
Nutrition Information (Per 100 Grams)
| | |
| --- | --- |
| Nutrient | Value |
| Energy | 51kCal |
| Protein | 0.2g |
| Carbohydrates | 11.7g |
| Fibre | 2.8g |
| Fat | 0.4g |
| Cholesterol | 0 mg |
| Vitamin A | 2.1 mcg |
| Vitamin B3 (Niacin) | 0.2 mg |
| Vitamin C | 3.1 mg |
| Vitamin E | 0.1 mg |
| Folic Acid (Vitamin B9) | 2.6 mcg |
| Calcium | 8.7 mg |
| Iron | 0.6 mg |
| Magnesium | 6.1 mg |
| Phosphorus | 12.2 mg |
| Sodium | 24.4 mg |
| Potassium | 65.2 mg |
| Zinc | 0.1 mg |
Health Benefits
Here are the health benefits of home-made Stewed apple baby food recipe.
Apple helps in digestion because of the high fibre content.
Apple is sweet, and because of its quality, it is liked by all the babies.
Apple is rich in fibre, and it also soothes the baby digestive system. It is healthy during diarrhoea and constipation.
Apple provides the necessary energy and helps in making bones stronger.
Iron in apples also helps in making the bones stronger.
Apple provides energy to babies and plays a vital role in a baby's growth and development.
Buying Guide
Buy organic (if possible) and good quality of apples from the market.
Make sure the apple is fresh, and no cut spots are there.
Do not use cut or already chopped apples.
Look for well-coloured apples with a nice fragrance.
Our babies are very precious to us, and therefore we always want the best for them. So, instead of depending on formula food bought from the market, give your baby a bowl of tasty and nutrient-rich stewed apple every day. Apple is a great fruit and makes your baby more energetic.