Puttu Recipe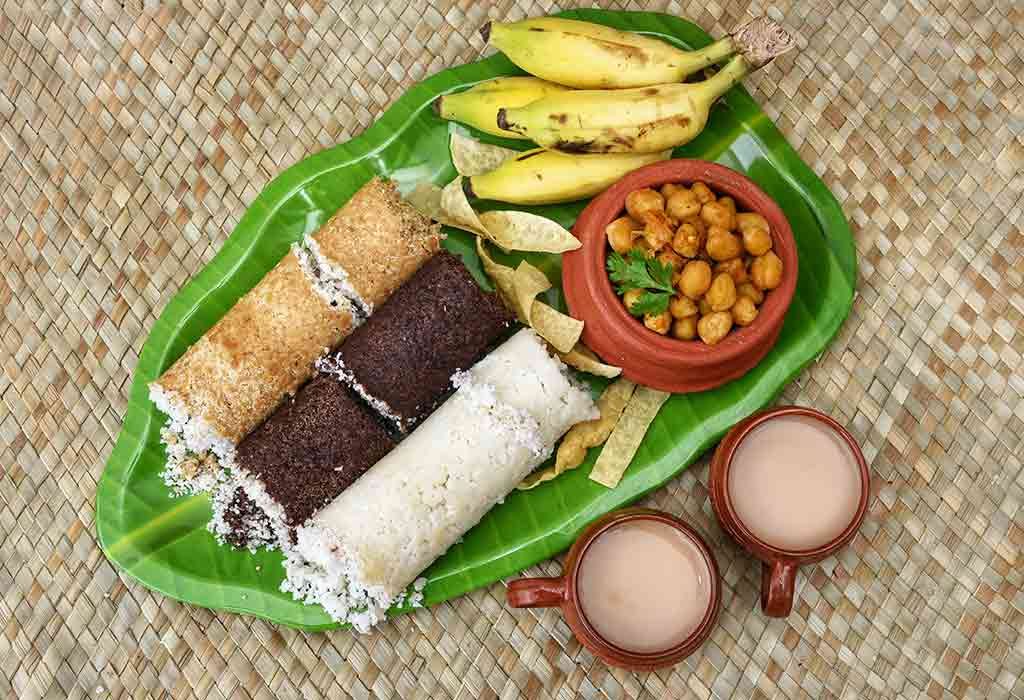 In this Article
Puttu is a traditional dish of Kerala. Healthy food for all, Puttu for babies is specifically oriented towards providing the best of nutrition to your child in a tasty manner. An excellent option for breakfast, this dish can have many variations. You could make it with red rice, ragi, wheat, bajra or any other healthy grain you would like to include in your child's food regime. The fact that it is steamed makes it retain all the nutrition that you add into this ball of goodness. It is also easy on digestion. It can be served on its own, or you could add some side dish to add more zing to it. Puttu can be spicy or sweet based on how you want them to be. Here we will look into a salty and simple recipe that you can improvise based on your kid's taste and time in hand.
Cooking Time
| | |
| --- | --- |
| Type | Time (hh:mm:ss) |
| Preparation Time | 00:10:00 |
| Cook Time | 00:15:00 |
| Total Time | 00:25:00 |
Cooking Method
Gas stove and puttu maker
Type of Meal
Vegetarian
Suitable For
Babies above 24 months of age
Meal Schedule
Breakfast
Recipe Type
Main Dish
Ingredients
| | |
| --- | --- |
| Ingredients | Quantity and Volume |
| Red rice | ¼ cup |
| Salt | One pinch |
| Grated coconut | ¼ cup |
| Water | As needed |
| Ghee | 1 tsp |
Instructions
Below is the detailed step by step procedure to prepare this Puttu. We are sure even adults would like to have a bite of this delicious dish:
Prepare red rice by soaking it in water for 2 hours then drying it in the sun for 30 minutes.
Roast the rice in a pan for 5 minutes till it feels hot to touch.
Let the rice cool and then grind it to a coarse texture.
Put the rice in a plate and add salt to it.
Then start adding warm water to it little by little and keep mixing it.
Add water till the point the rice comes together in your fist; this is when it is ready.
Now start filling the Puttu maker's cylinder. First, add grated coconut, then adds a layer of rice. Keep doing this till the entire floor is finished, or the cylinder is almost full.
Now fill the Puttu pot with water and fix the cylinder tube as per instructions.
Steam it for 8-10 minutes, till you get aroma coming out of it.
Once it is done, take out the cylinder and use a ladle to push the Puttu out.
Pour ghee on top of it and let your child relish the dish.
Recipe Tips
This easy Puttu recipe for a baby can be made into a sweet side dish as well. Here are some tips on how to make this a versatile dish:
Make sure rice is cleaned well as it might contain arsenic. Soaking it removes this toxin to a large extent.
While roasting the rice, be careful of not overheating or burning it as it will give a burnt/bitter taste.
You do not need to make a paste of the rice with water; it should just be crumbly but comes together when pressed in the fist.
Don't stuff the cylinder with flour to the brim as the rice needs space to expand and you might end up with hard Puttu if you fill too much
If you do not have a Puttu maker, you can make this in an idly pot or pressure cooker as well.
You could serve this with mashed banana or chana curry as a side dish.
Make it sweet with adding jaggery, cardamom powder, raisins, and cashews.
Instead of red rice, you could also use ragi powder or any other grain flour.
Nutrition Information (Per puttu)
| | |
| --- | --- |
| Nutrient | Value |
| Energy | 305 Cal |
| Protein | 5.1 g |
| Carbohydrates | 50 g |
| Fibre | 5.5 g |
| Fat | 9.5 g |
| Sodium | 8.6 mg |
| Calcium | 8.2 mg |
| Iron | 0.8 mg |
| Potassium | 124.5 mg |
| Magnesium | 61 mg |
| Phosphorous | 149 mg |
| Zinc | 1 mg |
| Vit A | 0 |
| Vit B1 | 0 |
| Vit B2 | 0.1 mg |
| Vit B3 | 1.3 mg |
| Vit C | 0.7 mg |
| Folic acid | 7.6 mcg |
Health Benefits
This home-made Puttu baby food recipe is a unique blend of texture and taste.
Grated coconut has high fibre which would fight any constipation your kid might have.
Red rice is rich in complex carbohydrates and antioxidants.
This dish also has good levels of essential minerals like magnesium and phosphorous, which are great for your child's development.
Buying Guide
Try to buy all organic ingredients as the toxins in non-organic ones could wreak havoc on your kid's delicate system.
When buying jaggery look for dark-coloured ones which are aged as they have minimal chemical residue.
You could buy a Puttu maker as it is the easiest and perfect way to make Puttus.
We hope this recipe clearly explained how to make Puttu for a child with easy steps.