Pav Bhaji recipe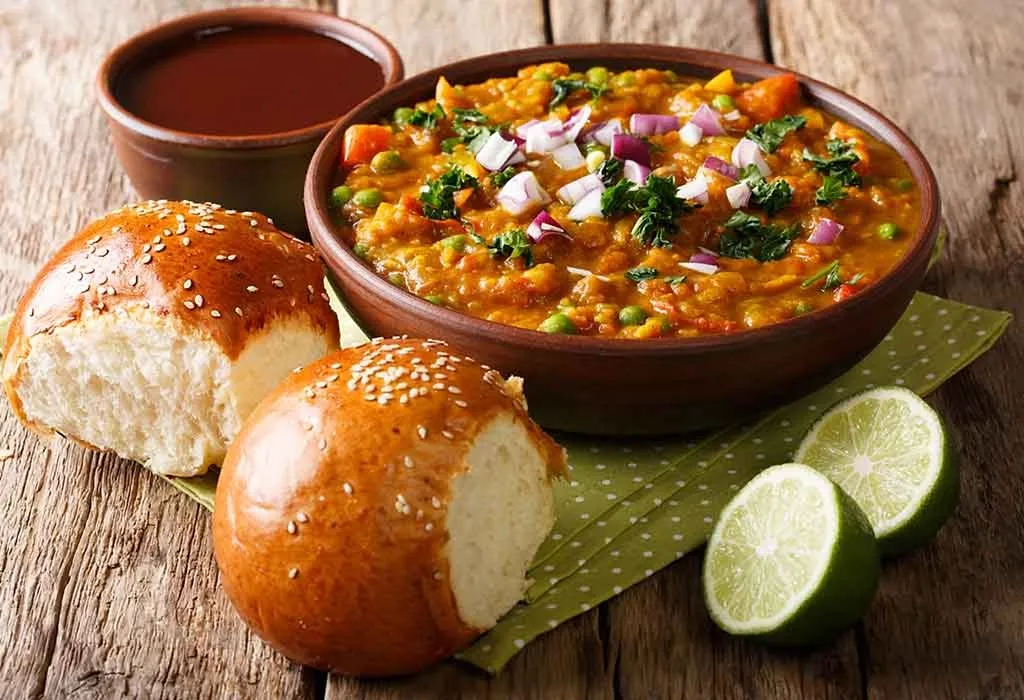 In this Article
If you are wondering about different ways to include veggies in your toddler's diet, then you are at the right place because here you will find excellent baby food with lots of vegetables that are highly nutritious and flavourful. You can sneak in just about any vegetable in this recipe. There is a variety of Indian street food that the kids love. One such delicacy is this delectable home-made pav bhaji baby food recipe. Pav bhaji is an excellent snack or dinner option as it is loaded with many veggies.
Cooking time
| | |
| --- | --- |
| Type | Time (hh:mm:ss) |
| Preparation Time | 00:15:00 |
| Cook Time | 00:30:00 |
| Total Time | 00:45:00 |
Cooking Method
Gas Stove
Type of Meal
Vegetarian
Suitable For Babies & Toddler
Babies above 12 Months
Meal Schedule
Mid-morning or Evening snack, lunch or dinner
Recipe Type
Main Dish
Ingredients
| | |
| --- | --- |
| Ingredients | Quantity and Volume |
| Potato | 1 |
| Carrot | 2 |
| Beans | 4 |
| Green peas | ¼ cup |
| Cauliflower | ¼ cup |
| Onion | Two medium-sized |
| Capsicum | 1 |
| Tomato | Two medium-sized |
| Pav buns | 3 |
| Ginger garlic paste | ½ teaspoon |
| Salt | As per taste |
| Cooking oil or butter | Three tablespoon |
| Pav bhaji masala powder | One teaspoon |
| Lemon juice | Few drops |
| Coriander leaves (finely chopped) | One tablespoon |
Instructions
Follow the step by step instructions below to ace the art of making yummy pav bhaji for your little one:
Wash, peel and chop the veggies and keep them aside.
Now, take a pressure cooker and add all the chopped veggies with a glass of water and salt and cook for two to four whistles.
Wait for the pressure to release and then mash the cooked veggies using a hand blender or roughly mash it with a spatula.
In a pan add some oil or butter, then add ginger garlic paste and onion and saute.
Add in the tomatoes and cook till they become mushy and leaves oil on the sides of the pan.
Its time to add in turmeric, pav bhaji masala and garam masala.
Give it a quick stir and swirl in the mashed veggies and cook for 15-20 minutes on low flame.
Adjust the consistency of the masala at this stage and check for seasoning.
Once done, squeeze in the lemon juice and garnish with chopped coriander leaves.
Heat a Tawa and toast the pav buns by spreading butter on it till golden and serve with the bhaji.
Recipe tips
If you are thinking about how to make pav bhaji perfectly! then follow the recipe tips below:
You can alter the recipe by adding veggies of your choice like baby corn, sweet corn, broccoli and more.
Mashing the vegetables well is ideal if you want a smooth and soft masala alongside the melt-in-mouth buns.
Be generous while adding butter to Pav bhaji as it increases the taste and flavour of the dish.
Adding a small piece of beetroot in the recipe is excellent to get a deep red colour to the gravy.
Mash the veggies according to the texture you prefer; it could be little chunky or entirely mashed.
Add the cauliflower in hot water for 5 mins before using it in the recipe to destroy any small worms in it.
Nutrition information (Per 100 Gms)
| | |
| --- | --- |
| Nutrient | Value |
| Energy | 150 Cal |
| Total fat | 11 g |
| Saturated fat | 3 g |
| Total carbohydrates | 53 g |
| Cholesterol | 30 mg |
| Sugar | 11 g |
| Polyunsaturated fat | 1.3 g |
| Sodium | 150 mg |
| Protein | 10 g |
| Vitamin C | 17 mg |
| Iron | 2.2 mg |
| Calcium | 60 mg |
| Potassium | 450 mg |
Health Benefits
This simple pav bhaji recipe is loaded with nutritive values, have a look at it below:
Vegetables provide all the essential vitamins, minerals and fibre required for the babies.
The anti-oxidants present in vegetables aid your child against various diseases in life.
Carrots and tomatoes are a good source of vitamins which are necessary for good growth and development of your baby.
Iron and calcium in the vegetables are essential for building bones and teeth in children and ensuring their overall well-being.
Including many vegetables in the recipe improves immunity and keeps obesity at bay.
Buying guide
Pav bhaji recipe for toddlers can be aced by following the buying guide below:
Select the vegetables that are organically grown from a local vendor to ensure that the veggies are not in contact with pesticides and harmful chemicals.
Use organic butter or homemade butter for added taste and nutrition.
Make sure the vegetables you buy are fresh and do not have any spots on them.
Buy pav buns by checking the expiry date.
Always buy plump and bright red tomatoes as it is healthier and adds more flavour to the dish.
This simple pav bhaji recipe is an excellent way of adding veggies to your baby's diet without even them noticing it. Try this nutritious recipe now and refrain yourself from depending upon the unhealthy store-bought food which claims to be healthy for your toddlers.