Ragi-Wheat Roti Recipe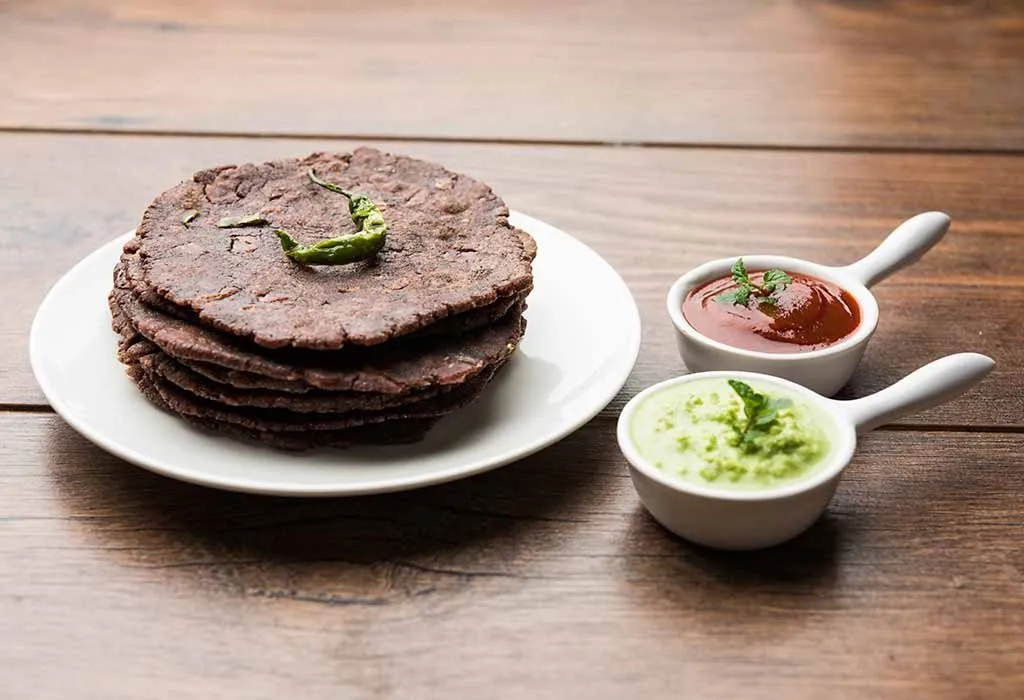 In this Article
Wondering how can you introduce ragi in your munchkin's diet? If that is what you wish to know, we have an easy recipe that you can whip any time with just a few ingredients in your hand. This recipe also offers umpteen health benefits of millets or ragi to your kiddo! Read this post and learn to make Ragi-wheat roti for toddlers that can be enjoyed as a main meal with curries, veggies or dal!
Cooking Time
| | |
| --- | --- |
| Type | Time |
| Preparation Time | 00:10:00 |
| Cook Time | 00:15:00 |
| Total Time | 00:25:00 |
Cooking Method
Gas Stove
Type of Meal
Vegetarian
Suitable For
Toddlers above 13 months of age
Meal Schedule
Lunch or Dinner
Recipe Type
Main Dishes
Ingredients
This easy homemade Ragi-wheat roti baby food recipe can be whipped with just the following ingredients:
| | |
| --- | --- |
| Type | Quantity/Volume |
| Ragi flour | ½ cup |
| Wheat flour | 1 cup |
| Vegetable oil | 1 to 2 tbsp |
| Ghee | 1 to 2 tbsp |
| Water | As required |
Instructions
Follow these step by step directions to make ragi–wheat roti:
Take a large bowl. Sieve ragi and wheat flour and mix well.
Add salt and oil in the dry flour mixture and give a thorough mix.
Slowly add water as you knead the flour with one hand.
Keep kneading for a few minutes to make a smooth and soft dough.
Wrap the dough with a cling film and let it rest for some time.
Scoop small ball-size dough from the dough mix and flatten it using your palms and fingers.
Dust the flattened dough and roll it into thin rotis.
Heat Tawa or flat pan on medium heat.
Cook rotis from both sides.
Place the roti on a plate and smear ghee on it.
Serve ragi-wheat rotis with dal, curry or any green vegetable to provide a wholesome and nutritious meal to your munchkin.
Recipe Tips
Keep these following pointers or tips in mind when making Ragi-wheat roti for toddlers:
You can substitute oil with ghee when making the dough to enhance the taste and flavour of the rotis.
Powdered jeera seeds or ajwain seeds can be added for more aroma and taste.
If you wish, you can apply ghee while cooking the rotis to make them crispier.
Water required for kneading the dough may vary according to the quality of ragi flour. Using more water for making the dough can not only make the dough stickier, but it may also affect the taste of the rotis.
Nutrition Information (Serving Per 100 Grams)
After learning the technique and tips of how to make Ragi-wheat roti, learn how much nutrition your little one can get by eating this yummy roti:
| | |
| --- | --- |
| Type | Value |
| Calories | 140 Cal |
| Carbohydrate | 25 g |
| Protein | 3.2 g |
| Dietary fibre | 1.6 g |
| Total fat | 3 g |
| Vitamin A | 270 mcg |
| Vitamin C | 3.4 mg |
| Folic acid | 9.2 mcg |
| Calcium | 150 mg |
| Magnesium | 52 mg |
| Sodium | 13 mg |
| Iron | 1.6 mg |
| Potassium | 170 mg |
| Phosphorus | 160 mg |
The above table mentions approximate nutritional content present in 100 grams of ragi and wheat roti. Actual nutritional content may slightly vary.
Health Benefits
Here are some of the health benefits of this simple Ragi-wheat roti recipe:
Loaded with ample amounts of dietary fibre, ragi keeps your little one feeling fuller for longer. Fibre is also great for regulating bowel movements and keeps digestion in place.
Growing kids need substantial amounts of calcium in their diet for optimum growth and development of bones and teeth. Including ragi in your kiddo's diet can help in providing the much-needed dose of calcium.
Ragi is naturally loaded with iron and including it in your kid's regular diet can help keep iron deficiencies at bay.
High amounts of amino acids and antioxidants act as natural relaxants and keep anxiety and other such mental disorders at bay.
Buying Guide
Here are some points that you need to keep in mind when buying ingredients to make ragi-wheat roti:
Buy organic ragi and wheat flour to make these rotis.
Always check the best before or manufacturing date before buying ragi and wheat flour.
Refrain from buying unpacked ragi or wheat flour. Always buy branded food products.
Next time you are thinking of making something nutritious and healthy for your kiddo, do not overthink and try out this simple yet highly nutritious ragi-wheat roti recipe!