Fish Curry With Rice Recipe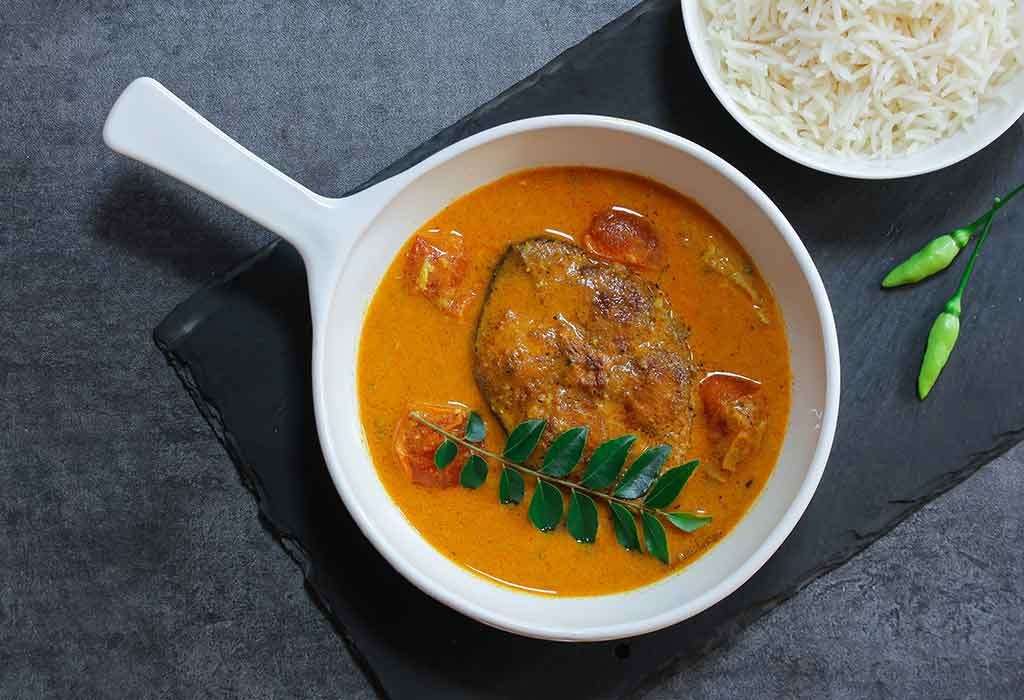 Fish curry can be incorporated into a baby's diet in the early days of weaning. The taste buds need to be gently trained and you're sure to get surprised when your child starts relishing a healthy bowl of fish curry with rice for lunch or dinner. Diverse fish curry preparations of India carry the cultural traditions of different regions that are known for their distinctly aromatic tastes. Loaded with important nutrients like protein, vitamin D, omega3 fatty acids, fish is among the healthiest food for humans. Suitable for babies of 10 months and above, this traditional fish curry and rice for babies can be made in a kid-friendly way quickly and easily.
Cooking Time
| | |
| --- | --- |
| Type | Time (hh:mm:ss) |
| Preparation Time | 00:10:00 |
| Cook Time | 00:20:00 |
| Total Time | 00:30:00 |
Cooking Method
Gas Stove
Type of Meal
Non-Vegetarian
Suitable For
Any baby above 11 months of age
Meal Schedule
Lunch or Dinner
Recipe Type
Main Dish
Ingredients
| | |
| --- | --- |
| Ingredients | Quantity and Volume |
| Fish | 500 g |
| Turmeric Powder | 1 tsp |
| Ginger garlic paste | 1 tsp |
| Salt | To Taste |
| Onion | 2 |
| Tomato | 1 |
| Oil | 2 tbsp |
| Water | 3 cup |
| Boiled Rice | 1 cup |
| Coriander Leaves | 1 handful |
| Pepper Powder | 1 Pinch |
Instructions
If you're interested to know how to make fish curry and rice in the easiest and fastest way then the step by step directions given here will guide you to make the tastiest fish.
Marinate the fish with salt and pepper in a bowl.
Heat 2 tablespoons of oil in a frying pan and fry the fish until it is cooked and appears crispy
Add 1 tablespoon of oil in a pan and fry the sliced onion till are translucent in colour. Add diced tomatoes.
Next, put the ginger garlic paste which needs to be stirred until browned and oil starts getting released.
Add turmeric powder, salt, and water to the curry and boil it for 5 minutes
Reduce the heat and gently drop the fish into the curry before covering it for 10 more minutes
Once the gravy thickens, flip the fish pieces occasionally to cook it from both sides
Garnish with coriander leaves before serving
Make rice separately by boiling it with water
Check for the softness of the rice and drain out the water
Transfer the fish curry into a plate
Serve hot with rice
Recipe Tips
This simple fish curry and rice recipe are a ready reckoner for all mothers who want to include this dish into their child's daily diet plan.
Instead of frozen fish choose freshwater fish or mild white fish for this dish
Choose fish with less bone so that deboning becomes easier and faster
Use only clean water for cleaning the fish well before cooking
Basic hygienic habits like washing hands is a must before preparing to cook any dish for your baby. Only clean utensils should be used to make the fish curry
Fry the fish well till its raw smell disappears
Vegetables like potato, beans or peas can be added to enhance its nutritional value
Nutrition Information of Fish Curry (Per 100 Grams)
| | |
| --- | --- |
| Nutrient | Value |
| Calories | 100 kCal |
| Protein | 12.4 g |
| Carbohydrates | 1.9 g |
| Fibre | 0.5 g |
| Fat | 4.59 g |
| Cholesterol | 32 mg |
| Vitamin A (IU) | 112 |
| Calcium | 45 mg |
| Iron | 0.99 mg |
| Saturated fat | 0.716 g |
| Carbohydrate | 1.9 g |
| Potassium | 289 mg |
| Vitamin C | 0.9 mg |
Nutrition Information for Rice (Per 100 Grams)
| | |
| --- | --- |
| Nutrient | Value |
| Calories | 242 kCal |
| Fat | 0.4 g |
| Protein | 4.4 g |
Health Benefits
Here are some of the health benefits of home-made fish curry and rice baby food recipe that makes it the best wholesome meal for your child.
Omega 3 fatty acid in fish is important for brain and eye development. It also reduces the risk of type 1 diabetes in children.
Regular consumption of fish is linked to a 24% lower risk of asthma in children.
Being a good dietary source of Vitamin D, fish is vital for the growth and maintenance of healthy bones and teeth, especially among children.
As fish is a great source of DHA or healthy fat, it is essential for a child's nervous system and vision.
Essential minerals like calcium, zinc, iron and magnesium content of the fish help in promoting a better immune system for your child.
You can choose brown rice that has higher fibre content and offers more antioxidant enzymes.
Buying Guide
If the fish's belly and gut feels soft to touch, it is probably not fresh.
In case of a pungent fishy odour, the fish is rotten. So buy fish from a reputable fish market to ensure its best quality.
Fish curry can be cooked in mustard or refined oil.
Check the expiry date of the spices used as ingredients in this dish.
Check for the texture, appearance, and colour of the rice before buying rice which does not have lice. So make sure to buy rice from a trusted store.
A bowl of rich and fragrant fish curry cooked with love will surely appeal to all members of your family. If your child is a fussy eater then this delicious gently spiced dish is a great option for meeting the vitamin and mineral requirements of an active and growing baby's body.