Methi Thepla Recipe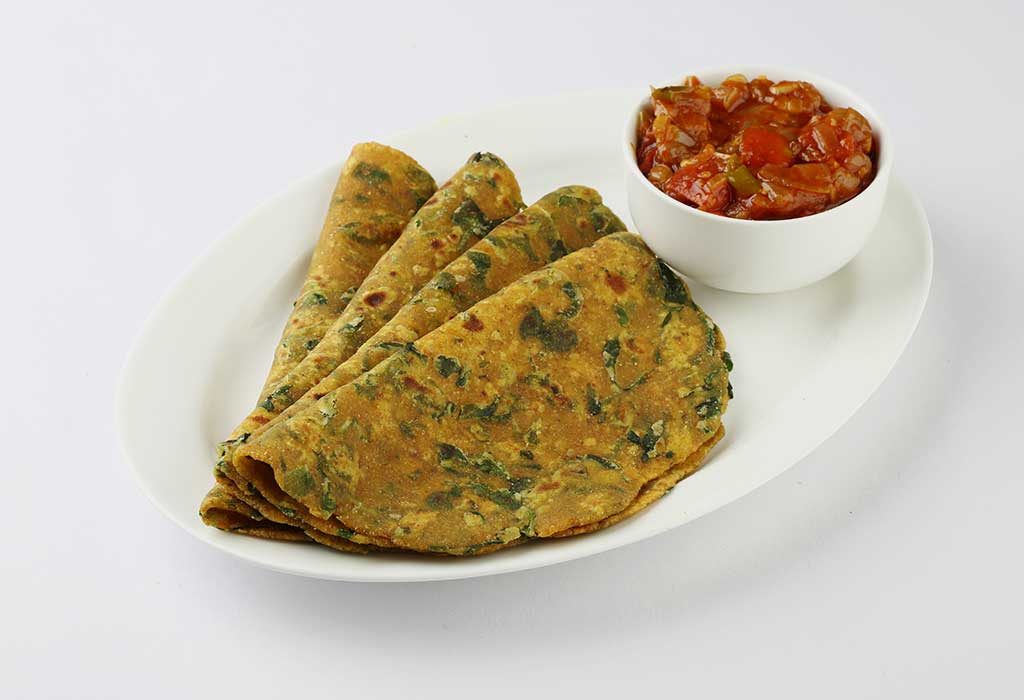 In this Article
Green leafy vegetables are essential for your child's growth. Fenugreek leaves are high in Vitamin K, dietary fibre and antioxidants. But it is difficult to feed them to your child as they are somewhat bitter. This recipe lets you incorporate methi leaves in your child's diet, and they will love it.
Methi theplas are nothing but flatbreads, made out of besan, wheat flour and fenugreek leaves. This is a Gujarati snack item but can serve as a complete meal too. Curious about how to make methi thepla? Follow the recipe below and serve them to your little one!
Cooking Time
| | |
| --- | --- |
| Type | Time (hh:mm:ss) |
| Preparation Time | 00:30:00 |
| Cook Time | 00:30:00 |
| Total Time | 01:00:00 |
Cooking Method:
Gas Stove
Type of Meal:
Vegetarian
Suitable For:
Any babies older than 11 months of age
Meal Schedule:
Breakfast, Mid-Morning Snack, Lunch or Evening Snack
Recipe Type:
Main Dish
Ingredients
| | |
| --- | --- |
| Ingredients | Quantity |
| Fenugreek leaves (finely chopped) | 1 cup tightly packed |
| Whole wheat flour | 1 cup |
| Ginger (optional) | ½ inch |
| Besan | ¼ cup |
| Red chilli powder (optional) | As per taste |
| Salt | As per taste |
| Cumin powder | ½ tsp |
| Turmeric powder | ½ tsp |
| Coriander powder | ½ tsp |
| Curd | ½ cup or as required to knead the dough |
| Oil | For roasting theplas |
Instructions
Here are the step-by-step directions to make methi theplas.
Mix thoroughly whole wheat flour, besan, fenugreek leaves (washed and finely chopped), salt, 1 tbsp oil and spices mentioned above. Add red chilli powder only if you think your child will be able to eat them. Adding in ginger is also optional depending on your child's taste.
Add curd to the mixture and make a soft dough out of it. Curd makes the theplas extra soft and easy to chew for your child.
Now keep the dough aside for 20 minutes.
Make medium-sized balls out of the dough.
Now take a dough ball and start rolling it using the rolling pin. Adjust the size of your thepla according to the thickness preferred. It usually turns out to be 5 to 6 inch in diameter.
Now put the rolled thepla on hot tawa. Flip to the other side when the first side is cooked partially.
Now spread oil on this side and flip it again.
Spread oil on the next side as well and keep pressing the thepla with a spatula.
Now flip it again and let it cook.
Your methi thepla is ready to serve!
Recipe Tips
The theplas from this simple methi thepla recipe can be stored for up to a day. Just make sure to store them in a roti basket.
Methi leaves must not be fed in large quantities to your kid. This may cause diarrhoea.
This homemade methi thepla baby food recipe requires that the fenugreek leaves should be washed properly and chopped finely.
Nutrition Information (Per 100 Grams)
| | |
| --- | --- |
| Type | Value |
| Energy | 144 kCal |
| Sodium | 193 mg |
| Fat | 4.3 grams |
| Carbohydrates | 22.9 grams |
| Potassium | 203 mg |
| Protein | 6.8 grams |
| Vitamin C | 0.8 mg |
| Vitamin K | 6 mg |
| Dietary Fibre | 16 grams |
| Iron | 6.1 mg |
| Calcium | 40 mg |
Health Benefits
Now you must be thinking whether it is worth making methi thepla for your little one. So here are some points which will tell you about its health benefits.
Fenugreek leaves are rich in dietary fibre and antioxidants. This helps in improving your child's bowel movement. At the same time, it should not be fed in large quantity too!
Curd helps in increasing the protein and calcium content of the recipe. Protein and calcium are required for the development of bones and teeth in your child.
A pinch of turmeric powder improves your child's immunity.
Fenugreek leaves are good for lactating mothers as well.
As you can see, the recipe is rich in carbohydrates, so the child feels full and energetic for long.
Buying Guide
It is essential to buy the right ingredients to prepare methi theplas. Here are some tips for you.
Try buying fenugreek leaves from stores which sell organic vegetables. This ensures safer techniques of farming.
Always check the expiry date of the wheat flour and besan you buy from the market.
Do prepare these easy methi theplas for babies and let them relish it. They will love it whether you serve it as breakfast or lunch or evening snack or as dinner!