Paneer Pulav Recipe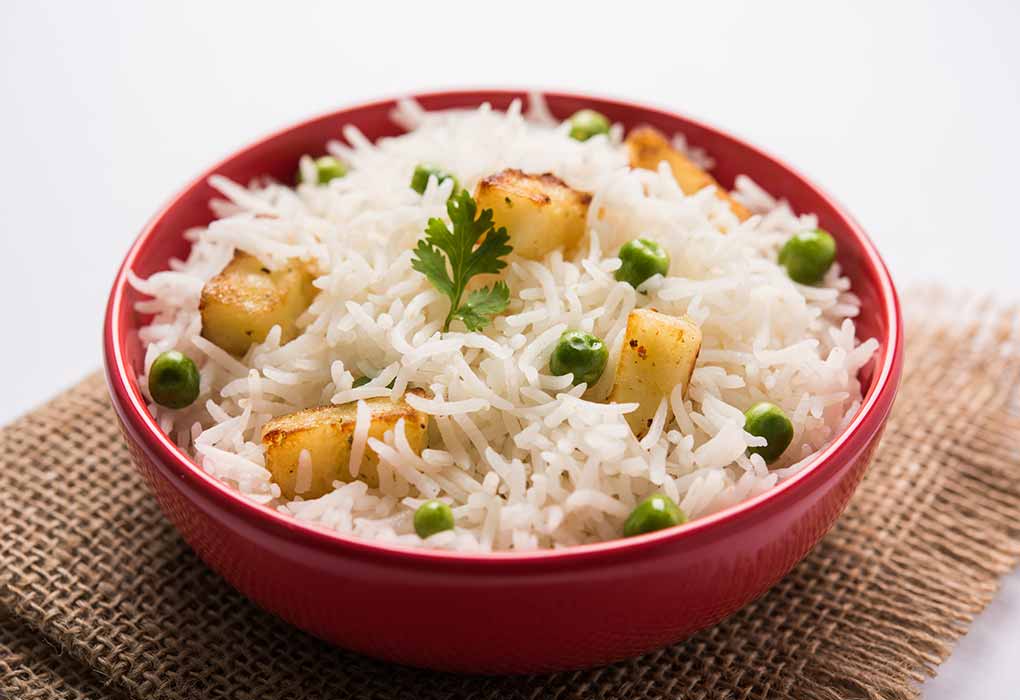 In this Article
Let's add another nutritional and delicious recipe for your children, Paneer Pulav. It is a nourishing main course meal prepared by two-star ingredients: rice and paneer. Apart from paneer, the recipe will have lots of vegetables to make it even healthier and to provide a variety of tastes to your children.
This simple paneer pulav recipe takes just 40 minutes to prepare and will keep your child full for long. So, let us start by looking at the ingredients required, cooking procedure, nutrition information and health benefits of this recipe:
Cooking Time:
| | |
| --- | --- |
| Type | Time (hh:mm:ss) |
| Preparation Time | 00:20:00 |
| Cook Time | 00:20:00 |
| Total Time | 00:40:00 |
Cooking Method
Gas Stove
Type of Meal
Vegetarian
Suitable For
Any baby above 10 months of age
Meal Schedule
Lunch or Dinner
Recipe Type
Main Dish
Ingredients
| | |
| --- | --- |
| Ingredient | Quantity |
| Basmati Rice(long grain) | 1 cup |
| Paneer(cut in cubes) | 200 gms |
| Onion(sliced thinly) | 1 cup |
| Carrot(cubed) | ½ cup |
| Peas | ½ cup |
| Coriander leaves(finely chopped) | 1 tbsp |
| Mint leaves(finely chopped) | 1 tbsp |
| Cumin seeds | 1 tsp |
| Bay leaf | 2 numbers |
| Cinnamon Stick | 1 inch |
| Green Cardamom | 2 numbers |
| Black Cardamom | 1 in number |
| Garam Masala Powder | ½ tsp |
| Black peppercorns(optional) | 3 to 4 |
| Green Chilli(optional) | 1 in number |
| Salt | As per taste |
| Vegetable Oil | 2 tbsp |
| Ghee | 2 tbsp |
| Water | 2 cups |
Instructions
Wondering how to make paneer pulav? Below is the complete recipe in an easy step by step method:
Wash the rice properly and soak it in water for half an hour.
Heat oil in a pan and fry the paneer cubes until they turn brown from all sides.
Take the cubes out and keep them aside.
Next, add ghee in the same pan. Once the oil is hot add cinnamon stick, bay leaf, cumin seeds, black cardamom, green cardamom and black peppercorns and allow them to crackle for a while.
Add sliced onions and green chilli(optional) and fry until they turn golden brown.
Next, add peas and carrot and stir for a minute or two.
Now add the fried paneer cubes, garam masala powder, salt, coriander leaves, mint leaves, water and mix everything properly.
Drain the soaked rice and add it to the pan. Stir gently.
Now cover the lid of the pan and let the pulav cook on low heat. Cook it until the water gets absorbed.
Switch off the flame and let the pulav rest for 5 minutes.
Take the lid off and enjoy the aroma of cooked pulav. It is now ready to serve with raita.
Recipe Tips
Following points should be kept in mind while trying out this homemade paneer pulav baby food recipe:
Soaking the rice for 30 minutes is a really important step as it softens the rice.
Wash your hands properly before starting to prepare this recipe.
Do not use tap water to cook the rice.
Nutrition Information (Per 100 Grams)
| | |
| --- | --- |
| Type | Value |
| Energy | 491 kCal |
| Carbohydrates | 49 gm |
| Fat | 27 gm |
| Protein | 12 gm |
| Sodium | 112 mg |
| Potassium | 228 mg |
| Dietary Fiber | 4 gm |
| Calcium | 284 mg |
| Iron | 1 mg |
| Vitamin C | 14 mg |
Health Benefits
Paneer Pulav for babies has a little bit of everything. Following are the health benefits of this pulav:
The baby feels full for quite long as the recipe provides a good amount of calories and carbohydrates.
Both peas and carrots present in the recipe ensure good skin, good eye health, builds immunity and are a good source of iron.
Paneer has numerous nutritional benefits. The potassium present in paneer helps to maintain fluid in the body. The calcium and protein help in the development of strong bones and teeth. It also helps in regulating bowel movements in the little ones.
Rice provides ample amounts of carbohydrates keeping your child energetic all day long.
Buying Guide
While buying the ingredients for this recipe following things should be taken care of:
Buy long-grained basmati rice only. They taste best in this recipe.
Try buying organic vegetables which ensures safer ways of farming.
If possible, prepare the paneer at home or choose organic paneer as it is proved to be safer and healthier for your children.
This is not just a tasty recipe but also a medium to add multiple healthy vegetables in one meal for your children. Your kid will relish not just the varied taste experiences but also textures because of the presence of different textured food items. It'll be a unique experience for your kid.