Date And Dryfruit Barfi Recipe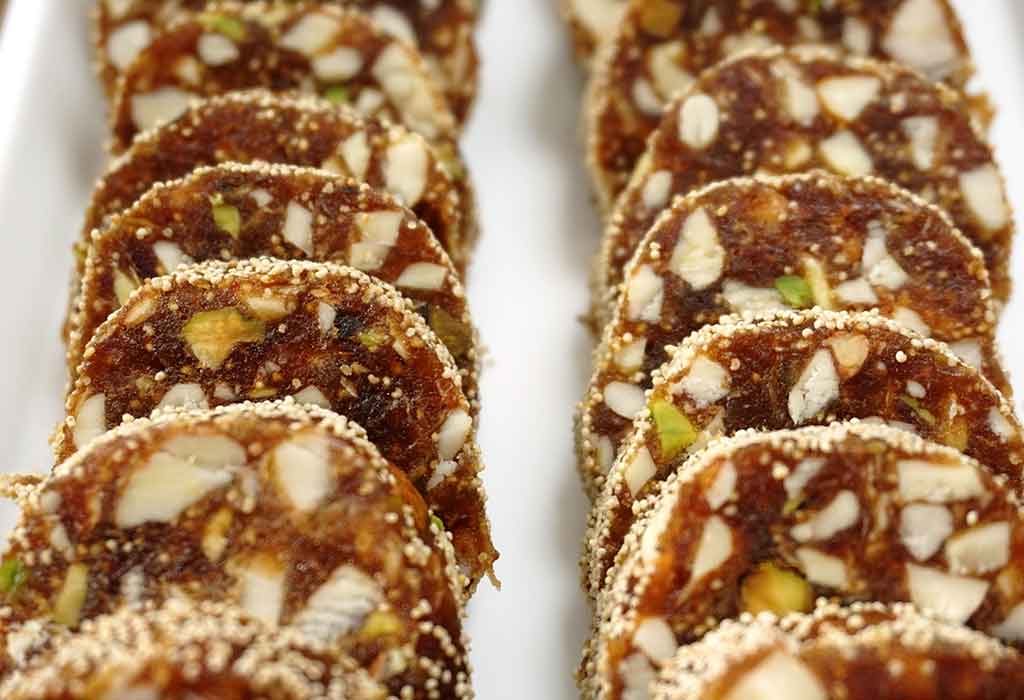 Dates and Dryfruits barfi is a tempting and delectable dessert for kids and adults alike. Dates provide a good source of fibre and iron and the other dry fruits are sources of essential nutrients. The Dates and Dryfruit barfi is a yummy treat to savour after a hearty meal. Rich in goodness of fruits, this barfi is a scrumptious and healthy treat for your toddler!
Cooking Time
| | |
| --- | --- |
| Type | Time (hh:mm:ss) |
| Preparation Time | 00:15:00 |
| Cook Time | 00:30:00 |
| Total Time | 00:45:00 |
Total Servings: 3-4
Cooking Method: Gas stove or induction
Type of Meal: Suitable for vegetarians and vegans
Meal Schedule: Dessert after lunch or dinner, snack in-between meals
Recipe Type: Dessert or snack
Ingredients
| | |
| --- | --- |
| Ingredients | Quantity & Volume |
| Dates chopped | 2 cups |
| Walnuts chopped | ½ cup |
| Cashews | ½ cup |
| Almonds | ½ cup |
| Dry coconut ( grated finely) or desiccated coconut | ½ tsp |
| Pistachios chopped | 2 tbsp |
| Chironji | 2 tbsp |
| Poppy Seeds | 2 tbsp |
| Nutmeg | 1 |
| Green cardamom (crushed and ground) | 6-7 pieces |
| Ghee | 2 tbsp |
| Aluminium foil | 2-5 sheets |
Instructions
The very thought of cooking Dates and Dry fruit barfi may seem like a daunting task. If you are keen on learning how to make Dates and Dryfruit barfi, then read on to find the step by step procedure for making this delicious treat.
Cut each cashew into small chunks. Try and mince it into tiny pieces.

Chop each almond into tiny pieces and place separately.

Chop walnuts into tiny pieces and place separately.

Combine the chopped cashews, almonds and walnuts into a bowl.

Take the pistachios and slice them into thin pieces.

Peel the green cardamoms and crush them along with the nutmeg into a fine powder in a mortar and pestle. You can also grind it in a coffee grinder or blender.

Chop the dates using a sharp knife. Discard the seeds. Place the chopped dates in a separate bowl.

Take a pan and place it on a flame. Add the mixture of chopped cashews, almonds and walnuts into it. Stir them constantly and roast them on medium flame for about 2-3 minutes. Once you get an aroma, transfer them back into a bowl.

Take some ghee and empty it in the pan. When the ghee melts, add the poppy seeds and stir continuously for two minutes on a low flame.

Once the poppy seeds let out a fragrant aroma, add the nutmeg and green cardamom powder, chopped dates, roasted chopped dry fruits, grated coconut and chironji. Mix the ingredients on a low flame until they come together into a ball.

When the mixture is mixed well, turn off the flame and transfer the same to a plate for it to cool down.

Grease your palms with some ghee. Pinch some mixture and roll it gently into a cylindrical shape. Roll the mixture along both your palms.

Once you get a cylindrical shape, roll the barfi and coat it with the sliced pistachios. Place it on a plate gently.

Repeat the above steps with the rest of the mixture until it is all utilized.

Tear the aluminium foil sheets into tiny square pieces, large enough to wrap one barfi. Once done, take each piece of barfi and wrap it in the foil.

Place the wrapped barfis in the refrigerator for about 2 hours to set completely.

After two hours, take the burfis out and check if they have set. If done, chop each burfi into two pieces.

Place the chopped barfis on an open dish for about 2-3 hours and store them in an air-tight container.

The barfi stays fresh for about 3-4 months.
Recipe Tips
Easy Dates and dry fruit barfi for babies

can be made quickly and stored for a longer duration.

It is a great substitute for babies and toddlers who don't eat too many fresh fruits.

Since your toddler is just learning to chew, make sure you chop the dry fruits finely into very thin pieces. This will help your toddler to chew and not choke on any large chunks.

Finely grind the nutmeg and cardamom to add to the barfi as it will blend well and increase the taste of the barfi.
Nutritional Facts Per Servings
| | |
| --- | --- |
| Nutrient | Value |
| Calories | 80 kCal |
| Fats | 6 gm |
| Carbohydrates | 6 gms |
| Protein | 2 gms |
| Cholesterol | 0 |
| Sodium | 0 mg |
| Sugar | 3 gms |
| Folic Acid | 56.5 mg |
| Iron | 0.4 mg |
| Calcium | 0.2 mg |
Health Benefits
Dates are rich in fibre and aid in digestion. They are also an excellent source of antioxidants.

Walnuts are a great source of Omega-3 which is needed to increase immunity levels.

Cashews help to moisturize the skin and also rich in fibre

Almonds contain healthy fats, fibre, protein, magnesium and Vitamin E.
Buying Guide
Homemade Dates and Dryfruit barfi baby food recipe

is an ideal inclusion to your baby's healthy diet chart.

Dates must be juicy and succulent. Ensure you buy dates in a packaged form. Do not buy dry dates.

Almonds, cashews and pistachios must be freshly sourced and bought from reputed supermarkets. Do not buy loose dry fruits as they may be adulterated. Remember these dry fruits have a shelf life and make sure you check the expiry date before you purchase them.

Use home-made ghee as it enhances the taste of the barfi.
?>