Chicken Sandwich Recipe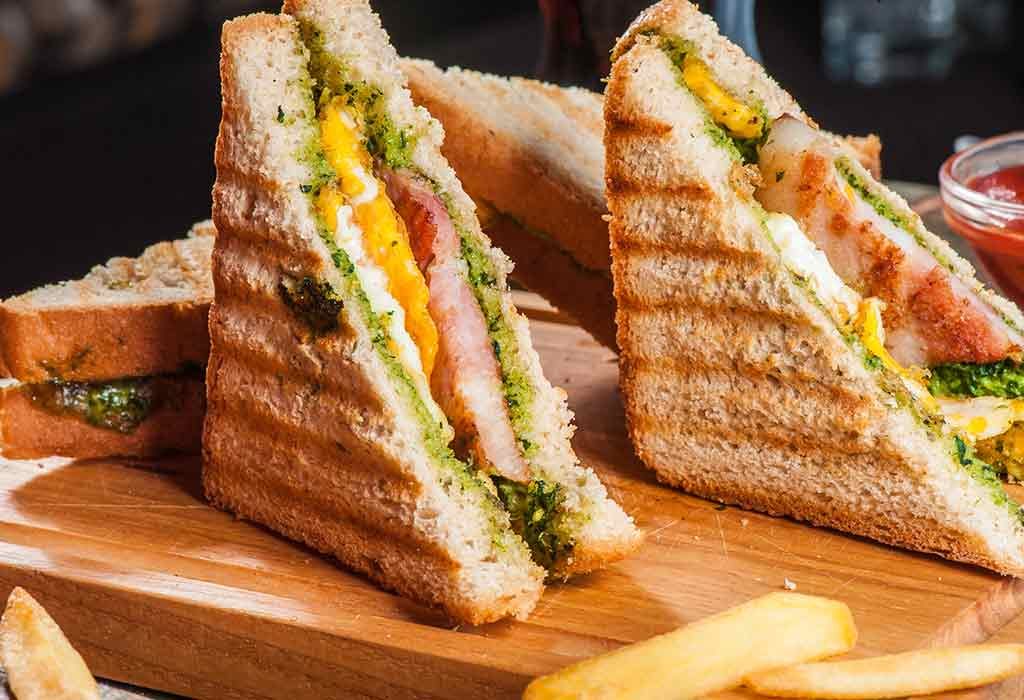 In this Article
Whether you're planning a quick snack for playtime or packing a picnic lunch, a wholesome chicken sandwich is always a hit among children. Conventionally, a chicken sandwich consists of boneless and skinless chicken breasts packed between slices of bread, on a bun or a roll. The chicken meat can be fried, grilled, roasted or boiled that is served hot or cold in the shredded form. All you need is two slices of bread and chicken fillings to make a good sandwich. Every bread that you choose doesn't make a healthy sandwich. Whole-wheat and multigrain bread is the preferred choice for making a lip-smacking and nutritious chicken sandwich that can be your child's anytime and all-time favourite snack. Want to know how to make Chicken sandwich for toddlers? Read through!
Cooking Time
| | |
| --- | --- |
| Type | Time (hh:mm:ss) |
| Preparation Time | 00:15:00 |
| Cook Time | 00:15:00 |
| Total Time | 00:30:00 |
Cooking Method
Gas Stove
Type of Meal
Non-Vegetarian
Suitable For
Any toddler above 21 months of age
Meal Schedule
Breakfast or evening snack
Recipe Type
Side-Dish / Snack
Ingredients
| | |
| --- | --- |
| Ingredient | Quantity and Volume |
| Chicken | 1/2 cup |
| Bread | 500 ml |
| Mayonnaise | 2 tsp |
| Pepper | 1 tsp |
| Capsicum | 1 |
| Lettuce | Few Leaves |
| Salt | To Taste |
| Onion | 2 tbsp |
| Butter | 1 tsp |
| Garlic | 1 tbsp |
| Spice Powder (Optional) | 1 pinch |
| Mustard Powder (Optional) | 1/4 tsp |
Instructions
If you want to know how to make a chicken sandwich in the best possible way, just check the step by step directions that are given here that will fuel your family's fun and energy without weighing you down.
First, boil chicken or sauté in oil for a grill like flavour
Fry garlic in oil. Add oil on the griddle and sauté chicken along with salt. Sprinkle the spice powder and toss it well.
Take a bowl and mix crushed pepper, chopped onion, herbs, mustard powder, lettuce, capsicum and mayonnaise together.
Add in the chicken and mix them well.
Butter the bread slices and toast them until golden.
Now spread the mixture on the slices and cover with another slice on top.
Cut them into two and serve with tomato ketchup or any chutney.
Recipe Tips
The below-mentioned points are some of the easy tips to be followed while making this simple chicken sandwich recipe for your baby.
Spices or chilli powder are optional as per your baby's comfort level.
Instead of mayo, cream cheese or even hung curd can be used as the filling.
Maintain good hygiene by washing your hands well before making the sandwich. Use only clean utensils for preparing this recipe or serving it.
Use whole-wheat bread instead of white flour bread to facilitate digestion.
Instead of toasting, bread can be served raw.
You can use other vegetables of your choice like tomatoes, parsley leaves instead of capsicum or lettuce.
Nutrition Information (Per 100 Grams)
| | |
| --- | --- |
| Nutrient | Value |
| Calories | 369 kCal |
| Protein | 14 g |
| Carbohydrates | 41 g |
| Fibre | 7 g |
| Fat | 29 g |
| Cholesterol | 35 mg |
| Sodium | 670 mg |
| Potassium | 104 mg |
| Fibre | 1 g |
| Sugar | 4 g |
| Vitamin A | 250 IU |
| Vitamin C | 3.1 mg |
| Iron | 1.4 mg |
| Calcium | 200 mg |
Health Benefits
Here are the best-known health benefits of home-made chicken sandwich baby food recipe.
The chicken sandwich is a good source of protein for babies. It plays a vital role in building body mass, muscles, skin, blood, cartilage and repairing tissues.
Wholegrain bread is more filling and nutritious as it keeps your child's hunger pangs away for a longer duration. Its fibre content helps in digestion and lowers the risk of diabetes and obesity in children.
Chicken is a good source of Vitamin B12, niacin, Vitamin B6 that boosts a child's immune system.
Vitamin D in chicken helps in calcium absorption while Vitamin A helps in good eyesight.
Iron helps in haemoglobin formation, prevents anaemia and betters muscular activity that keeps your baby energetic and active.
Butter is a good source of Vitamin A, which is needed for good skin health, immune function and healthy vision.
Lettuce is a constant source of antioxidants that controls anxiety and moderates sleep along with other medicinal properties.
Garlic combats illnesses like flu and the common cold.
Buying Guide
Buy organic lean meat that has low-calorie content.
Buy good quality ingredients only from a reputed store.
Taste or smell the spices and herbs before purchasing them. Faded spices don't have the expected flavours in them.
Choose only fresh vegetables used as a filling to ensure their high nutritional value
Check the expiry date of the bread before buying it.
Due to the ease of preparation and minimal ingredients used, Chicken Sandwich for toddlers is a hugely popular snack item that can be relished by the entire family.