Lauki Halwa Recipe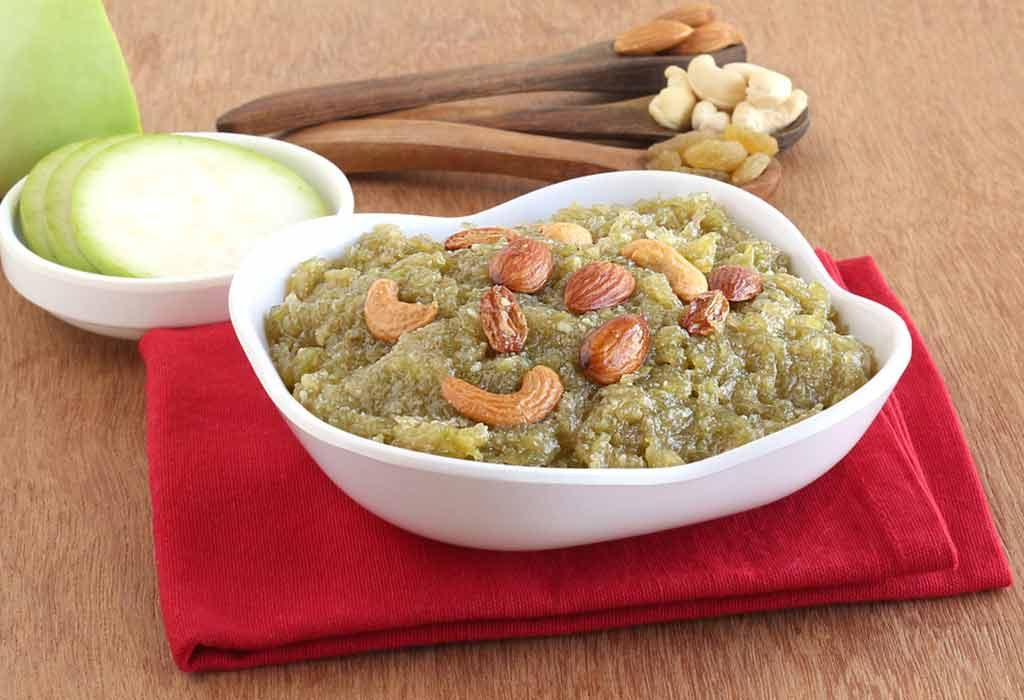 In this Article
Lauki Halwa is one of the most popular Indian desserts. Whether eaten cold or hot with a dollop of ice cream, the rich and enticing flavour of the dessert is enjoyed by one and all. Lauki Halwa for babies is a dish that can be served to your munchkin for breakfast or mid-day snack. What more, it is simple to make and is done within minutes.
Cooking Time
| | |
| --- | --- |
| Type | Time (hh:mm:ss) |
| Preparation Time | 00:10:00 |
| Cook Time | 00:20:00 |
| Total Time | 00:30:00 |
Cooking Method
Gas Stove, Induction
Type of Meal
Vegetarian
Suitable For
Toddlers older than 13 months of age
Meal Schedule
Breakfast, Dessert after Lunch or Dinner, Mid-day snack.
Recipe Type
Main Dish or Dessert
Ingredients
| | |
| --- | --- |
| Ingredients | Quantity |
| Bottle Gourd or Lauki ( peeled and grated) | 2 cups |
| Ghee | 3-5 tablespoons |
| Mawa ( optional) | ½ cup |
| Sugar | 2 cups |
| Cardamom powder | ½ teaspoon |
| Warm milk | 2 tablespoon |
| Almonds and Pistachios (chopped lengthwise) | A handful |
Instructions
All you need to make Lauki Halwa for babies is a pressure cooker and the ingredients. Follow the step-by-step guide to make it in a jiffy.
Heat the ghee in a pressure cooker. Add the grated lauki and mawa and saute on a medium flame for about 2-3 minutes.
Once done, add the sugar, cardamom powder, 2 tablespoons of warm milk, 2 tablespoons of hot water. Mix it well.
Close the pressure cooker with its lid.
Pressure cook on a medium flame for 2 whistles.
Let the steam escape and open the lid carefully.
Now cook this mixture for another 5-8 minutes on a low flame until all the water content is evaporated.
Garnish with almonds and pistachios.
Recipe Tips
A few things that will help you perfect this dessert are listed below:
This home-made Lauki Halwa baby food recipe can be made without mawa or khoya, which gives it some thickness and creaminess to the dish.
You can eliminate the water and add another couple of tablespoons of milk. This will enhance the flavour of the dish as it tastes richer.
Peel the lauki well and make sure there is no skin left before you grate it.
Make sure you cook the dish on a medium flame. Make sure that you let all the water content evaporate completely.
So, Lauki Halwa can be a great dessert recipe, but do you know it is a healthy dessert option too? Let's take a look at its nutritional value per 100 gms and its health benefits for babies.
Nutrition Information (Per 100 Grams)
| | |
| --- | --- |
| Type | Value |
| Calories | 317 kCal |
| Carbohydrates | 40.9 grams |
| Protein | 4 grams |
| Fat | 14.9 gms |
| Cholesterol | 1.2 mg |
| Protein | 4 grams |
| Sodium | 14.7 milligram |
| Dietary fibre | 15 grams |
Health Benefits
This simple Lauki Halwa recipe maybe a sweet dish with sugar but it does have its health benefits. Read on to find out more:
Lauki is rich in both soluble and insoluble dietary fibre. It helps to cure flatulence and constipation troubles.
It is made of 96% of water and therefore excellent to stay hydrated.
Lauki is rich in iron, Vitamin B, and Vitamin C. It is also rich in antioxidants.
Vitamin C in lauki helps build immunity.
Almonds are full of healthy fat, protein, magnesium, and Vitamin E.
Pistachios are a rich source of thiamine, Vitamin B6, fibre, protein, and antioxidants.
When you want to make a tasty as well as a healthy dish, it is important that you buy quality ingredients. Here's a quick buying guide you can use to pick your ingredients to make a delicious halwa.
Buying Guide
Making Lauki Halwa for babies may seem very simple. But you need to be a bit careful when you source ingredients for it. Just follow the tips given below to never go wrong with the recipe:
The lauki bought should have smooth skin and must be pale green. It should also be free of any cuts, blemishes or spots.
It must be firm, and the flesh of the vegetable should not be soft when pressed.
Try to source organic lauki as it will be free from chemicals and pesticides.
Buy organic sugar as it will be processed using natural ingredients.
There is no better end to a meal than a bowl of Lauki Halwa served with dollops of ghee and dry fruits. You could well introduce this as a breakfast menu to your child every once in a while. It is a great change to the normal dosas, parathas, or cereals, and as much healthy because it is made with a vegetable. In case you want to offer a healthy alternative to processed and packaged snacks to your kid, then try this Lauki Halwa recipe for your kid. You can make it and refrigerate it for 2 to 3 days also.