Pumpkin Barley Soup Recipe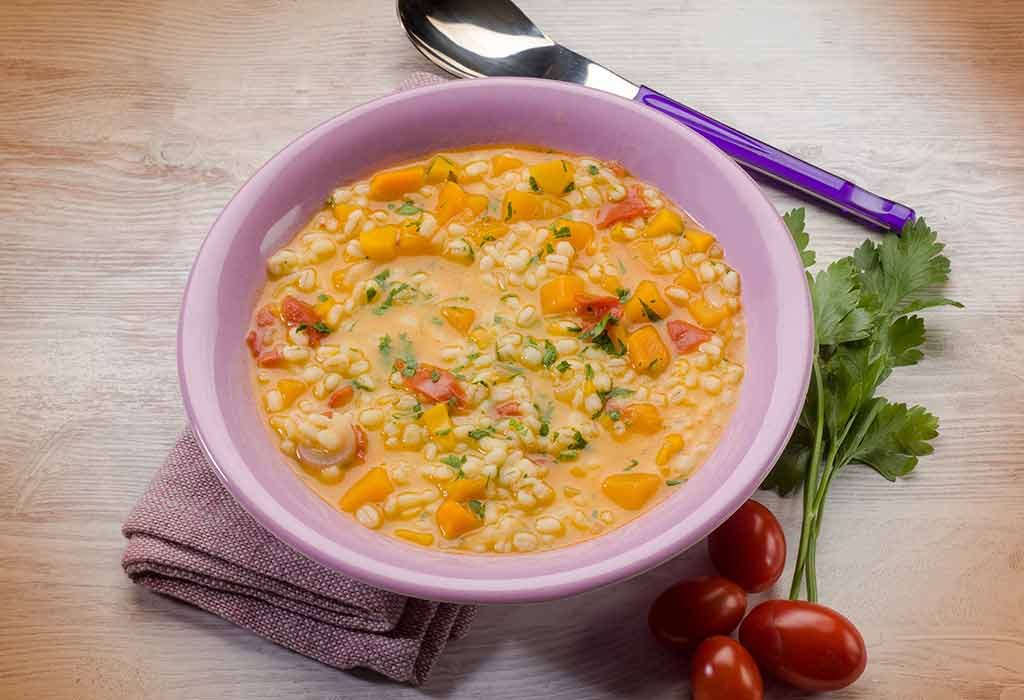 In this Article
If you're looking for a hearty soup recipe to serve your little one as the fall weather sets in, then pumpkin barley soup is a great option. This highly nutritional soup is easily digestible and great for kids, especially when they are unwell and fussy about eating vegetables. Made with pumpkin and barley, it is loaded with the essential vitamins, minerals, protein and iron needed for the healthy growth and development of weaning babies. This recipe is a simple, creamy, tasty and classic comfort food not just to your child but the rest of the family members too.
Cooking Time
| | |
| --- | --- |
| Type | Time (hh:mm:ss) |
| Preparation Time | 00:10:00 |
| Cook Time | 00:30:00 |
| Total Time | 00:40:00 |
Cooking Method: Gas/ Stove top
Type of Meal: Vegetarian
Suitable For: Toddler older than 18 months of age
Meal Schedule: Breakfast, Lunch or dinner
Recipe Type: Main Dish
Ingredients
| | |
| --- | --- |
| Type | Quantity |
| Pumpkin | One medium-sized |
| Barley | 1 Cup |
| Onion | 1 Small, Finely Chopped |
| Garlic | 6 cloves |
| Salt | As Per Taste |
| Oil/Butter | 1 tbsp |
| Seasoning (Salt, Pepper and Paprika) | ½ tsp each |
| Water/ Vegetable Stock | 4 Cups |
Instructions
The step-by-step procedure given here will help mothers whip up a thick and delicious pumpkin soup with the savoury addition of barley.
Cut the pumpkin into large chunks and boil it in a deep pan with some water.
Cook the barley in just enough water separately on the stove top.
Take a large pot and heat the butter on medium heat. Add onion, garlic cloves and fry for 3 minutes till it is slightly browned.
Add the barley, pumpkin, water/ vegetable stock and bring it to boil.
Reduce the heat and simmer the mixture for almost an hour until the barley and pumpkin get tender.
Stir occasionally to prevent the mixture from getting stuck to the bottom of the pot or getting burnt.
Mash the pumpkin with a fork and garnish with any seasoning of your choice.
Serve warm.
Here are some tips that can help you make that perfect pumpkin barley soup each time.
Recipe Tips
This simple pumpkin barley soup recipe can truly be used to make the most heart-warming and cosy soup that your child has ever tasted.
You can add lemon juice at the end to give it a tangy twist.
Use paprika or crushed pepper powder to make the soup spicier for older children.
You can put a tsp of cornflour while boiling to make the soup thicker.
This homemade pumpkin barley soup baby food recipe can be made more appealing for older kids by adding bread toast to it for extra crunchiness.
Maple syrup can be added for some sweetness.
Thyme, sage, dried basil, garlic powder can be used as a seasoning to enhance its taste.
Let's take a look at the nutritional value and health benefits of this soup.
Nutrition Information (Per 1 Serving)
| | |
| --- | --- |
| Type | Value |
| Carbohydrates | 51 gram |
| Calories | 439 kcal |
| Sugar | 11 gram |
| Sodium | 276 mg |
| Fibre | 3 gram |
| Fat | 6 gram |
| Cholesterol | 35 mg |
| Potassium | 758 mg |
| Vitamin C | 7 mg |
| Folate | 28 mcg |
| Iron | 4 mg |
| Calcium | 71 mg |
| Protein | 14 gram |
| Vitamin A | 162 IU |
Health Benefits
Easy to consume, a bowl of Pumpkin Barley Soup has the best health benefits that you want to include in your child's diet:
Barley can be given to babies once they turn 6 months old. It is a non-allergenic food that is relatively easy to digest.
Barley is a versatile grain that can be easily blended with pumpkin to get a soupy consistency. It offers the best nutrition needed by babies.
Pumpkin is an ideal vegetable for babies. It contains all vital nutrients like calcium, phosphorous, Vitamin C, A, E, K, folate and riboflavin that help prevent anaemia, strengthen bones and teeth, develop immunity, bring about better brain functioning and promote better eyesight.
Low in fat and calories, the high fibre content in pumpkin also helps prevent constipation in babies.
Soups are a great nourishing dish. They are hydrating, energy-rich and spices in them keep infections at bay, especially during the winter or flu season.
Refer this buying to guide to ensure you but quality ingredients to make this delicious soup.
Buying Guide
Keep this buying guide in mind while you venture out to shop for the ingredients to make this pumpkin barley soup.
Check for its expiry date of the seasonings that you're buying for the soup.
Try to purchase pumpkins from an organic store. It should be firm, orange in colour, free from blemishes and hollow, indicating it is fully ripe.
Mini pumpkins have a rich and sweet flavour.
It is always better to buy smaller quantities of barley so that it is used before it gets rancid.
Ready to serve instant soup contain artificial flavours, extra salt, thickening agents and corn starch that are harmful to babies. This homemade pumpkin barley soup for babies can be a great dish to tantalise your little one's taste buds. It not only satiates the hunger but makes a wholesome meal that can be served at any time of the day.