Sautéed Broccoli Recipe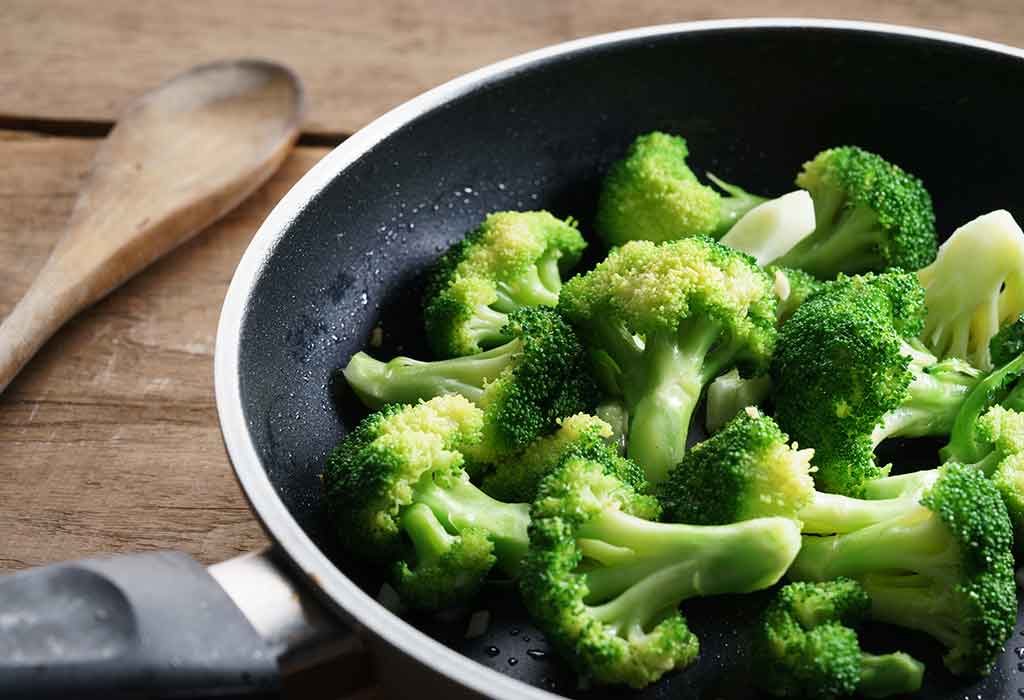 In this Article
Broccoli is a tasty vegetable. There, we can see some of you scoffing on reading this as you have known the turmoil of fighting to give this super vegetable to your kid. But we stand by it, and we will show you how, if this vegetable is introduced at the right time and in the right way, it can change your child's perception of it. If you feed them right, they would never ask for junk again. It could be the aroma of this vegetable which is non-appetizing or the way it was cooked the first time they had it, which made them resent it. We will break all those notions and barriers with our recipe.
Sautéed broccoli for babies can be a viable dish at your home once you learn the tricks of adding an appeal to it. With the addition of some colourful vegetables, you can make this dish more attractive and make this dish one your child's favourites.
Cooking Time
| | |
| --- | --- |
| Type | Time (hh:mm:ss) |
| Preparation Time | 00:10:00 |
| Cooking Time | 00:05:00 |
| Total Time | 00:15:00 |
Cooking Method
Gas stove
Type of Meal
Vegetarian
Suitable For
Any Toddler above 16 months of age
Meal Schedule
Breakfast, Dinner
Recipe Type
Main dish/ Side dish
Ingredients
| | |
| --- | --- |
| Ingredients | Quantity and Volume |
| Broccoli | 2 cups, chopped into pea-sized florets |
| Olive oil | 2 tbsp |
| Spring onion | 1 chopped |
| Salt and pepper | As per taste |
| Garlic powder | 1 tsp |
| Ginger powder | ¼ tsp |
| Ginger | 1 tsp, finely chopped |
Instructions
Here is the step by step procedure to make this crunchy and healthy sautéed broccoli. It is so easy to prepare with little to no wastage.
Wash the broccoli thoroughly and chop them into small florets.
Chop the spring onion thin and fine.
Mix salt, pepper and garlic powder in a bowl and keep it aside.
Heat oil in a skillet or wok on high flame till you see some smoke.
Throw in the broccoli and sauté for 3-4 minutes till you can see them turning bright green.
Add the spring onion by pushing the broccoli on the side and cook for a minute.
Add the garlic mix which you prepared above and cook for 30 seconds
Add little water and cover the wok till you feel broccoli is tender or for about 1-2 minutes.
Serve this alone or with rice or noodles.
Recipe Tips
This is an easy sautéed broccoli recipe for a baby which can be served as a main dish to infants and as a side dish to toddlers. Here are some tips you should follow while making this recipe.
Do not discard the stem as it can be used when finely chopped.
You could roast the broccoli in an oven as well, rather than stir-frying it.
You could add carrots, cauliflower, beans, or any other vegetable your child likes to this dish.
If you want to reduce the sauté time, then lightly steam broccoli and sauté for just 1-2 minutes. Steaming retains the vitamin C in broccoli which might otherwise get lost in the stir fry process.
You could store the leftovers in an airtight container. It will be fresh for five days.
This recipe needs to be cooked on high flame.
Nutrition Information (per serving)
| | |
| --- | --- |
| Nutrient | Value |
| Energy | 104 kcal |
| Protein | 3 g |
| Carbohydrates | 9 g |
| Fibre | 3 g |
| Fat | 7 g |
| Cholesterol | 0 |
| Sodium | 328 g |
| Vit A | 14 % |
| Vit C | 174% |
| Calcium | 6 % |
% daily value is based on a 2000 calories diet.
Health Benefits
Broccoli is a superfood in itself, and we hope this homemade sautéed broccoli baby food recipe has made it easy to include it in your child's food regime.
Broccoli is high in vitamin C, vitamin K, iron, and potassium, all that a growing child needs.
A good source of folate, broccoli also helps in proper brain development of babies.
The high fibre helps in bowel movement, a problem that many many infants and toddlers face.
Garlic in this recipe helps build immunity.
Buying Guide
Broccoli is best if bought from an organic shop. It is always better to buy organic stuff for you and your family.
Buy a steamer so that you can easily steam broccoli and fry it for lesser time to retain most of its nutrition, especially vitamin C.
If you ever wondered how to make sautéed broccoli for a child that is tasty and delicious, then we hope this recipe would achieve that feat for you. Happy parenting with healthy kids!