Idli Recipe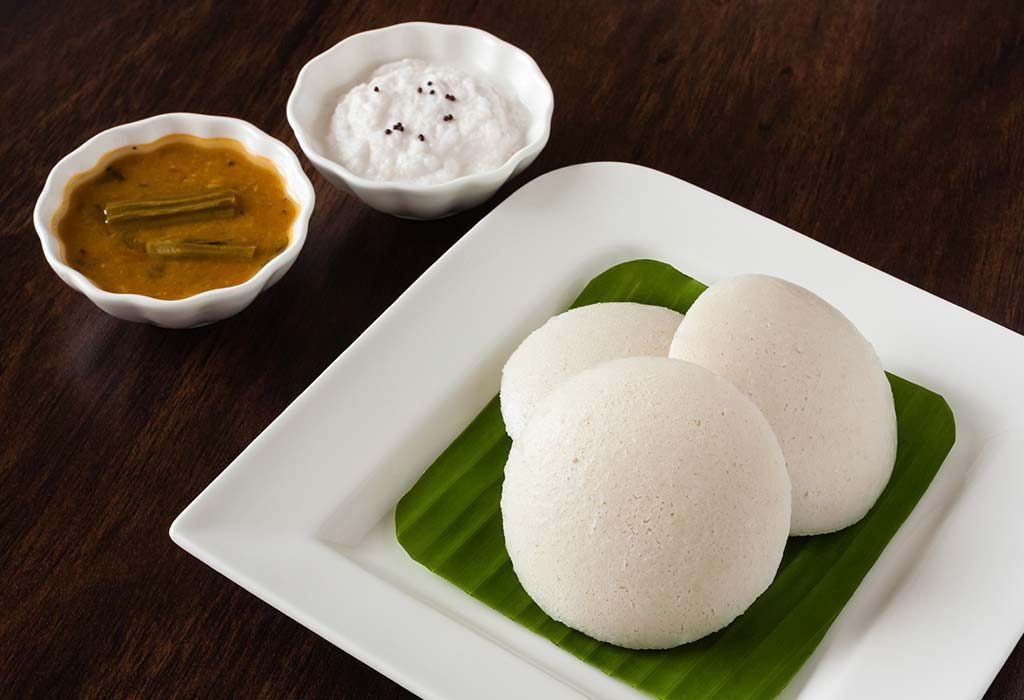 In this Article
Idli is a delicious dish. Idli for babies is safe as it is not likely to choke them. It is easy to digest and easy to eat. The best part is that idlis are considered as a baby weaning food, and babies and toddlers like this recipe. The nutrient-rich and flavourful idli and its texture will make your child enjoy the dish.
Cooking Time
| | |
| --- | --- |
| Type | Time (hh:mm:ss) |
| Preparation Time | 00:10:00 |
| Cooking Time | 00:12:00 |
| Soaking Time | 02:00:00 |
| Fermenting Time | 08:00:00 |
| Total Time | 10:12:00 |
Cooking Method
Gas Stove
Type of Meal
South Indian Vegetarian Meal
Suitable For
Any baby above 8 months of age
Meal Schedule
Breakfast or mid-morning
Recipe Type
Main Dish
Ingredients
| | |
| --- | --- |
| Ingredients | Quantity and Volume |
| Boiled rice | 1 Cup |
| Urad dal | 2 Tbsp |
| Coconut milk | ¼ Cup |
| Grated coconut | 1 Tbsp |
| Salt | A pinch to taste |
Instructions
Now you must be wondering how to make idli! The dish is extremely easy and does not require any fanfare to prepare. Here are the step-by-step directions to prepare the idli.
First, wash the boiled rice and the urad dal properly and strain the boiled water.
Soak the boiled rice and urad dal together again in clean water for about 2 hours.
Now drain the water and add the coconut milk and a little water to it.
Transfer the mixture into a mixer bowl and blend it to form a smooth batter.
Add this mixture into a deep bowl and add salt according to the taste.
If you like, you can also add grated vegetables like carrot, cabbage, and coconut in the mixture.
Cover the mixture with a lid and keep it aside to ferment for around 8 hours.
Now take the idli pan and grease it with a little oil.
Pour the batter into the greased moulds and steam them for 10-12 minutes.
The idli is ready to eat. Serve it with coconut chutney or sambhar.
Serve it hot and sprinkle some grated coconut on the idlis.
Recipe Tips
Make sure you remember the following points before you start preparing the healthy and simple idli recipe for your baby.
Use boiled rice or half-boiled rice for this recipe.
Wash the rice and urad dal properly.
Make sure to make a smooth paste when you use the mixer. If you find it thick, add a little water into it and blend it again.
Do not use tap water for cooking idli.
Add the salt according to your child's taste.
Always wash your hands thoroughly before cooking the recipe. The utensils used should also be properly cleaned along with the mixer pot.
You can serve the idli by cutting it into small pieces.
Put a knife and check whether the idlis are steamed properly. If the knife is coming out easily, then it's done and if not then steam it again for another few minutes.
Nutrition Information (Value per Idli)
| | |
| --- | --- |
| Nutrient | Value |
| Energy | 72 kCal |
| Protein | 1.6 g |
| Carbohydrates | 13 g |
| Fibre | 0.5 g |
| Fat | 1.5 g |
| Cholesterol | 0.1 mg |
| Vitamin A | 150.8 mcg |
| Vitamin B1 (Thiamine) | 0.1 mg |
| Vitamin B2 (Riboflavin) | 0.1 mg |
| Vitamin B3 (Niacin) | 0.3 mg |
| Vitamin C | 0.1 mg |
| Vitamin E | 0.1 mg |
| Folic Acid (Vitamin B9) | 3.6 mcg |
| Calcium | 4 mg |
| Iron | 0.2 mg |
| Magnesium | 7.5 mg |
| Phosphorus | 19.2 mg |
| Sodium | 1.1 mg |
| Potassium | 30.8 mg |
| Zinc | 0.2 mg |
Health Benefits
Here are a few health benefits of homemade idli baby food recipe.
Idli is a soft food which initiates the chewing process and is suitable for the baby's gums.
This is a vitamin-rich food, and it is good for your baby.
Since this recipe contains rice and urad dal, it will keep your baby's stomach full for a longer time.
It contains protein which is required for the baby's growth.
Coconut is good for hair and skin.
Idli is a fibre rich food, and it is easy to digest.
Buying Guide
Buy organic rice and urad dal and good quality products from a good store.
The coconut should be fresh and soft.
Check the expiry date of the salt and other packaged ingredients before buying them.
Also, make sure that there are not any insects inside the packet.
Let us all depend on homemade food for babies instead of packaged market food as babies are precious. Every baby's good health is essential and giving them healthy food will lead to better growth and development.