Boiled Beet Sticks Recipe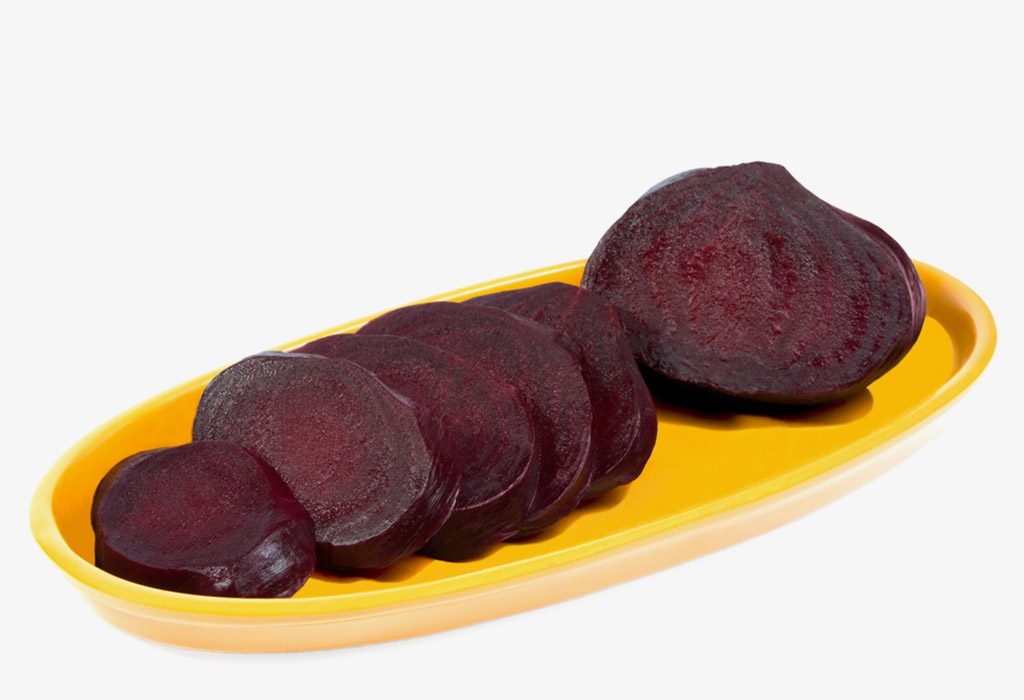 In this Article
Bright red in color and sweet in taste, beetroots are one of the most nutritious members of the bulbous root vegetable family. They are rich in fiber content and have a high content of calcium and vitamin C as well, thus helping in the development of babies and toddlers and preventing them from anemia. There are various ways in which beetroot can be introduced in your little one's diet, however, boiling them is the fastest method. Boiled beet sticks for babies are easy to make and can be given to your little munchkin at any time of the day. Who doesn't want to make a sumptuous meal for their little bundle of joy? So go on, happy cooking!
Cooking Time
| | |
| --- | --- |
| Type | Time (hh:mm:ss) |
| Preparation Time | 00:05:00 |
| Cook Time | 00:30:00 |
| Total Time | 00:35:00 |
Cooking Method
Gas Stove
Type of Meal
Vegetarian
Suitable For
Babies above the age of 14 months
Meal Schedule
Mid-morning Snack, Lunch, Evening Snack
Recipe Type
Vegetables, Salads
Ingredients
| | |
| --- | --- |
| Ingredients | Quantity / Volume |
| Fresh Baby Beetroots | 2 |
| Salt | As per taste |
| Pepper | 1 Tsp |
| Lemon Juice | 1 Tbsp |
Instructions
Simple and easy to prepare, boiled beet sticks take a minimal amount of time to be cooked. If you have been wondering how to make boiled beet sticks and introduce it in your baby's meals, here are step by step directions to help you prepare the same.
Take two fresh beetroots and wash them thoroughly.
Cut the top and bottom ends and clean the surface of the beetroots under running water to remove any traces of mud and dirt.
Put the beetroots in a saucepan or pot.
Fill the saucepan with water so that the beets are completely submerged.
Add 1 Tbsp. of fresh lemon juice in the water. This prevents the beetroots from bleeding.
Add salt to taste in the water.
Bring the water to a boil and then cover it with a lid for 8-10 minutes.
Bring the stove to simmer and let the beetroots cook for another 20 minutes.
Once the beetroots are boiled place them in an ice bath with the help of tongs.
Peels the beetroots
Cut the boiled and peeled beets into thick sticks.
Sprinkle a little amount of pepper and feed the yummy boiled beet sticks to your little one.
Recipe Tips
There are a few things to keep in mind before preparing the simple Boiled Beet Sticks recipe for your baby.
Buy baby beetroots that are fresh and tender. Older beetroots have a bitter taste and are harder to chew.
Make sure that the beetroots are cleaned well to remove any impurities. You don't want your baby falling sick, do you?
Do not use tap water to boil the beets.
Use a knife to check if the beets are boiled well, raw beets can taste bitter and it will be difficult for the baby to chew.
Nutrition Information (Per 100 Grams)
| | |
| --- | --- |
| Nutrient | Value |
| Energy | 43 kCal |
| Protein | 1.6 g |
| Carbohydrates | 9.6 g |
| Fiber | 2.8 g |
| Fat | 0.2 g |
| Cholesterol | 0 mg |
| Vitamin A | 27 mcg |
| Vitamin B1 (Thiamine) | 0.031 mg |
| Vitamin B2 (Riboflavin) | 0.040 mg |
| Vitamin B3 (Niacin) | 0.334 mg |
| Vitamin C | 4.9 mg |
| Vitamin E | 0.04 mg |
| Folic Acid (Vitamin B9) | 0.00 mcg |
| Calcium | 16.00 mg |
| Iron | 0.80 mg |
| Magnesium | 23.0 mg |
| Phosphorus | 40.00 mg |
| Sodium | 78.00 mg |
| Potassium | 325.00 mg |
| Zinc | 0.35 mg |
Health Benefits
This Home-made boiled beet sticks baby food recipe has a lot of health benefits. Here are a few:
Beetroots are high in vitamin C content. This helps in building and strengthening a baby's immune system.
Their iron content prevents babies from anemia.
The high fiber content in beetroots supports good digestive habits and helps in the treatment of constipation.
Beetroots also contain carotenoids that nourish hair follicles and helps them to grow.
Beetroot encourages healthy brain function in the body as they improve blood circulation in the brain and body.
Buying Guide
Buy fresh and tender baby beets as they are softer and sweeter than normal beets.
Get beetroots that have smooth skin without any cracks.
Store them in a cool and dry place and consume within a week of buying.
Our little ones are like our angels and we want the best for them. Now that you know how to prepare this healthy and tasty vegetable dish, keep the formula food aside and give this simple yet amazing recipe a try.