Masala Buttermilk Recipe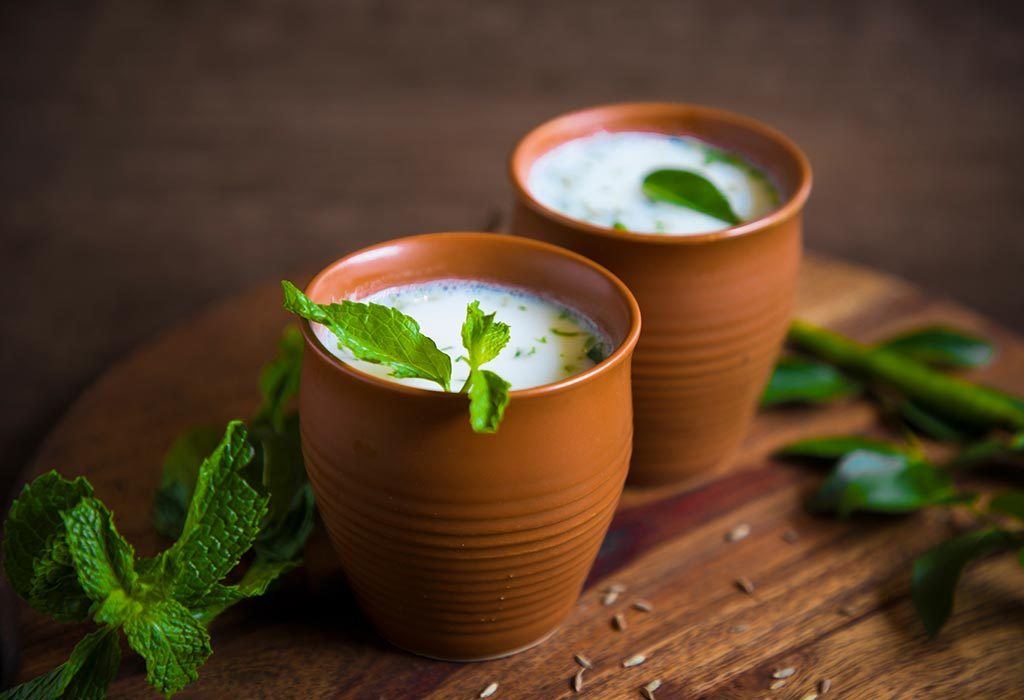 In this Article
Light and refreshing, masala buttermilk is the ideal summer drink that will help your child to cool off during hot summer days. This popular yoghurt drink is lightly spiced to add flavour to it. Usually served after lunch or dinner, it helps in the digestion of food, cools the body temperature and has a soothing effect. Buttermilk is also known as chaas and is most suitable for your toddler who can sip on it all day long. This wholesome and tasty beverage has multiple health benefits and can be easily prepared at home. Wondering how to make masala buttermilk? Traditionally chaas is made by mixing yoghurt and water using a whisk. Read on to learn about the perfect recipe for preparing the yummiest masala buttermilk that can be enjoyed by the entire family.
Cooking Time
| | |
| --- | --- |
| Type | Time (hh:mm:ss) |
| Preparation Time | 00:05:00 |
| Cooking Time | 00:01:00 |
| Total Time | 00:6:00 |
Cooking Method:
Blender
Type of Meal:
Vegetarian beverage
Suitable For:
Any toddlers older than 18 months of age
Meal Schedule:
Breakfast, Mid-Morning Snack, Lunch or dinner
Recipe Type:
Meal Accompaniment
Ingredients
| | |
| --- | --- |
| Type | Quantity |
| Fresh Curd | 2 Cups |
| Cumin Powder | 1tsp |
| Ginger paste | ½ tsp |
| Black Salt | ½ tsp |
| Jeera Seeds | 1/4tsp |
| Asafoetida | A pinch |
| Coriander /Parsley Leaves | 2 tbsp |
| Water | 3 Cup |
Instructions
Here are step-by-step directions to enhance your expertise in making the perfect masala buttermilk that can be accompanied with any meal of the day.
Blend yoghurt with water to make it into a thick liquid.
Add some salt, jeera powder, ginger paste, salt, black salt to the yoghurt and mix it well.
Add 3 cups of water and blend them all together in the mixer for 2 minutes.
For tempering, heat oil in a small pan and add asafoetida and jeera. When the seeds crackle, pour it in the buttermilk.
Pour out the buttermilk gently into a tall glass and serve it to your baby.
Garnish with coriander or parsley leaves.
Recipe Tips
This simple masala buttermilk recipe can be made using fresh homemade yoghurt. Make sure that the yoghurt hasn't turned sour or sticky. Whisk it thoroughly so that your buttermilk has a uniform texture after blending.
This homemade masala buttermilk baby food recipe can be made using roasted cumin seeds that have been lightly roasted to enhance its taste.
Alter the spice levels as per the age of the child. Add water for a thinner consistency of the buttermilk.
Sour yoghurt can cause cold in babies.
You can change the flavours of buttermilk using a dash of lemon or curry leaf powder.
Nutrition Information (Per 1 serving)
| | |
| --- | --- |
| Type | Value |
| Calories | 85 |
| Fat | 3 gram |
| Cholesterol | 296 gram |
| Protein | 3 gram |
| Sodium | 55 mg |
| Fat | 3 gram |
| Carbohydrate | 4 gram |
| Potassium | 141 mg |
Health Benefits
Here are some health benefits of spiced masala buttermilk for babies:
Being rich in nutrients, buttermilk is the best cooling drink for your children during summers.
Even if a kid is not fond of milk, buttermilk will ensure that they do not miss out on their share of nutrients.
As buttermilk is a milk product, it contains calcium that is essential for strong bones and teeth.
The presence of Vitamin D helps the body to absorb calcium.
The protein content is required for the growth of the body.
Vitamin B12 converts the glucose present in the blood to energy so that your child remains active throughout the day.
As it is a probiotic drink, it contains good bacteria which cures children suffering from loose motion.
It prevents acidity.
Buying Guide
Here are some buying tips that you should remember while picking up the ingredients for making masala buttermilk for your baby:
Buy the freshest dairy product from a reputed store, preferably from an organic store.
Make sure the ingredients used for masala buttermilk are well within their expiry date.
Opt for milk that is fat-free or contains 1 per cent fat that can be made into creamy yoghurt at home.
Ditch the packaged yoghurt and choose to set fresh yoghurt at home for optimum health benefits for your little one.
Sniff the spice to check for its right aroma.
Buy small quantities of spices at any given time.
Instead of an aerated drink, masala buttermilk for babies is a safer alternative with zero chemicals. It boosts their energy levels, facilitates digestion, and helps them beat the summer heat with ease. Just make sure that that your child is not allergic to it when you're introducing it for the first time.
?>