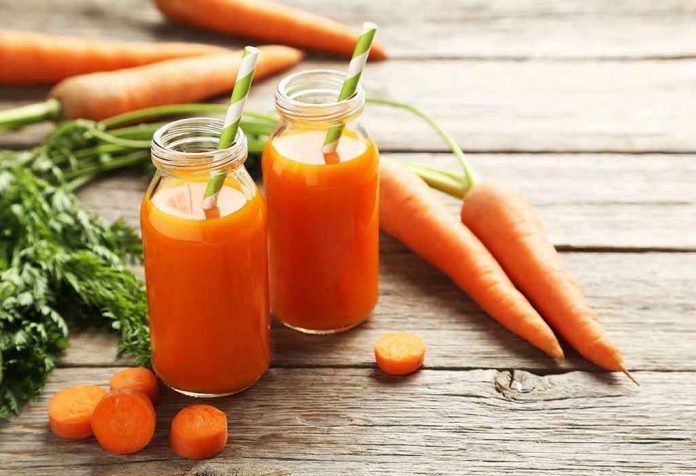 Last Updated on
New mothers are always curious about recipes that are healthy for their growing toddlers. It is always easy to give them juices since they find chewing difficult. So, here we bring to you a juice that combines the goodness of fruit and vegetable, that is sweet, refreshing, and provides great nutrition. The most amazing thing about this recipe is that it doesn't require many ingredients. You can make this delicious and nutritious juice with just two ingredients!
Carrots have amazing benefits as it helps in boosting immunity, are good for eyes, and provide good dental health. In the first few years, children generally find it difficult to digest food. Since apples are high in fibre and antioxidants, they aid in digestion. This juice is rich in Vitamin A and therefore, will take care of your child's skin and hair.
Knowing so many benefits, now you must be wondering about how to make carrot apple juice. It's super easy and takes no time to make. So let's get started:
Cooking Time
| | |
| --- | --- |
| Type | Time (hh:mm:ss) |
| Preparation Time | 00:04:00 |
| Cooking Time | 00:02:00 |
| Total Time | 00:06:00 |
Cooking Method
Juicer, Mixer, or Blender
Type of Meal
Vegetarian
Suitable For
Babies above 22 months of age.
Meal Schedule
Mid-Morning Snack or Evening Snack.
Recipe Type
Beverage
Ingredient
| | |
| --- | --- |
| Ingredient | Quantity |
| Carrot | 4 |
| Apple | 1 |
| Ginger (Optional) | 1/2 inch |
| Lemon (Optional) | 1/2 |
Instructions:
Below is the step by step directions to make carrot-apple juice:
Juicer Instructions:
Wash and peel the carrots, ginger, and apples. Cut in small pieces according to the size of the juicer you're using.
Put in the ingredients one by one to juice. Squeeze half a lemon into the jar.
Your easy carrot-apple juice recipe is done. Serve it to your little one!
Blender/Mixer Instructions:
Wash and peel the carrots, ginger, and apples.
Blend until the carrot, ginger, and apple get smooth. Squeeze half a lemon into the lemon and mix.
Now put the pureed mixture into a muslin cloth over a container to get the juice.
Squeeze the mixture, and your juice is ready!
Recipe Tips:
You should consume this simple carrot-apple juice recipe within 24-48 hours of making. Carrot juice begins to oxidise post that, and hence starts losing its nutrient value.
Washing the fruits and vegetables before use is a must!
The homemade carrot-apple juice baby food recipe should only be made with peeled carrots and apples. These days vegetables and fruits are waxed to give them a shiny texture, and the peel can be harmful to your baby.
Nutrition Information (Per 100 Grams)
| | |
| --- | --- |
| Type | Value |
| Carbohydrates | 20 grams |
| Proteins | 1.29 grams |
| Fats | 1 gram |
| Energy | 0.096 kcal |
| Dietary Fibre | 7 grams |
| Iron | 1 mg |
| Calcium | 99 mg |
| Potassium | 1004 mg |
| Vitamin B6 | 0.14 grams |
| Vitamin A | 37 mg |
| Zinc | 0.28 mg |
| Phosphorus | 47 mg |
Health Benefits
Here are some health benefits of this yummy apple-carrot juice:
Carrots are rich in minerals, vitamins, and fibre. Being rich in antioxidants also helps in the removal of free radicals.
In this era of gadgets, baby food should contain Vitamin A, which helps in building good eyesight. Carrots contain Vitamin A, which will keep your baby's vision intact.
You must be familiar with the quote, 'an apple a day, keeps the doctor away'. Hence, apples should be included in your baby's diet. Apples are good for your respiratory health, prevent brain diseases, aid digestion, and prevent diabetes.
The juice contains a good amount of carbohydrates, so your child will remain energetic throughout the day.
This juice is high in fibre content, and this will help in bowel movements and also keep your baby full for a longer time.
The high amount of minerals and vitamins will help in the development of muscles and bones.
This juice is an immunity booster, which means your child won't catch infections and diseases easily.
Buying Guide:
Pick up red apples for this recipe as they are tastier and sweeter. In the case of carrots, you can either choose red or orange both have similar health benefits.
Try buying organic fruits and vegetables for your children, as organic farming techniques do not use insecticides and pesticides.
Do prepare this nutritious carrot-apple juice for babies as its beautiful colour will definitely make them drink it without throwing tantrums and is super tasty too. Taking out just six minutes from your day will help you keep your child healthier!