Chocolate Milkshake Recipe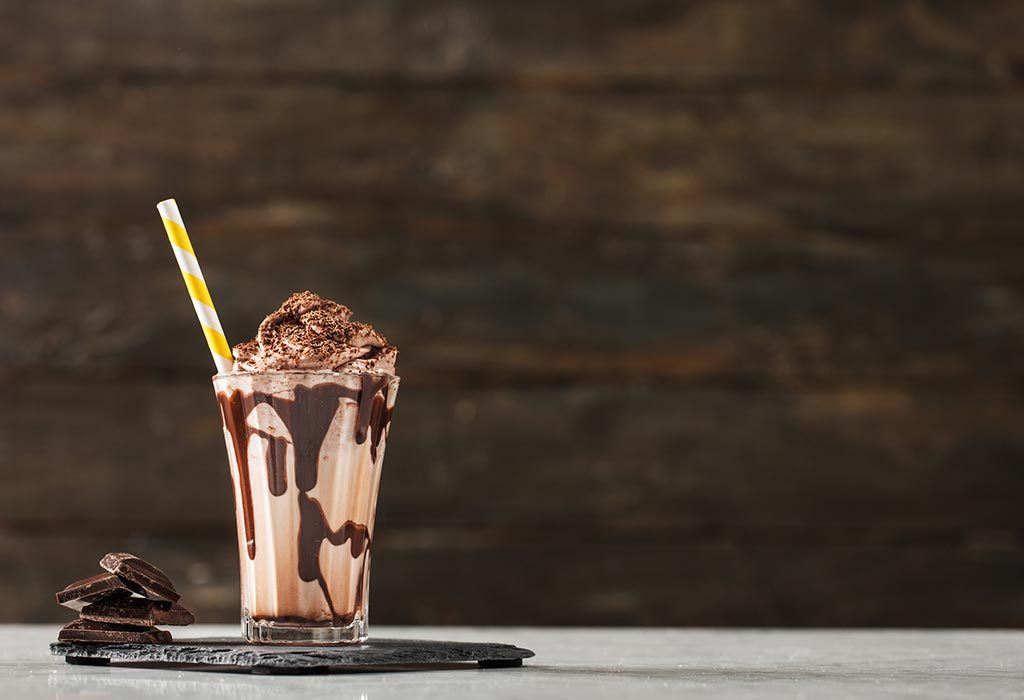 In this Article
Milkshakes are any easy way of feeding nutrients to the kid as there is no need to chew and are tasty too! As you all know, toddlers keep running and playing around throughout the day. Hence, they need something which helps to keep up the energy levels. This recipe is high in carbohydrates and serves as a quick recharge of energy. Chocolate Milkshake for babies can be made in various methods and is a popular drink among all age groups. The best part – kids go crazy about it! So, let's get started.
Cooking Time
| | |
| --- | --- |
| Type | Time (hh:mm:ss) |
| Preparation Time | 00:05:00 |
| Cook Time | 00:02:00 |
| Total Time | 00:07:00 |
Cooking Method
Mixer or Blender
Type of Meal
Vegetarian
Suitable For
Any toddlers above 14 months of age
Meal Schedule
Breakfast, Mid Morning Snack, Lunch or Evening Snack
Recipe Type
Beverage
Ingredients
| | |
| --- | --- |
| Ingredients | Quantity and Volume |
| Warm Water | 1/4 cup |
| Cocoa Powder | 3 tbsp |
| Sugar | As per your taste |
| Milk | 2.5 cups |
| Chocolate Ice-cream (Optional) | 2 to 3 scoops |
| Chocolate Sauce (Optional) | 1 tbsp |
| Ice cubes (Optional) | As per requirement |
Note: Here 1 cup stands for 250 ml of measurement and this recipe serves 2.
Instructions
There are different methods to prepare chocolate milkshake but this one is made using cocoa powder. Here are the step by step directions to prepare chocolate milkshake:
In a glass, take 1/4 cup of warm water. Here, warm water is taken so that sugar and cocoa powder dissolves easily.
Add 3 tablespoons of cocoa powder. The quantity of cocoa powder can be adjusted as per your liking.
Add sugar as per your taste. This recipe uses 1/4 cup of sugar.
Mix vigorously so that the mixture is smooth and no lumps are formed.
Now transfer this cocoa solution in a blender or mixer.
Add ice-cubes only if you need.
Add 2.5 cups of cold milk.
Blend till the milkshake turns out smooth.
While serving, you can put in a tablespoon of chocolate syrup on sides of the glass. This is completely optional.
Pour in the prepared milkshake into the glass and serve.
You can add two scoops of chocolate ice-cream if you want. Else you can enjoy your glass without it as well.
Recipe Tips
Do keep the following things in mind before preparing this simple chocolate milkshake recipe for your baby.
Don't keep the prepared milkshake for long. It may start tasting bitter due to the mix of cocoa powder and milk.
If you want to make this recipe dairy-free, you can use almond milk or soy milk.
If you are using skimmed milk, do not forget to boil it before use. Do not use the milk directly from the packet. Boil it and then put it in the refrigerator for cooling.
Generally, people don't prefer to give sugar or honey to babies younger than 1 year. You can avoid using both, in this homemade chocolate milkshake baby food recipe.
Nutrition Information (Per 100 Grams)
| | |
| --- | --- |
| Nutrient | Value |
| Energy | 671 kCal |
| Fat | 37 g |
| Carbohydrates | 70 g |
| Dietary Fibre | 0.4 g |
| Protein | 15 g |
Health Benefits
You must be skeptical about how healthy chocolate milkshake is for kids. Following are some of the health benefits of chocolate milkshake for babies:
Chocolate milkshake is rich in carbohydrates and calories. Hence, it keeps the kids full and energetic for longer hours.
Through milk, the child gets all nine essential amino acids.
The highest quantity of amino acid present in this recipe is Leaucien, which is responsible for building and keeping the muscles strong.
Your child will get all the essential nutrients like zinc, selenium, iodine, magnesium, and vitamins A, B1, B6, B12 through this recipe.
Buying Guide
It is really important to know what suits your child. So please go through the following points carefully before making this recipe:
Please use good quality of cocoa powder for the best taste results.
Buy milk of your choice. You can go for skimmed milk or almond milk or soy milk.
Both ice-cubes and ice-cream are optional. The choice of ice-cream also depends on you. You can go for vanilla ice cream or choco-chip ice cream or chocolate ice cream in the milkshake.
Check the expiry date of the milk before buying it.
How to make chocolate milkshake has a very easy answer when the recipe turns out to be so easy. Do try this recipe. Your child will love it and will ask for more!
?>