Hummus Recipe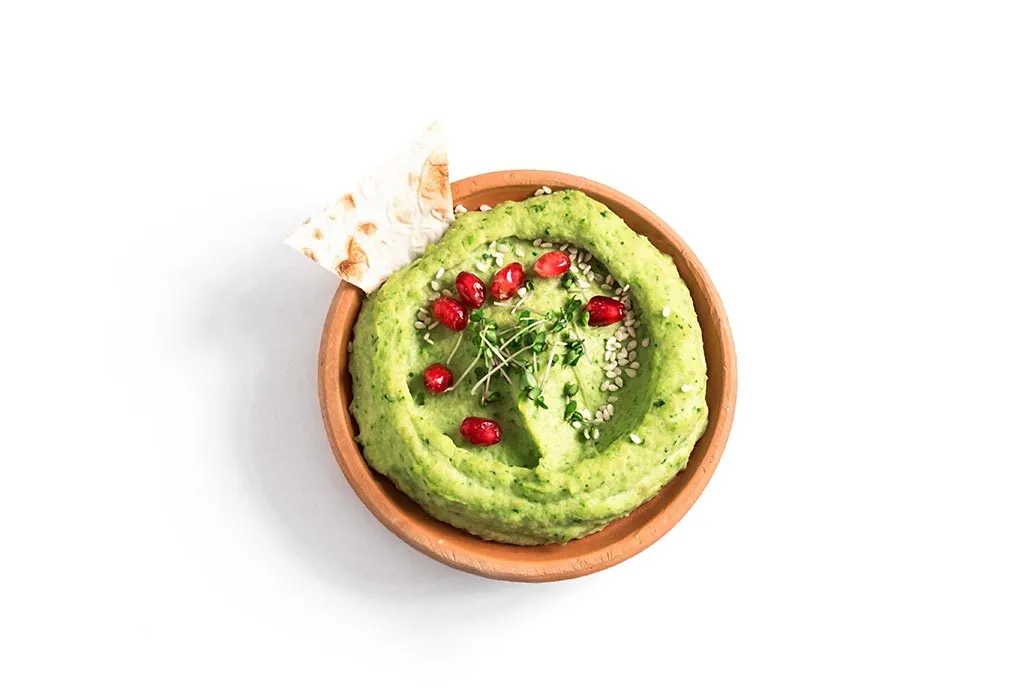 Hummus is a quick and healthy Middle Eastern dip. Let's prepare a healthy hummus for kids with spinach. This spinach hummus will fill your stomach with something healthy and delicious. Hummus for babies is easy to eat, and it is also easy to cook and takes very less time to prepare. Munching on a cucumber stick with hummus is refreshing and delightful.
Video: Homemade Hummus Recipe for Babies and Toddlers (For 12 Months Old and above)
Cooking Time
| | |
| --- | --- |
| Type | Time (hh:mm:ss) |
| Preparation Time | 00:10:00 |
| Cooking Time | 00:00:00 |
| Total Time | 00:10:00 |
Cooking Method
Gas Stove
Type of Meal
Vegetarian
Suitable For
Any toddler above 12 months of age
Meal Schedule
Breakfast or mid-morning
Recipe Type
Main Dish
Ingredients
| | |
| --- | --- |
| Ingredients | Quantity and Volume |
| Spinach | ¼ Cup |
| Cucumber | ½ cucumber |
| White Chickpeas | 2 Cup |
| Yoghurt | 1 Tbsp |
| Olive Oil | 1 Tbsp |
| Lemon Juice | 1 Tsp |
| Salt | A pinch |
| Garlic | 1 clove |
| Clove | 1 |
Instructions
Now you must be wondering how to make hummus! This dish is effortless and does not require any fanfare to prepare. Here are the step-by-step directions to prepare spinach hummus.
First, soak the chickpeas in a small bowl with a little freshwater overnight for 6-8 hours.
Once the chickpeas have been soaked well enough, put them into the pressure cooker to boil—Cook for four whistles.
Now allow the cooked chickpeas to be cool and along with the water and keep it aside.
Wash the spinach leaves properly, cut them into pieces and boil them as well for some time.
Put the chickpeas and spinach into the blender.
Add the yoghurt, lemon juice, olive oil, crushed garlic, salt, and clove in the blender.
To make the consistency a bit thinner, add a little water if required.
Transfer the hummus into the bowl from the blender and store it in an airtight container.
Cut the cucumber into sticks and pack it in another airtight container.
The dish is ready to serve. Dip the cucumber sticks in the spinach hummus, and enjoy.
Recipe Tips
Make sure you remember the points given below before you start preparing the healthy and simple hummus recipe for your baby.
Remember to soak the chickpeas in advance.
Chop the spinach in small pieces.
Do not make the spinach chickpeas hummus too runny or too thick as it can be difficult for the baby to eat.
Do not use tap water for preparing the hummus.
Use a small amount of water to change the consistency.
Add the salt according to your child's taste.
Always wash your hands thoroughly before making food. The utensils used should also be cleaned appropriately along with the blender.
Half-cooked chickpeas can cause uneasiness, so they should be cooked thoroughly.
Nutrition Information (Per Serving)
| | |
| --- | --- |
| Nutrient | Value |
| Energy | 39 kCal |
| Protein | 1.5 g |
| Carbohydrates | 5 g |
| Fibre | 2.3 g |
| Fat | 1.4 g |
| Cholesterol | 0.1 mg |
| Vitamin A | 250.3 mcg |
| Vitamin B1 (Thiamine) | 0.1 mg |
| Vitamin B2 (Riboflavin) | 0.1 mg |
| Vitamin B3 (Niacin) | 0.2 mg |
| Vitamin C | 1.6 mg |
| Vitamin E | 0.1 mg |
| Folic Acid (Vitamin B9) | 19.6 mcg |
| Calcium | 21.6 mg |
| Iron | 0.5 mg |
| Magnesium | 16 mg |
| Phosphorus | 26.2 mg |
| Sodium | 4.4 mg |
| Potassium | 78.6 mg |
| Zinc | 0.2 mg |
Health Benefits
Here is the health homemade Hummus baby food recipe.
Spinach is a good source of iron. It promotes proper growth of the baby's health.
Spinach and yoghurt are good sources of insoluble fibre.
Spinach is good for your baby's hair and skin and improves their eyesight.
Cucumber is a good source of water and can keep your baby hydrated.
Chickpeas help in baby's digestion and can make your baby feel full for a longer time.
Yoghurt also helps in improving your baby's immunity.
Garlic also decreases the risk of heart diseases, and it has medicinal properties against the common cold.
Cloves can kill off bacteria and promotes bone health.
Buying Guide
Buy organic chickpeas and good quality products.
The spinach used in the hummus recipe should be fresh and green.
Check the expiry date of the products before buying them.
Also, check that there should not be any insects inside the packet.
Baby's health is essential for every parent. Always opt for homemade and healthy recipes instead of depending on the packaged market food. Give your baby a bowl of this tasty and nutrient-rich spinach hummus and see how they much they enjoy eating it.