Poha Pudding Recipe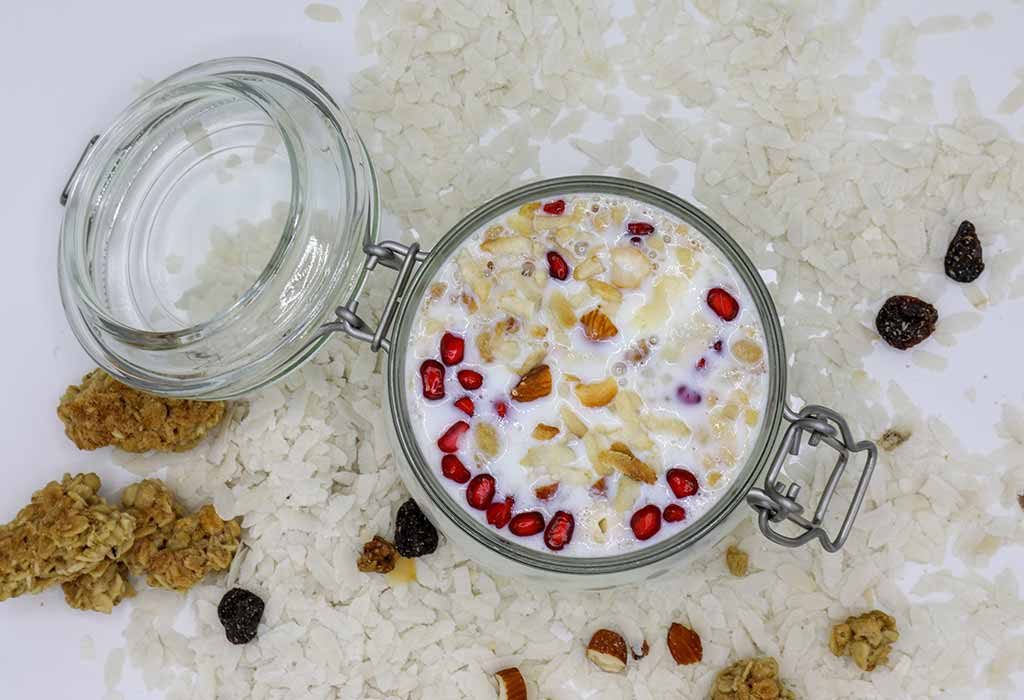 In this Article
Poha pudding is nothing but the kheer made up of flattened rice or beaten rice or poha instead of the regular rice used for kheer. Since the poha grains are parboiled, they get cooked in the wink of an eye! It is effortless and quick to prepare and serves the same bowl of nutrition to your kid.
During the early years of a child, mothers generally look for food which requires minimal chewing and does not cause indigestion. This recipe falls under this category and is supremely delicious at the same time! Once you start making this pudding, you will forget about the traditional kheer recipe because it tastes more or less the same.
Wondering about how to make poha pudding for your little darling? Here's the answer to every question of yours:
Cooking Time
| | |
| --- | --- |
| Type | Time (hh:mm:ss) |
| Preparation Time | 00:05:00 |
| Cook Time | 00:20:00 |
| Total Time | 00:25:00 |
Cooking Method
Gas Stove
Type of Meal
Vegetarian
Suitable For
Babies above one year of age
Meal Schedule
Breakfast / Mid-Morning Snack / Lunch / Evening Snack / Dinner
Recipe Type
Main Dish
Ingredients
| | |
| --- | --- |
| Ingredient | Quantity |
| Poha | ¼ cup |
| Milk | 1.5 cups |
| Sugar | 5 to 6 tbsp or as per taste |
| Cardamom Powder | ¼ tsp |
| Dry fruits (pistachios, raisins, almonds) | ¼ cup finely chopped |
Instructions
Follow these simple step by step instructions to prepare this delectable dish for your child:
Take a deep pan and put it on the gas stove.
Heat the milk and let it boil.
While the milk is boiling, start washing the poha. Keep it aside. This softens the poha as well as removes dirt from it.
Once the milk boils, add cardamom powder and washed poha. Mix well.
Keep the flame low and let the poha cook. It might take 10 to 15 minutes to cook thoroughly.
After every 2-3 minutes, stir the mixture properly so that it does not stick to the bottom of the pan.
Once the poha is cooked thoroughly, add the sugar. Mix the sugar properly.
Cook until the sugar dissolves completely.
Turn the gas off and garnish this savoury dish with some dry fruits.
If your child likes it hot, serve it just after preparation or else if your child like is cold, you can refrigerate it for a while and serve it cold!
Recipe Tips
Follow these tips to get this poha pudding for babies to turn out perfect:
To avoid the recipe getting too mushy, use medium to thick poha. The thin flakes will spoil the recipe.
Wash your hands properly before starting to cook this recipe. Also, the utensils used in the recipe should be properly washed.
Do not leave the recipe unattended. It is because timely stirring is required or else the pudding may start sticking to the bottom of the pan.
Nutrition Information (Per 100 Grams)
| | |
| --- | --- |
| Type | Quantity |
| Energy | 240 kCal |
| Carbohydrates | 48.4 grams |
| Protein | 2.2 grams |
| Fat | 4.5 grams |
| Dietary Fiber | 1.5 grams |
| Vitamin C | 2.37 mg |
| Iron | 5.6 mg |
| Calcium | 29.8 mg |
| Potassium | 72.6 mg |
| Sodium | 4.6 mg |
Health Benefits
Below you will find the health benefits of feeding homemade poha pudding baby food recipe to your kids:
Poha is good probiotic food since it is made by parboiling rice and then drying it in the sun. This makes it an excellent food for the gut. This helps in solving indigestion issues in the kids.
A bowl full of this recipe is rich in carbohydrates and hence will keep the child on toes for long. There will be no need to feed him/her again and again.
The dish also has a right amount of iron content. This is necessary to maintain a good haemoglobin level in your child.
The dish is high in potassium content. This keeps the baby hydrated for long, enhances muscle strength, nervous system and maintains electrolyte system of the body.
Due to the presence of milk in this recipe, calcium content is excellent too! This ensures the healthy development of bones and teeth.
Buying Guide
You must buy the right ingredients for this recipe:
For this simple poha pudding recipe, try to buy rice flakes which are medium to thick in size. If you buy the thin rice flakes, the dish will turn out mushy.
You many use any kind of milk for this recipe, depending on the suitability of your child. This recipe uses buffalo milk. If your child is lactose intolerant, you may opt for almond milk.
This poha pudding is an excellent food option for your growing child. It contains all the essential nutrients, and at the same time, it is delicious too! Prepare this quick and effortless recipe for your child, and he/she will love it!