Methi Paratha Recipe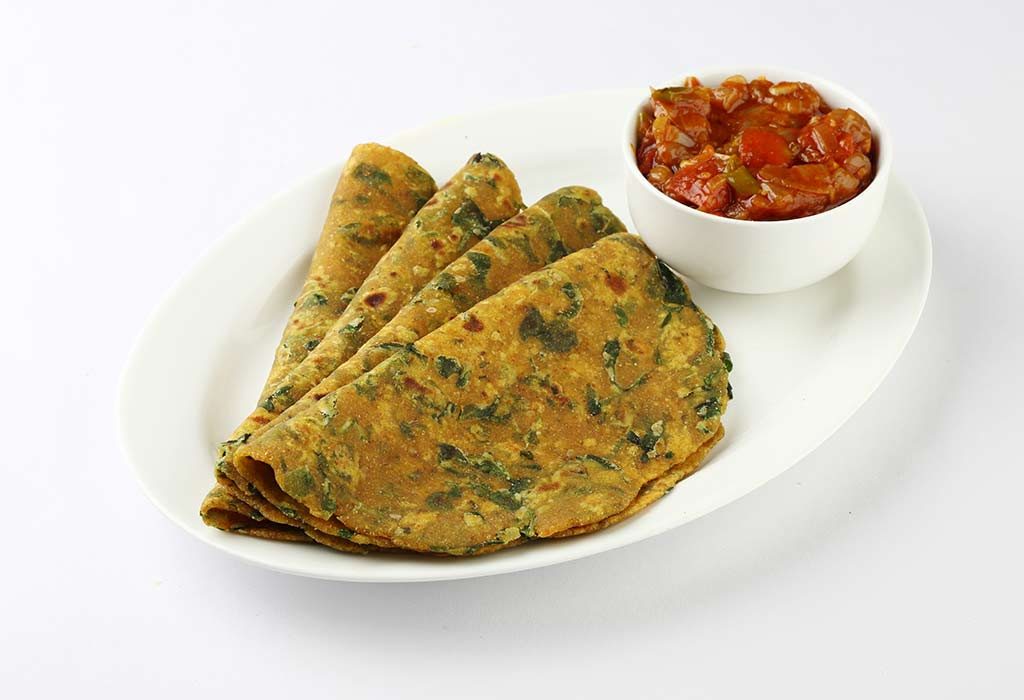 In this Article
Need a sure shot idea for your kid's lunch box or even a breakfast idea to treat your family? Tava –cooked Methi parathas have an irresistible taste, high nutrition value and makes a wholesome meal idea. This North Indian style recipe is not just easy to cook but can be ideally served with pickle, raita, curry or even eaten by itself. Made with fenugreek, wheat flour, spices, methi parathas are an easy way to include the goodness of its ingredients in your baby's daily diet. Note down the recipe of how to make methi paratha in the simplest way and see how your baby can be weaned into developing a taste for regular meals without any fuss. It can also be the best finger food that your baby can relish on at playtime or while travelling.
Cooking Time
| | |
| --- | --- |
| Type | Time (hh:mm:ss) |
| Preparation Time | 00:10:00 |
| Cook Time | 00:30:00 |
| Total Time | 00:40:00 |
Cooking Method
Gas
Type of Meal
Vegetarian
Suitable For
Weaning babies older than 11 month of age
Meal Schedule
Breakfast, Lunch or dinner
Recipe Type
Main Dish
Ingredients
| | |
| --- | --- |
| Type | Quantity |
| Oil | 2 tsp |
| Fenugreek Leaves | 1 Cup |
| Garlic Cloves | 7-8 |
| Water | ½ Cup |
| Salt | As Per Taste |
| Ghee/Clarified Butter | For Frying |
| Ajwain | ½ tsp |
| Garam Masala | ½ tsp |
Instructions
The step by step directions given here will surely aid mothers to make some flavourful methi parathas with care for their little ones.
Rinse the methi leaves thoroughly and drain out the water completely.
Chop the methi leaves finely and keep them aside.
Take a deep bowl and mix wheat flour, garam masala, salt, methi leaves, garlic, oil together with warm water to knead into a soft dough.
Make medium-sized balls and dust them with some flour and start rolling them into circles.
Heat the non-stick tava and cook each circle using oil
Once cooked in low flame, flip it and put little more oil to cook it well by pressing the edges with a spatula till it turns golden brown.
Drizzle some ghee on both sides and serve hot.
Recipe Tips
This simple methi paratha recipe can be used to spice up using green chillies or chilly powder for older children.
Add finely chopped fenugreek or else the dough will not be smooth.
Avoid the bitterness of the fenugreek by blanching the leaves before mixing.
You can put some salt to the fenugreek leaves and keep them aside at first. After a while, you can drain out all the water.
This homemade methi paratha baby food recipe can be made tastier by adding coriander leaves to the dough.
Adding curd to the dough reduces the soaking time for the dough and makes it soft. Curd also enhances nutrition and enhances its taste.
Most importantly, the ingredients used in making this paratha are easily available in your kitchen shelf, and hence variations can be made as per your choice.
You can cook parathas half done, refrigerate them and fry them again with oil whenever required.
Dry Kasuri methi can be used in case fresh leaves are not available.
You can mix ½ cup gram flour with whole wheat flour.
Nutrition Information (Per 1 paratha)
| | |
| --- | --- |
| Type | Value |
| Carbohydrates | 21 gm |
| Calories | 184 gm |
| Protein | 4 gm |
| Sodium | 276 mg |
| Fibre | 3 gm |
| Fat | 9 gm |
| Potassium | 96 mg |
| Calcium | 112 mg |
| Vitamin C | 0.7 mg |
| Calcium | 112 mg |
| Iron | 1.5 mg |
Health Benefits
Methi parathas can be sustaining and have exceptional health benefits for babies and toddlers:
Fenugreek leaves have a good amount of fibre which aids bowel movement. The iron content helps in blood improvement.
Methi leaves are beneficial for treating liver and gastric problems. It is also used for curing dysentery and diarrhoea.
As wheat flour is a good source of carbohydrate, it is used to generate energy for your kid while performing any physical or mental activity.
Wheat is easily digestible and keeps the intestine healthy while reducing the chance if flatulence.
Wheat is a good source of Vitamin B and other minerals that helps in the mental development of babies. As it requires chewing, eating methi parathas will indirectly support in maintaining oral health.
Ajwain is good for treating asthma in children, enhances appetite, and treats chronic constipation in children by acting as a laxative.
Ghee is a good source of energy for your child. The fatty acid present in ghee is beneficial in brain development.
Buying Guide
Your shopping list for making methi parathas needs to be full of quality products that are bought from an excellent store to ensure optimum benefits for your child's health.
If you're buying dried fenugreek leaves, then check for its expiry date.
Spices need to be bought in small quantities.
It is always better to choose methi leaves that are grown organically.
Whole wheat flour is the best choice as it contains three layers of wheat grain. Look for sealed packs that have all the details listed on it.
Homemade Methi paratha for babies is a healthy substitute for packaged products that are readily available in the market. With this recipe, you can be sure that methi parathas would become your child's favourite meal option at least once or more in a week.