Pasta Soup Recipe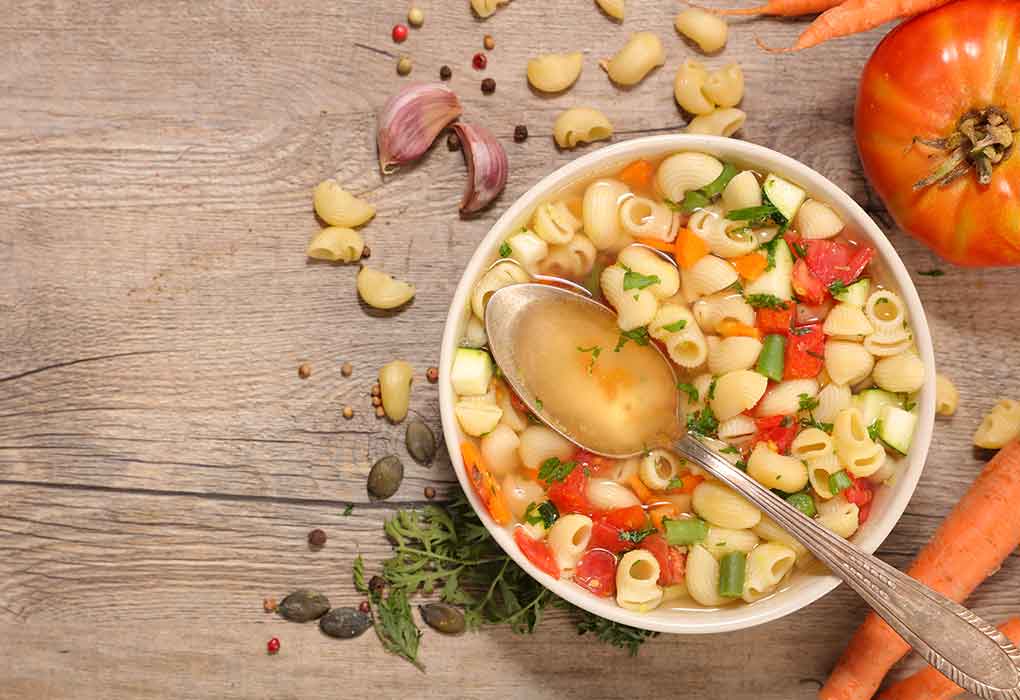 In this Article
A comforting creamy vegetable pasta soup made with healthy vegetables and pasta this homemade Pasta Soup baby food recipe is easy to prepare and tasty. Soups are a perfect introductory diet for your growing children. This soup combines the liquid and the solid bits into a perfect consistency for your children to relish and enjoy. A perfect meal for your toddler that you can whip in minutes and it will surely become a favorite for your children!
Cooking Time:
| | |
| --- | --- |
| Type | Time (hh:mm:ss) |
| Preparation Time | 00:05:00 |
| Cook Time | 00:35:00 |
| Total Time | 00:40:00 |
Cooking Method:
Gas
Type of Meal:
Vegetarian
Suitable For:
Toddlers above 13 months of age
Meal Schedule:
Appetizers and Main Course
Recipe Type:
Main Dish
Ingredients
| | |
| --- | --- |
| Type | Quantity |
| Onion | 1 chopped finely |
| Carrots | 2 medium-sized chopped |
| Peas | 1 cup |
| Butter | 2 tablespoon |
| Flour | 3 tablespoon |
| Vegetable Stock | 4 cups |
| Milk | 2 cups |
| Uncooked Pasta | 2 cups |
Instructions
Read these step by step instructions to learn how to make Pasta Soup for babies:
Dice the onions and carrots.
Cook the peas until soft.
Melt the butter in a large saucepan. Saute the chopped onions and carrots for approximately 5 minutes.
Add the flour and cook this for about 2 minutes making sure that all the vegetables are well coated with flour.
Add the stock and milk. Bring the mix up to a boil.
Cook the pasta al dente in hot water and strain the pasta once cooked.
Add frozen peas. Check the consistency of the soup and if it seems thick then thin it with some more vegetable stock.
Season with salt and pepper.
Recipe Tips
A few tips to remember when following this easy Pasta Soup recipe:
You can use the water drained from boiling the peas as a vegetable stock. You could also use vegetable stock available in packed form.
Chop the carrots finely so that they get cooked well and do not choke your children. Chop the onion finely too as when you saute them they will become soft and translucent.
It is ideal to cook the pasta only al dente (firm to bite) as it will be easier for your children to chew. Try to use macaroni shells as they are smaller than the penne ones.
You can either use fresh peas or frozen peas. If you wish you can add more vegetables like cauliflower and broccoli.
The usage of flour is optional.
Nutrition Information (Per 100 Grams)
| | |
| --- | --- |
| Type | Value |
| Calories | 349 kCal |
| Carbohydrates | 38 gm |
| Protein | 21 gm |
| Fat | 12 gm |
| Sodium | 282 mg |
Health Benefits
Now that you know how to make Pasta Soup, you ought to know the health benefits too:
Carrots are superfood and rich in Vitamin A. They are good for the eyes and also rich in antioxidants.
Carrots are rich in fiber, Vitamin K1 and potassium.
Onions are rich in folate and also aid in digestion. Loaded with antioxidants, they boost bone density and have antibacterial properties.
Peas have higher levels of protein and are a good source of dietary fiber. Peas are rich in folate, Vitamin C, thiamine and manganese.
Pasta contains carbohydrates which provide glucose important to fuel the brain and muscles. Pasta is also a source of folic acid, iron and Vitamin B which are important sources of nutrients for the body.
Buying Guide
The soup may be easy to prepare but there are few important things to bear in mind whilst buying the ingredients:
Always buy whole wheat pasta as this is a healthier option than refined flour ones.
Buy firm carrots that can be peeled and chopped easily. Carrots are winter vegetables and are best when cooked during the season.
Onions must also be fresh and firm.
Use fresh peas and if buying frozen ones, then buy good quality ones from supermarkets and check the expiry date on the packaging.
If using store-bought vegetable stock, make sure you check the best before date and the ingredients. It is advisable to consult a pediatrician to check if you can offer your children, store-bought vegetable stock. Alternatively, you can make the stock at home.
Soup is comfort food and a great weaning diet for your growing children. You would want to offer nothing but the best for your children and this is a perfect choice. Easy to make and equally healthy, get your children introduced to pasta with the least amount of effort.