Millet Moongdal Soup Recipe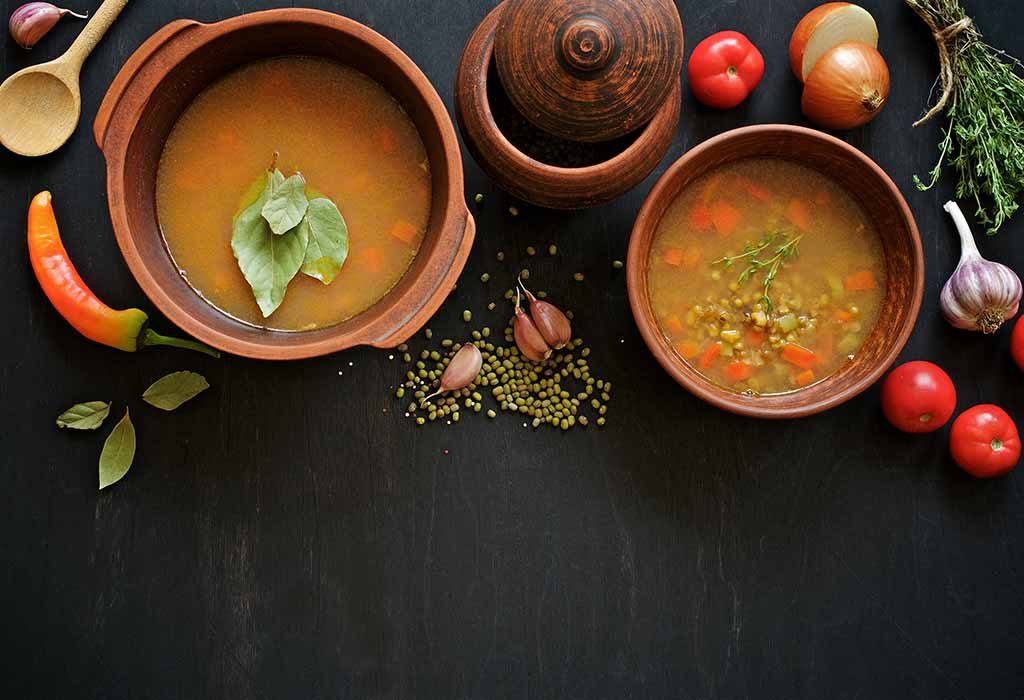 In this Article
Soup is a winter staple and great baby food. Perfect and ideal food to introduce to your baby who is just starting to wean from breast milk. The consistency of soups is a great way to get your baby used to solid foods that you will eventually introduce. This millet Moongdal Soup recipe is a good dish to include in your baby's meal plan.
Cooking Time
| | |
| --- | --- |
| Type | Time (hh:mm:ss) |
| Preparation Time | 00:20:00 |
| Cook Time | 00:30:00 |
| Total Time | 00:50:00 |
Cooking Method: Gas
Type of Meal: Vegetarian or vegan
Suitable For: Weaning babies older than 6 months of age
Meal Schedule: Main course- Lunch or Dinner
Recipe Type: Lunch or Dinner or snacks
Ingredients
| | |
| --- | --- |
| Type | Quantity |
| Ragi (Finger Millet) | 1 tbsp |
| Jowar (Sorghum) | 1 tbsp |
| Bajra ( Pearl Millet) | 1 tbsp |
| Moong Dal | 3-4 tbsp |
| Salt | To taste |
| Water | 2 cups |
| Oil or Ghee | 2-3 tbsp |
Instruction
Now that you are ready to introduce different tastes to your toddler, you need to learn those tricks to cough up dishes in a jiffy. This step-by-step procedure on how to make Millet Moongdal Soup will make your life a lot easier.
Rinse the millets and moong dal in cold water.
Soak it in water for about half an hour.
Drain the water and keep aside.
Heat 2 tbsp of ghee in a pressure cooker, add the millets and moong dal and roast for a couple of minutes.
Add 2 cups of water, salt and pressure cook for about 4-5 whistles.
When the pressure cools down and the steam is released, open the lid.
Serve in a bowl and add a dollop of ghee to it.
Recipe Tips
You can add some greens whilst pressure cooking the millets and moong dal. This will give it a little texture and not be too hard for your baby to chew.
You can also choose to add vegetables of your choice. Try adding finely chopped carrots, potatoes and peas.
You could also try to season the cooked dal with some cumin seeds sautéed in ghee for a distinct flavour.
Make sure you soak the dal and millets as soaking prevents colic in babies.
Use a potato or food masher, mash the cooked dal so that it becomes soft and mushy.
Nutrition Information (Per 100 Grams)
| | |
| --- | --- |
| Type | Value |
| | |
| Energy | 141 Kcal |
| Protein | 7 gm |
| Carbohydrates | 21 gm |
| Fibre | 9 gm |
| Fat | 3 gm |
| Cholesterol | 6 mg |
| Sodium | 33 mg |
| Potassium | 325 mg |
| Vitamin C | 5.8 mg |
| Iron | 2.7 mg |
| Calcium | 30 mg |
Health Benefits
Learning how to make Millet Moongdal Soup has more benefits than one. You don't just learn how to make it but also gain from the healthy nutrients of the ingredients. Read on to find out more:
Jowar is rich in fibre, protein and helps in digestion. It also helps in healthy growth of muscle tissue and bones.
The high calcium and iron content in ragi is useful for the strong development of bones in infants and toddlers. Ragi also promotes healthy digestion.
Bajra is additionally rich in Vitamin B, protein, iron, potassium, magnesium, phosphorus that help in the healthy growth of your baby.
Moong Dal is full of protein and is a comfort food. It is easily digestible and also full of vitamins and minerals. Moong dal helps the body produce essential amino acids.
Buying Guide
A few tips you need to bear in mind when making this simple Millet Moongdal Soup baby food recipe. It is definitely a great addition to your baby's diet plan but just keep in mind the following while buying the ingredients:
Buy moong dal in sealed form. Check the expiry date on the packaging. Only buy unpolished dal as polished dal is devoid of all nutrients.
Buy millets in sealed form. Check the expiry date and the manufacturing date on the packaging to make sure you are not using outdated products.
If using vegetables then buy organic vegetables that are free of pesticides and chemicals.
If you do not use organic vegetables then make sure to wash the vegetables in water to wash out any impurities.
A great soothing food, the homemade Millet Moongdal Soup for babies is great way to increase their protein intake which is essential for overall growth. It is a healthy superfood for babies, kids and toddlers. Millets and dals are considered one of the best food to nourish the body.