Pista Paneer Pudding Recipe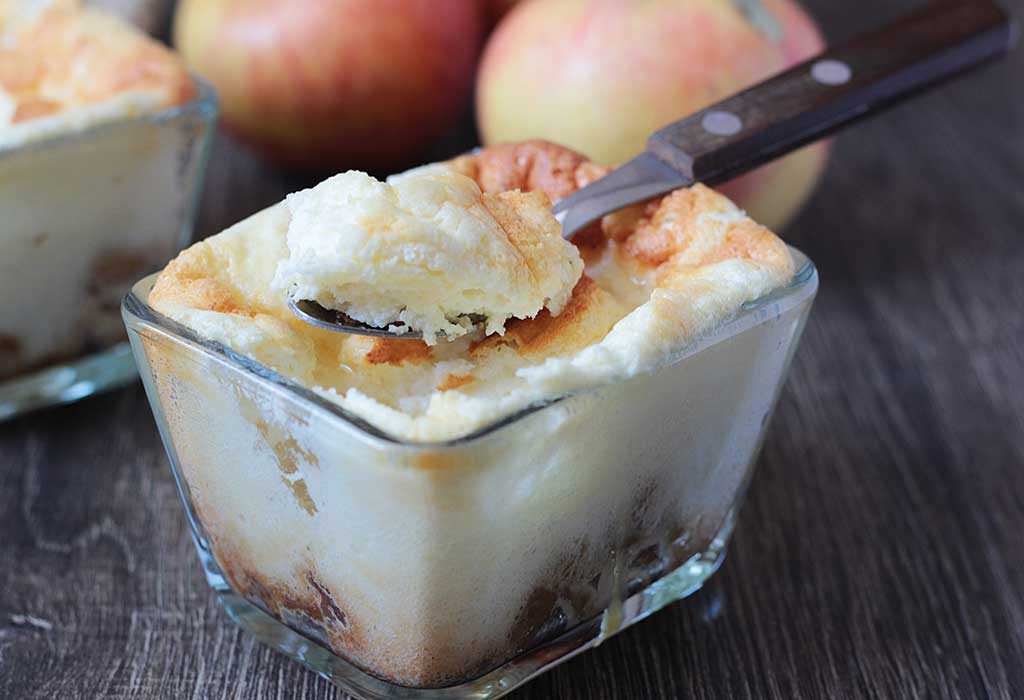 In this Article
Pudding is a dessert that is getting popular in Indian households of late, even though it's not an Indian recipe. Consider it an addition to the Indian cuisine, with some variations to suit the local taste and ingredient that are easily found in the kitchen! Pista paneer pudding is one such sweet that is soft, tasty and has a cooling effect in the summer heat. Your little one will enjoy its taste, while the adults in the family won't stop asking for more. Moreover, the pista paneer pudding for babies is a healthy alternative to buying ice creams from the market!
Cooking Time
| | |
| --- | --- |
| Type | Time (hh:mm:ss) |
| Preparation time | 00:10:00 |
| Cook time | 00:25:00 |
| Total time | 00:35:00 |
Cooking Method
Gas Stove / Microwave
Type of Meal
Vegetarian
Suitable For
Any toddlers above 16 months of age
Meal Schedule
Evening snacks or dinner
Recipe Type
Appetizer
Ingredients
| | |
| --- | --- |
| Ingredients | Quantity and Volume |
| Paneer (cottage cheese) | 250 gms |
| Fresh cream | 3 cups |
| Sugar | 2 cup |
| Milk | 1 litre |
| Custard powder | 6 tsp |
| Pista | ½ cup |
| Almonds | ¼ cup |
| Cashews | ¼ cup |
| Raisins | ¼ cup |
Instructions
If you are wondering how to make pista paneer pudding, it's easy, and you can make it even without the use of a microwave. We have provided you with step-by-step directions to prepare this in both ways!
Start by cutting the paneer into small cubes.
Add the custard powder to 1 cup of milk.
Boil the remaining milk, and add sugar to it when it comes to a boil.
Add and mix the custard powder mixture.
Keep stirring it continuously until it thickens.
Remove the custard from the stove and let it cool.
Next, whip the cream with a spoon or blender. It will gain a thick texture.
Chop the pistas, almonds, and cashews and add it to the custard along with the cream.
Pour the mixture in a shallow dish and refrigerate it.
Once chilled, your pista paneer pudding is ready to be served.
Alternatively, if you are using a microwave, add all the ingredients and blend till you get a smooth mixture.
Pour it in a greased baking dish and bake it for 30 minutes at 350 degrees.
Cool it and served chilled.
Recipe Tips
Your simple pista paneer pudding recipe will taste even better if you keep the following tips in mind while preparing it:
Cut the paneer into sizes smaller than the ones used in making paneer sabji or curry.
Do not stop stirring when boiling milk with custard powder.
If using a microwave, you can avoid using the cream. You can use eggs instead.
Adding vanilla essence or mango puree adds a little twist to the taste.
You can also serve it hot in winters, and it tastes the same.
Nutrition Information (per 100 grams)
| | |
| --- | --- |
| Nutrient | Value |
| Energy | 44 kcal |
| Protein | 4.4 g |
| Carbohydrates | 6.3 g |
| Fibre | 0 g |
| Fat | 0.1 g |
| Cholesterol | 0 mg |
| Vitamin A | 313.5 mcg |
| Vitamin B1 (Thiamine) | 0 mg |
| Vitamin B2 (Riboflavin) | 0 mg |
| Vitamin B3 (Niacin) | 0 mg |
| Vitamin C | 0 mg |
| Vitamin E | 0 mg |
| Folic acid (Vitamin B9) | 0 mcg |
| Calcium | 188 mg |
| Iron | 0 mg |
| Magnesium | 20.7 mg |
| Phosphorus | 32 mg |
| Sodium | 62.7 mg |
| Potassium | 0 mg |
| Zinc | 0 mg |
Health Benefits
Interestingly, this homemade pista paneer pudding baby food recipe is not only a great summer dessert, but it also has several health benefits for your baby:
This pudding is high in calcium and proteins, which are vital for your baby's growth.
It can lead to weight gain in your child.
The dry fruits in this pudding are loaded with antioxidants.
You can expect better digestive health for your baby.
Pista has Vitamin B6 and thiamine that improve gut, eye and blood vessel health.
Buying Guide
You can try making cream at home instead of buying the packaged kind from the market.
You can also try to make the paneer at home.
Always buy fresh dry fruits from the market.
While buying packaged products for the kitchen, always check for their expiry date.
With or without the use of a microwave, your pista paneer pudding will taste amazing. Ideal for your toddler during summers, you can serve it warm in winters as well. The sweet and creamy taste is alluring to your baby. You can also serve it to friends and family! Be rest assured that you are serving a healthy dish to your child.