Palak Puri Recipe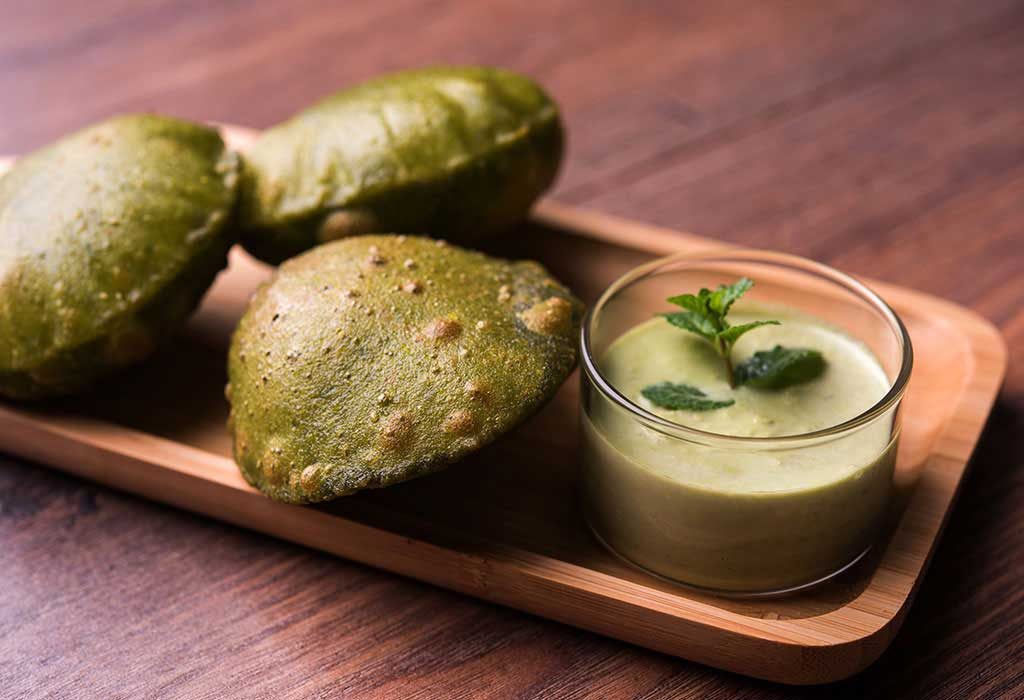 In this Article
This puri is a striking variation to the traditional ones. The traditional ones are consumed with some tasty and delicious sabzi, but these Palak Puri for toddlers is a unique combination of flour and vegetables. A dish in which you can pack the goodness of nutrient-rich foods.
Cooking Time
| | |
| --- | --- |
| Type | Time (hh:mm:ss) |
| Preparation Time | 00:20:00 |
| Cook Time | 00:30:00 |
| Total Time | 00:50:00 |
Cooking Method
Gas Stove and Mixer/Blender
Type of Meal
Vegetarian
Suitable For
Babies older than 12 months of age
Meal Schedule
Breakfast, Main Course, Side Dish, Snacks.
Recipe Type
Main Dish
Ingredients
For blanching and making puree
| | |
| --- | --- |
| Type | Quantity |
| Spinach – blanched and finely chopped | 2.5 cup |
| Hot boiling water | 3 cups |
| Cold water | 2 cups |
| Ginger – chopped | 1 tbsp |
| Green Chillies – chopped (optional) | 1 tbsp |
Other ingredients for Palak Puri
| | |
| --- | --- |
| Type | Quantity |
| Whole Wheat Flour | 2 cups |
| Carom seeds (Ajwain) | 1 cup |
| Asafoetida (Hing) | One small pinch |
| Water | 1/3 to 1/4 cup of water |
| Oil for deep frying | As needed |
Instructions
Homemade Palak Puri baby food recipe is something that you can rustle up quickly by following this step by step directions:
Rinse the palak or spinach leaves in water and strain in a colander.
Heat 3 cups of water in a pan and let it come to a boil.
Immerse the leaves in water and let them blanch for one minute.
Drain the palak leaves and place them in 2 cups of cold water.
Now place the blanched leaves in a blender or mixer jar. Add the ginger and green chilli (optional).
Without adding any more water, blend the mixture into a smooth puree.
Take the whole wheat flour in a large bowl. Add the ajwain seeds, asafoetida and salt as per taste.
Add the palak puree and blend well with the wheat flour.
Rinse and shake the blender with about 1/3 or 1/4 cup of water to get the stuck puree at the bottom of the jar. Add this in parts to the wheat flour mixture.
Add the water in parts to knead it to a soft, pliable dough. Cover and keep the dough aside for 10 minutes.
Divide the dough into equal round small or medium balls.
Take a ball and flatten it. Spread some oil on both sides of the dough.
Roll the ball into a 4-5 inches puri that is neither too thick nor too thin.
Heat oil in a kadhai and once it is hot enough for frying, drop a small piece of dough into it. If it rises, then you can start frying the puris.
Gently slide the puris into the oil and fry until golden brown.
Place the puris on a kitchen towel to drain the excess oil.
Serve palak puri just as a snack or along with a sabzi of your choice.
Recipe Tips
You now know how to make Palak Puris. But some of these tips will help you perfect the recipe:
Use whole wheat flour as it will be more nutritious
You can add some garam masala if you want to add some spice.
Use refined oil to fry the puris. You can also fry them in sunflower oil.
Nutrition Information(Per 100 Grams)
| | |
| --- | --- |
| Type | Value |
| Calories | 83 kCal |
| Carbohydrates | 10 gm |
| Protein | 2 gm |
| Fat | 50.5 gm |
| Sodium | 17 mg |
| Potassium | 79 mg |
Health Benefits
Read on to find the health benefits of this simple Palak Puri recipe:
Spinach is rich in fibre and other essential vitamins. It is a rich source of Vitamin K, C, potassium, magnesium, iron and aids in producing haemoglobin and brain development
Spinach helps in making the body strong by improving organ functions.
Whole wheat flour is rich in riboflavin, folate, Vitamin B1, B3 and B5. It helps in digestion and keeps the tummy fuller for longer.
Buying Guide
Being a winter vegetable, it is best to buy spinach leaves during the season. Before purchasing make sure to check the quality to prevent buying the ones that are wilted or have holes in them.
Whole wheat flour must be bought in sealed form and check the expiry date before you buy it.
Buy good-quality oil that is low on saturated fat.
Palak Puri is a great way to introduce your child to fried food. It has the goodness of vegetables and also wheat flour to supplement nutrition.