Sprouted Moong Oats Cutlet Recipe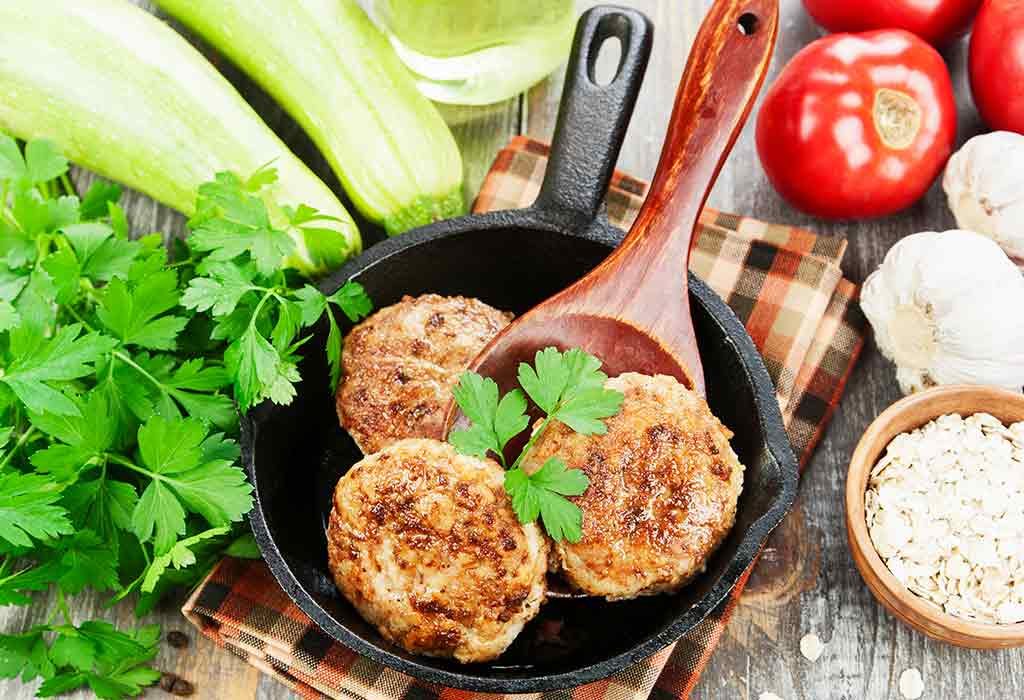 In this Article
Sprouted moong oats cutlet is made of sprouted beans from moong and oats. Sprouted moong oats Cutlet is rich in fibre and a major source of protein and carbohydrate. Sprouted moong oats cutlet for babies is a tasty, healthy and crunchy snack which is perfect for breakfast or snack time. Use of capsicum, beans, carrots, potato and some oats makes delicious and tempting looking cutlet for kids.
Cooking Time
| | |
| --- | --- |
| Type | Time (hh:mm:ss) |
| Preparation Time | 00:10:00 |
| Cook Time | 00:20:00 |
| Total Time | 00:30:00 |
Cooking Method
Gas Stove
Type of Meal
Vegetarian
Suitable For
Any toddlers above 17 months of age
Meal Schedule
Breakfast or Evening Snack
Recipe Type
Starter/Breakfast/Snack
Ingredients
| | |
| --- | --- |
| Ingredients | Quantity and Volume |
| Sprouted moong (whole green gram) | 1 Cup |
| Olive Oil or Canola Oil | 2 Tsp |
| Mustard Seeds | ¼ Tsp |
| Cumin Seeds | ¼ Tsp |
| Chopped Onions | ¼ Cup |
| Boiled and Mashed Potatoes | 2-3 Pcs |
| Turmeric Powder | ¼ Tsp |
| Salt | A pinch to taste |
| Oats | 1/2 Cup |
| Chopped Vegetables (Beans, Carrots, Capsicum) | 1 ½ Cup |
| Ginger garlic paste | 1 Tsp |
Instructions
Let us see how to make Sprouted moong oats cutlet with these easy to follow step by step directions.
First of all, coarsely grind sprouted moong. Do not make a paste, grind it without adding water for a few pulses then cover it and keep it aside for later use.
In a pan, heat some oil, add mustard seeds and cumin seeds and let them sprinkle.
Now, add chopped onions and ginger-garlic paste and saute for 2 minutes on a medium flame until they are golden brown.
Now add the diced mixed vegetables and sauté for 4 to 5 minutes. Cover the lid and cook till the vegetables are tender.
Add the oats in the cooked vegetables and sauté for another 3-4 minutes on a medium flame.
Then add the ground moong and sauté for 5-6 minutes.
Add the boiled, mashed potatoes and salt. Mix them and sauté for 2-3 minutes.
Turn off the flame, and your cutlet mixture is prepared. Let it cool in the refrigerator for 1 hour.
Now give the shape to your cutlet from the mixture. You can also use a cookie cutter to make a perfect shape.
Shallow fry on a non-stick Tawa until they are good golden on both sides.
Your soft, tender and tasty Cutlet is ready to be eaten with any chutney or sauce.
It's a good, shallow fried cutlet, perfect finger food for babies. It can be put inside a burger bun or consumed much with tomato ketchup or chutney.
Recipe Tips
Some points to keep in minds before you start preparing the healthy and simple Sprouted moong oats cutlet recipe for your baby.
Use filter water for cooking.
You can use any of the vegetables of your choice. Veggies added to these cutlets make them more tasty and nutritious.
Change the spices according to your babies preference.
Cook the mixture ahead and store it in the refrigerator. Just cook the cutlet while you have visitors at home or make it for kids after school snack.
Not only are they tasty, but they are also good and nutritious.
Wash your hands and utensils properly before cooking.
Make sure the moong is lightly steamed or microwaved for 5-6 mins.
Nutrition Information (Per Serving)
| | |
| --- | --- |
| Nutrient | Value |
| Energy | 240 kCal |
| Protein | 14.9 gm |
| Carbohydrates | 32.4 gm |
| Fibre | 8.7 gm |
| Fat | 3 gm |
| Cholesterol | 10 mg |
| Vitamin A | 16 mg |
| Vitamin B1 (Thiamine) | 0.2 mg |
| Vitamin B2 (Riboflavin) | 0.1 mg |
| Vitamin B3 (Niacin) | 0.8 mg |
| Vitamin C | 8.6 mg |
| Vitamin E | 0.2 mg |
| Folic Acid (Vitamin B9) | 203.7 mcg |
| Calcium | 76.2 mg |
| Iron | 3.6 mg |
| Magnesium | 54.8 mg |
| Phosphorus | 184.8 mg |
| Sodium | 12 mg |
| Potassium | 315 mg |
| Zinc | 1 mg |
Health Benefits
Here are the health benefits of home-made Sprouted moong oats cutlet baby food recipe.
Sprouted Moong improve digestion as it has dietary fibre.
Oats and Moong are good for blood circulation.
Helps prevent obesity.
Sprouted moong are rich in protein and vitamins, which improves the heart health and makes bones stronger and mentally sharper.
Green Vegetables improves the eyesight and its good for hair and skin health.
Buying Guide
Buy good quality products from a good store.
Use extra virgin olive oil or canola oil for cooking.
Always check the expiry date of the products before buying it.
Always buy fresh and organic (if possible) vegetables.
Serving the right amount of good and organic nutrients is essential as our babies are very special to us, and when it comes to food, we do look for the best for them. So, instead of relying on the ready-made market or baby food, serve them with a delicious Sprouted moong oats cutlet.