Gobi (Cauliflower) Paratha Recipe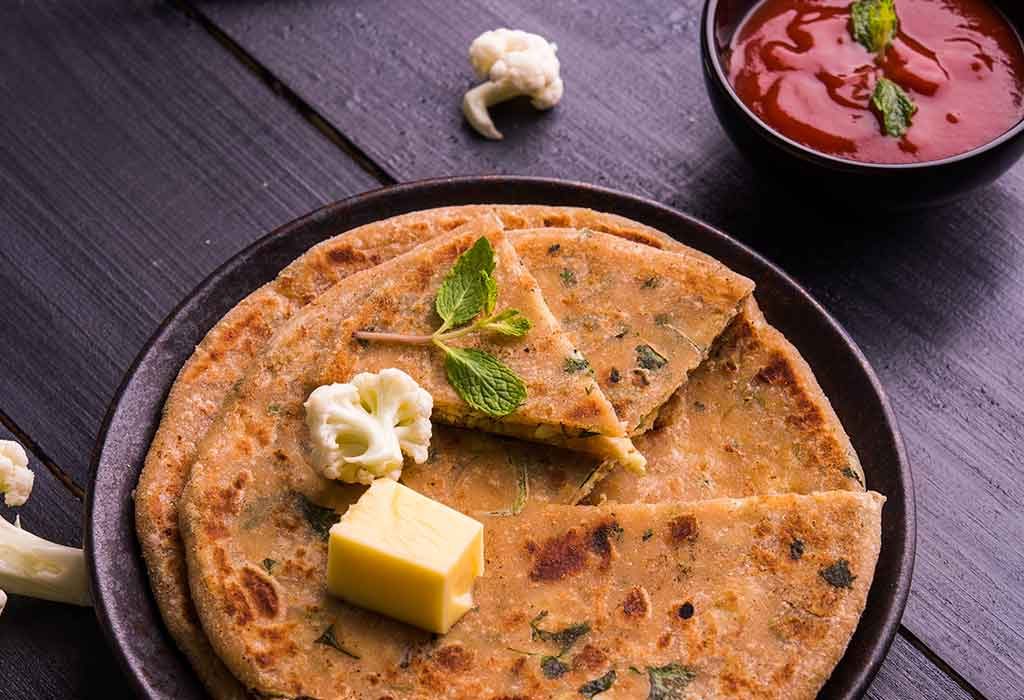 In this Article
A much loved stuffed Indian flatbread, Gobi (Cauliflower) paratha is a staple dish in most North Indian households. Such is its popularity now that every part of India has seemed to have fallen in love with the dish. That is why it has become a common dish in every household across Indian. A perfect dish to serve your toddler, this Gobi (Cauliflower) Paratha for babies is something that you can cook for breakfast, lunch or dinner.
Cooking Time
| | |
| --- | --- |
| Type | Time (hh:mm:ss) |
| Preparation Time | 00:20:00 |
| Cook Time | 00:20:00 |
| Total Time | 00:40:00 |
Total Servings
3-4
Cooking Method
Gas stove or induction
Type of Meal
Vegetarians And Non-Vegetarians
Suitable for
Any baby above 11 months of age
Meal Schedule
Breakfast, Lunch or Dinner
Recipe Type
Main Meal
Ingredients
For The Dough
| | |
| --- | --- |
| Ingredients | Quantity & Volume |
| Wheat flour | 1 ½ cups |
| Oil | 1 teaspoon |
| Salt | As per taste |
For The Stuffing
| | |
| --- | --- |
| Ingredients | Quantity & Volume |
| Grated Cauliflower | 1 ½ cups |
| Oil | 2 teaspoon |
| Cumin Seeds | ½ teaspoon |
| Onions finely chopped | ½ cup |
| Green Chillies finely chopped | 1 teaspoon |
| Salt | As per taste |
| Coriander finely chopped | ¼ cup |
Other Ingredients
| | |
| --- | --- |
| Ingredients | Quantity & Volume |
| Whole Wheat Flour for rolling | 10-15 tablespoons |
| Ghee | 10-15 tablespoons |
Instructions
Just follow this step-by-step procedure to learn how to make Gobi (Cauliflower) Paratha:
For The Dough
Combine all the ingredients in a bowl. Knead into a smooth dough with enough water (approximately ½ cup).
Cover and keep aside.
For The Stuffing
Heat ghee in a broad pan and add the cumin seeds.
Add the onions and green chillies when the cumin seeds crackle. Sauté on a medium flame for about a minute.
Now add the grated cauliflower and salt. Sauté on a medium flame for about 1-2 minutes.
Add about 4 tablespoons of water mix well. Cover and cook on a low flame for about 3-4 minutes. Stir occasionally.
Once cooked, add the chopped coriander and mix well.
Now divide the stuffing into six equal portions and keep aside.
For The Paratha
Divide the dough into six equal parts.
Take some portion of dough in your palm and roll out into a circle of 4 inches in diameter.
Place one of the portions of the stuffing in the centre.
Carefully bring together the sides to the centre and seal it into a stuffed ball.
Now use some wheat flour and roll this ball into a circle of about 7 inches in diameter.
Now heat a tava and cook the paratha with ghee. First, cook one side and apply ghee to it. Flip over and cook until both sides appear golden brown.
Now repeat the above steps to exhaust the portions of dough and stuffing.
Serve the gobi paratha hot with yoghurt or ketchup.
Recipe Tips
Now that you have learned to make homemade Gobi ( Cauliflower) Paratha baby food recipe, follow these tips to perfect it:
Wash the cauliflower before cutting the florets. After you separate the florets, place them in a bowl of cold water with some salt. This step will get rid of any worms that are in the vegetable.
Knead the flour into a smooth dough so that the parathas will turn out soft.
Adjust the number of green chillies as your baby's taste.
You can also add some amchur powder or garam masala for an enhanced flavour.
Nutritional Information Per Servings
| | |
| --- | --- |
| Nutrient | Value |
| Calories | 218 Kcal |
| Protein | 5.5 gm |
| Carbohydrates | 30.7 gm |
| Fibre | 5.7 gm |
| Fat | 8.8 gm |
| Cholesterol | 0 mg |
| Sodium | 20.2 mg |
Health Benefits
This simple Gobi (Cauliflower) Paratha recipe has its share of health benefits:
Wheat flour is good for digestion and will keep your baby's tummy fuller for longer. It is also gluten-free and is an excellent food for kids with allergies.
Cauliflower is a good source of Vitamin C, Vitamin K, manganese and potassium. It is rich in antioxidants to boost the kid's metabolism. The potassium helps to maintain the muscles, heart, kidneys, and muscles.
Buying Guide
Just take some care and precaution while buying ingredients for Gobi (Cauliflower) Paratha. Follow these tips:
Buy cauliflower that is white and covered within green leaves. Ensure there are no black spots on the cauliflower.
Buy atta from supermarkets that belong to reputed brands. Check the expiry date on the packaging. Alternatively, you can also buy whole wheat grains and grind them to a powder in a mill.
The combination of cauliflower, green chillies and onions make an excellent delectable meal that is wholesome and nutritious. Your kid is sure to love this paratha made generously with ghee. Serve it with a glass of buttermilk to complete a meal.