Baked Potato Wedges Topped With Cheese Recipe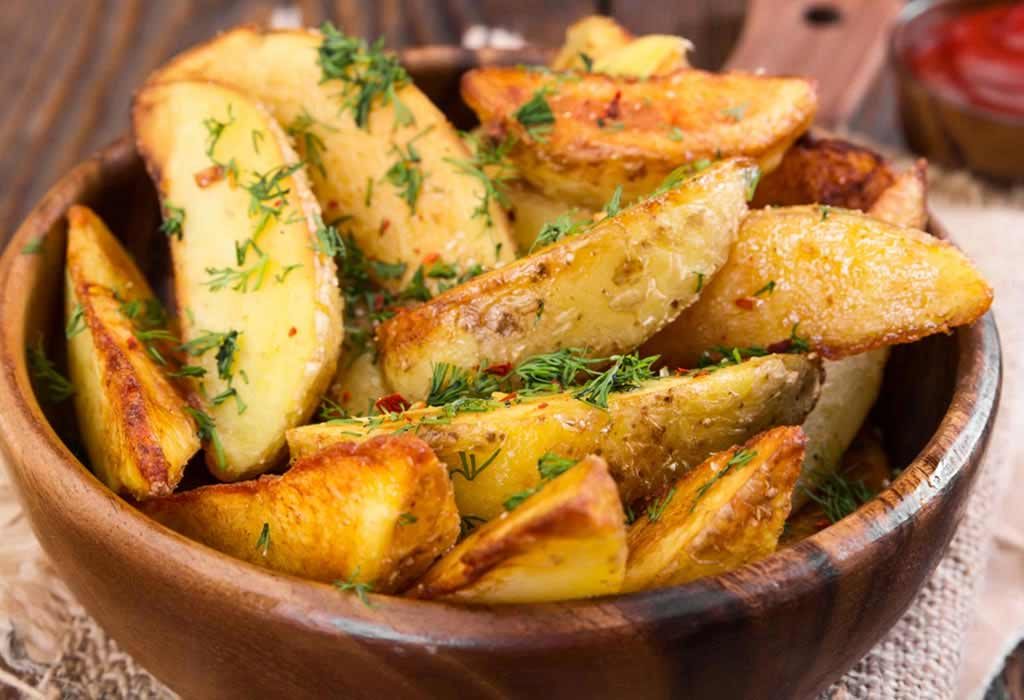 In this Article
Do you need something quick to perk up your toddler's mood during snack time? Potato wedges topped with cheese are the perfect home-made solution anytime the French fry craving strikes. These impossibly crispy and crackly wedges made from potato are generously seasoned with salt, pepper, garlic or onion powder and made utterly irresistible with shredded cheese topping. Potatoes are a healthy meal supplement for babies.
This versatile vegetable is easily available and makes this delicious finger food for toddlers who eat it without any fuss. Baked potato wedges topped with cheese for babies is easy to cook and can be served just as hunger strikes.
Cooking Time
| | |
| --- | --- |
| Type | Time (hh:mm:ss) |
| Preparation Time | 00:30:00 |
| Cook Time | 00:30:00 |
| Total Time | 1:00:00 |
Cooking Method
Oven
Type of Meal
Vegetarian
Suitable For
Any toddler above 22 months old
Meal Schedule
Evening snacks or playtime
Recipe Type
Side Dish
Ingredients
| | |
| --- | --- |
| Ingredients | Quantity and Volume |
| Potatoes | 4 |
| Extra virgin Olive Oil | 1 tablespoon |
| Salt | 1/4th tablespoon |
| Crushed Garlic | ¼ tablespoon |
| Parsley or Rosemary Leaves | 2 tablespoons |
| Grated Parmesan Cheese | 1/4th cup |
| Black Pepper | ¼ tablespoon |
Instructions
Here is a detailed guide on how to make baked potato wedges topped with cheese that helps you to master the art of cooking. The step by step directions listed below makes it easy to prepare the perfect baked potato wedges topped with cheese in a hassle-free way.
Wash and dry the potatoes before slicing them into large wedges lengthwise.
Put them into a bowl of water with 2 cups of ice cubes that should be left to stand for 30 minutes.
Pat them dry with paper towels and add ingredients like salt and pepper and mix well.
Toss them with olive oil until all the potatoes are coated.
Preheat the oven to 450°F.
Place the wedges into a baking tray that can be transferred into an oven.
Bake until golden brown and cook until 30 minutes.
Add fresh parsley leaves and shredded cheese on top.
Serve the potatoes hot with ketchup.
Recipe Tips
Here is a ready reckoner for all mothers to follow as they try their hand at cooking and treating their beloved toddler with this mouth-watering side dish. This simple 'baked potato wedges topped with cheese' recipe has the right combination of spices that adds a kick of flavour to it so that babies can't stop licking their fingers.
Remember to wash the potatoes well and scrubbing them to get rid of the silt.
Cut the wedges into thin slices to reduce the cooking time.
Make sure the wedges are dried completely to make them crispier.
Line a baking sheet with non-stick aluminium foil which allows the potatoes to get brown without burning or sticking.
It's better not to overcrowd the pan as the flat sides touch the foil.
Turn the wedges halfway through the baking process for an extra crispy finish.
Make sure the cheese is fresh.
Nutrition Information (Per 100 Grams)
| | |
| --- | --- |
| Nutrient | Value |
| Calories | 165 kCal |
| Protein | 4 g |
| Carbohydrates | 37 g |
| Fibre | 4 g |
| Sodium | 42 mg |
| Potassium | 1057 mg |
| Vitamin A | 385 IU |
| Vitamin C | 19.5 mg |
| Calcium | 23 mg |
| Iron | 1.8 mg |
| Saturated Fat | 2 mg |
| Sugar | 1 g |
| Cholesterol | 5 mg |
Health Benefits
The home-made baked potato wedges topped with cheese baby food recipe has way fewer calories than deep-fried variety as they are cooked in the oven to golden brown perfection.
Extra-virgin olive oil is a rich source of antioxidants and monosaturated fats that helps to lower the risk of type 2 diabetes and helps to maintain cardiovascular health.
Cheese adds nutritional value to potato wedges as it provides protein, calcium and good fats for babies. Loaded with calories, it boosts the energy level in babies so that they can stay active for a longer time.
Being rich in compounds like flavonoids, carotenoids and phenolic acids, potatoes contain maximum antioxidants that reduce the risk of harmful diseases in babies.
The resistant starch in potatoes improve your child's digestive health and are incredibly filling for a baby's stomach. They are also naturally gluten-free that protects your baby's stomach from discomfort.
Pepper has anti-inflammatory properties and is high in antioxidants.
Buying Guide
Buying organic potatoes from a reputed store guarantees its quality for an optimum taste of your dish as well as health for your child.
The cheese used in the dish should be of good quality.
Choose extra virgin olive oil that has immense health benefits.
Check the expiry date of the ingredients used before buying them.
Finding a tasty snack dish packed with nutrition may be difficult to find unless you know to choose the fastest way to make the last-minute snack that would appeal to any baby in an instant.